Rebuilding the purpose built student accommodation (PBSA) sector beyond 2020.
About this Event
Like many sectors within the Australian property industry, the purpose built student accommodation (PBSA) has been adversely impacted by the coronavirus pandemic.
Largely dependent on the flow of domestic and international students, both universities and accommodation providers have had to rapidly adapt to travel restrictions, government orders and border closures.
So how have developers, owners, operators and tertiary institutions managed this once-in-a-generation challenge? And what does the future hold for one of Australia's most promising real estate and export sectors?
To help us explore this future, The Urban Developer has assembled three industry leaders to provide an inside perspective on how the Australian student accommodation sector is positioned, now and into the future.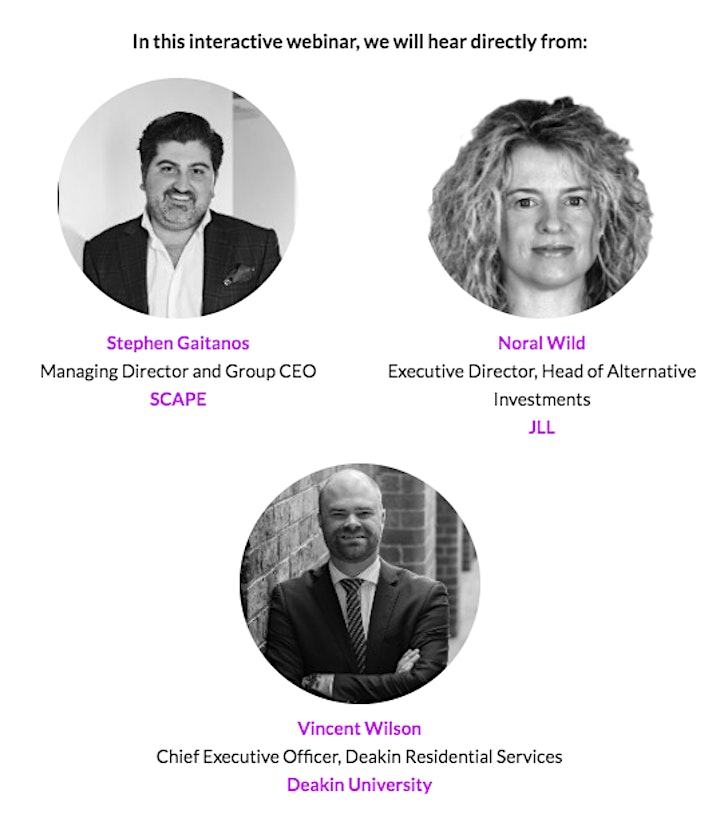 All panelists will join The Urban Developer founder and chief executive Adam Di Marco for this discussion on Zoom.
Attendees will be able to submit questions prior to and during the discussion which will be moderated by Adam.
Frequently Asked Questions (FAQs)
Why are we charging our audience for webinars?
In response to COVID-19, The Urban Developer is adapting by bringing together our extensive network of experts, influencers and industry leaders to share with you - our community.
In doing so, we can continue to support the free independent journalism that is being delivered to you on a daily basis.
The Urban Developer can confirm that there is no financial exchange between the speaker and the host.
How did we come up with the pricing?
We arrived at the pricing model after much discussion with our team and our community.
We believe $50 + GST is a fair and reasonable price for an hour-long session that includes a moderated discussion and interactive audience Q&A with hard to access industry leaders.
Are you suffering financial hardship and want to invest in your future?
Contact maddison.keaveny@theurbandeveloper.com directly and we will do our best to respond in the most compassionate way we can.
What about if I can't attend the webinar - Can I watch a recorded version?
Yes - register for the webinar and you will be able to view a recorded version of the webinar.
Please contact maddison.keaveny@theurbandeveloper.com to source the link.
Do you provide discounted registrations for not-for-profit, community organisations or full-time students?
Yes - we absolutely do. Please contact maddison.keaveny@theurbandeveloper.com for further details.
Disclaimer
The Urban Developer cannot accept any liability or responsibility for loss occurring as a result of anyone acting or refraining from acting in reliance on any material contained in this presentation.