Location
Lot Fourteen, Allied Health Building
North Terrace
Allied Health Building
Adelaide, SA 5000
Australia
Refund policy
Refunds up to 30 days before event
How to get Business Results through better Employee Engagement and Customer Experience
About this event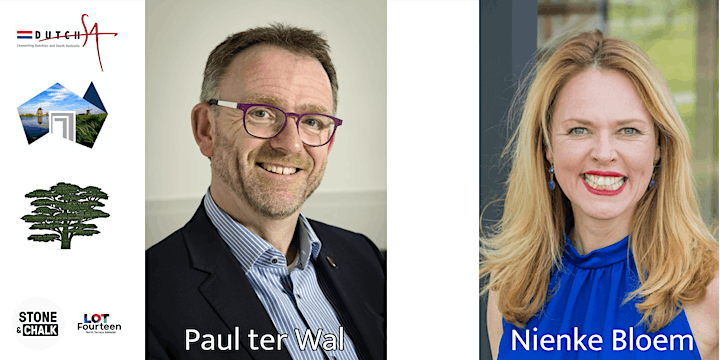 The Australian Netherlands Chamber of Commerce South Australia (DutchSA) and The Adelaide Strategy Execution & Leadership Community of Practice (SEL Meetup) are joining forces to present two top speakers from The Netherlands in a breakfast seminar at Lot Fourteen supported by Stone & Chalk.
Paul ter Wal
Paul ter Wal is a well-known international Human Capital consultant, speaker and author in the field of employability, engagement, accountability. He works worldwide across industries for global enterprises like Mercedes Benz. His "Value-to-Profit" model has 7 keys to increase engagement and profitability with scientific proof.
Paul will change the way you think about happy workers building successful companies. He develops and co-implements new human capital, engagement, vitality and absence leave concepts. In these concepts both internal and external interpretations are given to the employer's desired approach for prevention, employability, engagement and accountability: the vitality approach!
Paul ter Wal is a certified prefessional speaker and the President of the Global Speakers Federation, of which the Professional Speakers Associations of Australia and The Netherlands are important members. Paul will be in Adelaide to chair the international speakers conference, which is held in Adelaide (in the Playford Hotel) from 13-20 March.
Nienke Bloem
Our second speaker is Nienke Bloem CCXP CSP, who is attending the 2020 PSA Convention in Adelaide to be certified as an international professional speaker. Nienke Bloem is a global keynote speaker on Customer Experience and inspires audiences with best practices and proven methodologies. In just five years she build a very profitable business for herself and is one of the CX thought leaders in the world.
She leads a speaking practice, a CX game company, a training business and is an associate partner of a CX boutique consultancy firm. So, you could say: "she breathes Customer Experience". She is a CCXP (Certified Customer eXperience Professional) and one of the seven globally recognized Resource and Training Partners of the CXPA who can train others to become CCXP's.
With her 20 years' experience in strategic change management positions within telecom (kpn.com), travel, financial and IT businesses, she knows how businesses work and she speaks the corporate language. But on stage, her talks are inspiring and hands-on. Nienke speaks the truth when it comes to customer experience, so expect no fluffy stories from this Dutch speaker in the blue dress.
It is her mission to make the world more beautiful for customers and employees. It is her aim to Make Customer Experience Work and help you grow your business results; by creating great Customer Experiences.