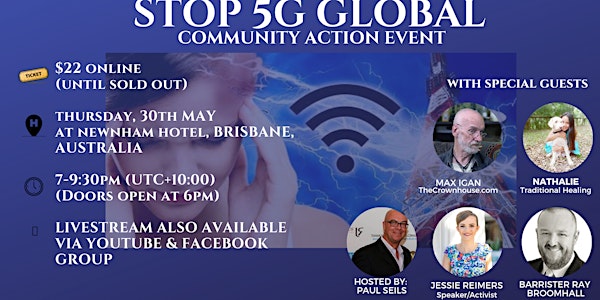 STOP 5G Brisbane - Community Action - Ray Broomhall, Max Igan & Paul Seils
Sales Have Ended
Ticket sales have ended
Thank you !
Event Information
Location
Newnham Hotel
516 Newnham Rd
Upper Mount Gravatt, Queensland 4122
Australia
Refund policy
Refunds up to 1 day before event
Sales Have Ended
Ticket sales have ended
Thank you !
Description
The 5G HealthSymposium - Brisbane with Barrister Ray Broomhall, The Honorable Peter Slipper, Steve Weller, Victor Leach, Dr Julie McCredden, Paul Seils, Dr Russell Cooper, Sacha Stone & Co
As well as Greg Sheehy (Biohealth Healing), Donna Fisher (BluShield), Alex Kesik (Ncryptcellular), Patrick Van Der Burght (Geovital), Rod Bradshaw (Sacred Knowledge Energy Tools, Orgonite Tensor & Radionics) & Christopher Duncan (Tesla Technologies)
Schedule to date:
9:30am - Doors Open
10am - Introduction by Host: Paul Seils
10:05am - Traditional Welcome – Wayne 'Coco' Wharton
10:10am - Angela Toohey
10:15am – The Honorable Peter Slipper
10:30am – Paul Seils overview – Privacy & Surveillance
11am – Victor Leach
11:45am – Steven Weller
12:30pm – Lunch Break
1:15pm – Angela Toohey
1:20pm - TBA
3pm – Barrister Ray Broomhall
4:30pm – Panel
5pm – Closing & Action Plans
6pm – Network & Departure
STOP 5G Global Community action group based out of Brisbane, Australia - Focused on raising awareness about 5G health concerns, 5G wireless wifi technology, 5G electromagnetic radiation (EMR).
Musician: Angela Toohey
Angela believes in the power of music to be a catalyst for change, to inspire a more compassionate and equitable world. Her music crosses several genres and has been described as anthemic, expansive, authentic, powerful, soft rock, theatrical, nuanced, delicate. Her aim is so uplift, heal and inspire. For a full bio including a 20+ year career in musical theatre, please go to www.angelatoohey.com
Speaker 1 – The Honorable Peter Slipper (via Livestream)
The Honorable Peter Slipper holds the degrees of Bachelor of Arts and Bachelor of Laws from the University of Queensland. Following his original admission as a Solicitor he undertook locum work in and managed legal practices throughout Queensland which involved experience in litigation and other areas.
He then commenced practice on his own account initially as a sole practitioner and then in partnership.
Peter served as Chairman of the West Moreton Regional Community Corrections Board (Parole Board) being appointed to that position by the Governor-in-Council with his predecessor being a Magistrate. The Board had responsibility for considering applications for parole with respect to some large prisons in Brisbane and elsewhere in South East Queensland and determining most. In the case of those serving life and other sentences exceeding a certain period, the Board made recommendations to the Queensland Community Corrections Board which was chaired by a Supreme Court Judge.
In 1984 and on seven subsequent occasions, Peter was elected as a member of the Australian Parliament as the Member for Fisher, serving as Speaker and Deputy Speaker of the House of Representatives as well as in various ministerial and other parliamentary and party roles.
These included ministerial positions in the Department of Prime Minister and Cabinet and the Department of Finance, Party Whip and Committee Chairman and member. Included in his committee service were periods as Chairman of the House of Representatives Standing Committee on Legal and Constitutional Affairs (in Government), as Deputy Chairman to Mark Dreyfus QC (in Opposition) and as Secretary of the Liberal National Attorney-General and Justice Committee.
In 2001 at the Centenary of Federation, Peter was awarded a Centenary Medal for ministerial service in the Commonwealth Parliament. In all he was a Federal Member of Parliament for over 23 years.
Speaker 2 & Host – Paul Seils
Paul is a speaker / activist who is founder of STOP 5G Global – Also Social Entrepreneurs Academy, Crypto MASTERMINDS Academy & also an organizer for Occupy Movement, Privacy Advocate on Metadata / Surveillance, as well as Bentley CSG Blockade etc.
Speaker 3 - Steven Weller BSc
Mr. Steve Weller, BSc (Biochemistry and Microbiology) is a professional in the IT field. He is a public representative on the Electromagnetic Energy Reference Group (EMERG) committee at the Australian Radiation Protection and Nuclear Safety Agency (ARPANSA) that meets bi- annually. Mr. Weller first became interested in RF bioeffect/health research after a number of people in Victoria personally complained of health problems that only developed after smart meters were installed on their homes. He began to review Australia's RF Standard in 2011 and then established a document that captured the peer-reviewed RF bio- effect literature. By categorising papers and using meta-data tags, Steve began to notice a pattern developing. This document was the forerunner to the establishment of the current ORSAA database. Mr. Weller has presented to the EMERG committee on the topics of Electromagnetic Hypersenstivity (EHS) and RF Bio- Effects findings.
Speaker 4 – Victor Leach
Mr. Victor (Vic) Leach App. Physics (RMIT), MSc (Melbourne. Uni) has worked as a radiation health physicist and atmospheric scientist for the past 40 years in both the private sector (uranium & coal mining) and public sector with a number of Commonwealth (Australian Radiation Laboratory now ARPANSA) and State Government Health Departments (QLD & NT). He has been a founding member of Australasian Radiation Protection Society (ARPS) since its inauguration in 1975, where he has been a past treasurer and is currenlty on the organising committee for conferences in Melbourne, Sydney, Brisbane, Cairns and Darwin. Vic has been involved in many occupational and environmental aspects of mining and non-mining projects at both the planning and operational stage. He has published in refereed scientific and engineering journals on subjects of dust and radioactivity exposure and the inhalation effects on health of workers and members of the public. He was University Radiation Advisor (RPA) at both the Queensland University of Technology (QUT) and the University of Queensland (UQ). In the last two years before retirement, Vic assisted in obtaining all the radiation health approvals for the 18 Mev cyclotron. Since last taking up the Role as URPA at QUT in 2006, Vic has been developing an increased interest in the standards setting for non-ionising radiation compared ionising radiation
Speaker 5 – Dr Julie McCredden
Dr. Julie McCredden PhD is a cogntive science resarcher and educational designer. She received a BSc (mathemtics and pschology double major, physics minor) from The Universty of Queensland (UQ) in the 1980's. Then she did her honours training and research in human perception (visual illusions and psychophysics) at the UQ and the Queensland Institute of Technology (QIT). She then worked in research into cognitve development and human reasoning at the UQ throughout the 1990's. Dr. McCredden received her PhD in cognitive science (investigating neural network models of human reasoning) in 2001 from the UQ. Since that time, she has worked in both applied and theoretical settings at UQ and Griffith University, including investigating the limits to human working memory, exploring methods for helping engineering students to grasp complex concepts, and helping to introduce new technologies and pedagogies into university courses. It was through this latter experience that Dr. McCredden became aware of the discrepancy between the promise and the delivery of technology within educational settings, and of the underlying health risks of the ubiqitous roll out of untested new technologies across university campuses. Dr. McCredden's current research interest is the effects of EMR on cognitive processes in children and adults. She is also working towards a Masters of Counselling, with an aim to combining environmental science, neuroscience and traditional psychotherapies so as to develop a holistic approach to treating adults and children with environemtnal sensitivities
Speaker 6 – Sacha Stone (Via Livestream)
Former rock musician and artist Sacha Stone grew up in Rhodesia-Zimbabwe throughout the war for independence.
He established Humanitad in 1999. After conducting a five year diplomatic campaign he engaged Humanitad upon both the NGO and IGO playing fields as an outspoken advocate of human rights and natural justice.
He has instigated peace initiatives and education programs, and has lobbied against human-rights abuses in different parts of the globe and continues to prosecute for the protection of breakthrough innovators, scientists and doctors.
Sacha founded New Earth Project (New Earth Nation), the worlds most integrated movement promulgating sustainable, sovereign and self-determining communities. It operates as a universal trust engaging micro-nations by Treaty and exists outside of fictitious enclosures dreamt up by self-serving corporation-governments and institutions.
He is also founder of the ITNJ International Tribunal for Natural Justice, which launched under multilateral observership in June 2015 via a ceremonial seating and ratification ceremony at Westminster Central Hall in London on the 800th anniversary of the signing of Magna Carta. This new planetary court is committed to the dispensation of natural justice and adherence to the rule-of-law.
The ITNJ launched the Judicial Commission of Inquiry into Human Trafficking & Child Sex Abuse at Westminster Central Hall in London in Spring 2018. The Commission continues to hear witness testimonies from survivors and expert witnesses from around the globe via on-line virtual court seatings. It will issue a formal Commission Report in 2019 for the edification of the public-at-large as well as governments, policing agencies and the military intelligence community (all of which are variously complicit in the crimes against humanity via compartmentalised elements within their own institutions).
Sacha is an activist, public speaker, publisher, writer and film-maker.
Speaker 7 – Liz GilbertGrant
Liz GilbertGrant has been working with individuals and groups for over thirty years.
Liz supports people in their expansion to new levels of awareness , integrity and creativity.
That is, their ability to create with integrity and congruence.
Liz has a great love of people , an ability to listen and hear what is not being spoken.
Her conversations will engage you outside the limitations of your mind so you can glide seamlessly to other experiential levels of your beingness.
Liz moves intuitively to work with the needs of a group.
Speaker 9 – Dr Russell Cooper (via Livestream)
Dr. Russell Cooper's CV extends across many disciplines of medicine, complementary medicine and mind body medicine.
He graduated at the University of Witwatersrand in Johannesburg in 1981 being awarded an MBBCh,
and worked as a senior medical officer in multiple disciplines of medicine in South Africa and England from 1982-1984.
In 1987 he was a Registrar in Accident and Emergency Medicine at the Launceston General Hospital Tasmania, Australia.
In 1988 Dr Cooper commenced a fulltime integrative medical practice in Hobart, Tasmania. In 1993 he built Anubha Mountain Health Retreat in Fern Tree in the hills around Mt Wellington near Hobart which continues to be a progressive and nurturing center for patients seeking a complementary approach for physical and spiritual wellbeing in Tasmania and the mainland of Australia.
Dr. Cooper has had extensive training and experience in Anti-Ageing Medicine and specifically bio-identical hormone replacement therapy (BHRT), He attends multiple international conferences each year
and has the largest practice of BHRT in Tasmania. He runs a comprehensive investigation and treatment program for male and female hormonal decline and is involved in introducing innovative
testing procedures in Australasia and internationally, which provide enhanced safety and efficacy.
Dr Cooper has been instrumental in introducing genetic testing for polymorphisms in Australia for cardiovascular disease, osteoporosis, menopause/andropause, the metabolic syndrome, eating according to your genes (Nutrigenomics) and individualised gene based drug treatment (Pharmacogenomics).
He has been awarded Australasian Fellowships in:
Nutritional & Environmental Medicine (FACNEM)
Herbal Medicine (FACoHM)
Acupuncture (FAMAC)
Tickets only $55 online + Bring a Friend for Free (Until 9pm Saturday night the 6th July) - Then $55 at the Door (Unless Sold Out)
Livestream also Available – Only $27 (Via private password Link on YouTube platform)
5G is the new wireless wifi technology that is being rolled out world wide that will soon replace 4G. There are major health concerns which you can read about below. This is a global movement and people world wide are trying to put a stop to it.
There has been no testing on 5G apart from on lab rats which died.
Tom Wheeler, Chairman of the FCC explains in a press conference that despite the fact that there has been no testing, regulation or standards in place they are rolling it out anyway because billions of dollars can be made - his words. There will be antennas placed on street lamps and/or existing structures every 200-500 metres for it to work. Tom also says that everything that can be connected will be connected – from your car, your fridge, the products you buy will even be microchipped and connected – nothing will be untouched by 5G so this is not just about getting faster internet. What his speech here https://youtu.be/jhMxLPci1lA
When we question Telstra and other Telcos they say that they following ARPANSA safety guidelines.
ARPANSA who are the Australian Government dept for regulation - last did testing back in 2002 (17 yrs ago) even before 4G and certainly doesn't cover 5G technology which is 100 times stronger. Recently ARPANSA put a disclaimer on their site that says that their info should only be used as a guide for education purposes and you should seek professional advice.
The professional doctors and scientists - at least 26,000 scientists are saying it's very dangerous for your health - see links below.
5G HealthSymposium Promo: https://youtu.be/88qXa1Wny9Q
Barrister Ray Broomhall: https://youtu.be/HujOpkufM0c
Victor Leach: https://youtu.be/ydUInSKexgE
Dr Russell Cooper: https://youtu.be/NQnSVt9ks2E
Please join our STOP 5G Global Facebook Group here: https://www.facebook.com/groups/2287108718223165/
Please Sign Petition here: https://www.change.org/p/humanity-stop-5g-global
Date and time
Location
Newnham Hotel
516 Newnham Rd
Upper Mount Gravatt, Queensland 4122
Australia
Refund policy
Refunds up to 1 day before event