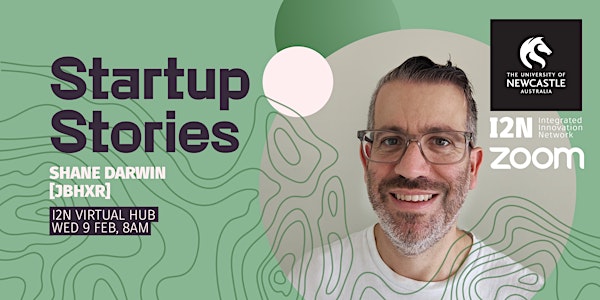 Startup Stories - Shane Darwin (JBHXR)
Hear the experiences of an entrepreneur and business owner – the highs, the lows, the wins, the mistakes, the inside story.
About this event
Combining his technical skills and a passion for teaching others, Shane entered the further education field early last decade, specialising in telecommunications training. Since then, Shane has overseen numerous training organisations, including contributing to the public listing of a national education company. Joining Newcastle-based JB Hunter in 2017, Shane was initially responsible for the development of an innovative suite of experience-focused courses that utilised delivery options such as tablets, drones and simulated roof tops, before becoming CEO in March 2020.
Whilst the pandemic has presented plenty of challenges for training organisations, Shane has led the digital transformation of JB Hunter, including the launch of JBHXR, its Virtual Reality (VR) arm, in mid-2020 and migrating courses to Virtual Instructor Lead delivery. Whilst the use of technology for the sake of technology can have a negative effect on the learner, a well designed program covering instructor, online and virtual technologies offers a creative, student-centred approach. As such, this shift to integrate technology with training, while COVID-necessitated, has significantly enhanced the learner experience and the VR industry is forecasting exponential growth.
Shane is looking forward to growing JBHXR over the coming years. Building partnerships, both local and global, is key to maintaining JBHXR's position at the forefront of the VR learning industry. Join us for Startup Stories and hear from Shane how he and the JBHXR team are scaling their learning experience with partners across the globe.
Order of Proceedings
8:00AM - Zoom webinar commences
8:05AM - Housekeeping and introduction
8:10AM - Overview from Shane Darwin
8:20AM - Participant submitted Q&A
8:50AM - Additional Q&A with live audience
9:00AM - Event concludes
=================
What is I2N?
The University of Newcastle's Integrated Innovation Network (I2N) is responsible for driving economic diversity and business growth through innovation and entrepreneurship. At its network of innovation hubs, which are home to the Hunter region's most promising innovators and entrepreneurs, the I2N delivers a range of enterprise skill building programs that develop ideas into sustainable, global businesses.
=================
You may be photographed or videoed while attending this event: please approach the organiser if you have questions, concerns, or do not wish this to happen.
The event organisers may add you to a mailing list so they can follow up, and you can receive updates about their activities: this mailing list will have an easy-to-find unsubscribe button.