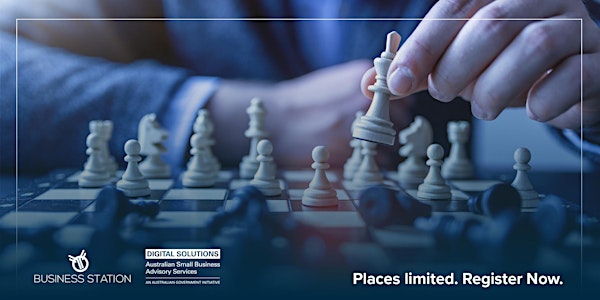 Stakeholder Driven Innovation & Initiatives by Tristan [2OW]
Sales Have Ended
Registrations are closed
Thank you for your registration to our ASBAS Digital Solutions Event.
Sales Have Ended
Registrations are closed
Thank you for your registration to our ASBAS Digital Solutions Event.
Creating meaningful change in this world is hard & often requires first identifying and aligning with the most relevant stakeholders
About this event
PLEASE NOTE: To register for this event you must be a business (0-19 employees)  and provide your ABN. 
This session will be recorded and sent to everyone who has registered. Register now!
Level : Advanced
Date/Time:
Monday, 31 January 2022
WA: 02:00 PM to 04:00 PM (AWST)
NT: 03:30 PM to 05:30 PM (ACST)
QLD: 04:00 PM to 06:00 PM (AEST)
Taking new innovative products and services to market can often require moving heaven and earth.
However, it needn't always be that way if you identify, align & co-create initiatives with relevant key stakeholders.
In this session, we will run through how to identify, align and co-create with the right stakeholders for your business... getting this right can often be the difference between success and failure.
Creating a stakeholder group and working backwards from what they collectively want/need is the name of the game...
This workshop is brought to you by Business Station and AusIndustry under the Digital Solutions Program.
ABOUT PRESENTER
Tristan is a super curious, well-travelled, heavily networked, resourceful, and purpose-driven General Business Advisor & Strategist.
He has had exposure to the Corporate, Not-for-profit, Small Business & Startup Worlds.
This gives him the perfect background to help deliver the Commonwealth Government's Digital Solutions program as a General Business Advisor, Business Developer & Strategic Stakeholder Liaison.
Tristan has worked within the following industries:
- Business Strategy/Advisory
- Information Technology
- Commercial Construction
- Building Engineering
Tristan has recently returned to Australia after several years working internationally in Europe & United Kingdom within the tech startup & scale-up sector. This experience has cultivated his strategic planning abilities, tenacity and social & emotional intelligence.
Tristan helps Startups, Scale-ups and Small Businesses by performing 360 Diagnostic Reviews & Health Checks to identify factors that are inhibiting growth / performance.
Tristan has advised & added value to over 200 Small Businesses and scalable startups, with many, many more in the pipeline, across:
- Architecture,
- Construction,
- Food & Beverage,
- Art & Culture,
- Financial Services,
- HR Tech,
- EdTech,
- MedTech
- LegalTech
- FashTech
- ConstructionTech
- PropTech
#stakeholderengagement #stakeholdermanagement #alignment #gotomarketstrategy
About Digital Solutions - Australian Small Business Advisory Services
Digital Solutions is one of the most generously supported digital transformation programs for small business by the Commonwealth Government. This iteration of the program has been run by Business Station in QLD, WA and NT for three years and has had a significant positive impact on the small business community.
This event will give you the chance to learn about the details of the program, what's on offer and who can access the free or highly subsidised support, training and resources! Perhaps you will find them beneficial for yourselves, your network or your clients.
To better understand what's on offer, we will encourage each attendee to register themselves to the program before the event, or otherwise by attending this workshop, you will be registered.
Important – Participating businesses must be aware that this information will be provided to the Commonwealth Department of Industry, Science, Energy and Resources for program evaluation and reporting purposes; and businesses may be approached by a representative from the Department to complete a survey on the services provided.