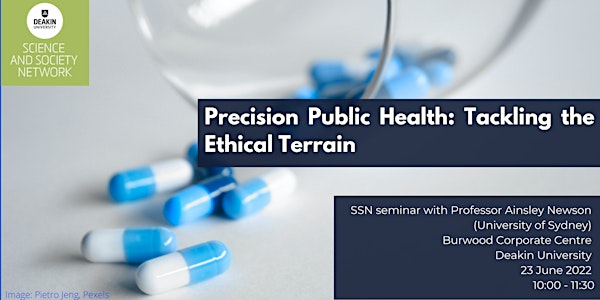 SSN Seminar: "Precision Public Health" with Professor Ainsley Newson
Location
Deakin Burwood Corporate Centre (BCC)
221 Burwood Highway
Burwood, VIC 3125
Australia
SSN Seminar: "Precision public health: tackling the ethical terrain" with Professor Ainsley Newson
About this event
Please join us for this in-person seminar at Deakin Burwood Corporate Centre with Professor Ainsley Newson (University of Sydney), hosted by the Deakin Science and Society Network (SSN). Joining Professor Newson as discussants will be Professor Jeffrey Craig (Deakin University) and Associate Professor Rosalind McDougall (University of Melbourne). This seminar will be chaired by Associate Professor Neera Bhatia (Deakin University).
You can join the conversation on Twitter by following us at @SSNDeakin and using the hashtag #SSNseminar.
Abstract:
Precision public health (also known as precision population health) is a rapidly developing area of health activity globally. It involves using technologies such as 'omics at population scale, with the aim to improve the health (and policy in relation to the health) of a given population. While these interventions show promise, complexities arise regarding definitions, public health framing and consideration of ethical issues in precision public health. In this presentation, I offer some initial ideas about how we should go about tackling these. I will make two main claims. First, I will suggest that precision public health should not be construed – practically or ethically – as a scaling up of precision medicine. Second, I will assert that ethical analysis in precision public health should be based around concepts and approaches drawn from public health ethics. The implications of this view include that we need to pay more attention to structural elements of society that are health determining, and that we should move away from a sole focus on individually embedded considerations such as autonomy and empowerment. With this approach, bioethics can shape appropriate applications of precision public health.
Speaker:
Prof Ainsley Newson is Professor of Bioethics at Sydney Health Ethics, Sydney School of Public Health, the University of Sydney. Ainsley has worked in bioethics for nearly 25 years, holding positions in Australia and the United Kingdom. In her work, Ainsley draws on her background in bioethics, law and science to critically consider how genomic and reproductive technologies should be used well, in research, clinical and population health settings. Ainsley leads the ethics programs of research within the Australian Reproductive Genetic Carrier Screening Project (Mackenzie's Mission) and Australian Genomics. Her other ongoing projects examine ethical aspects of the use of genomic technologies in prenatal testing, commercial influences in assisted reproduction and mitochondrial donation. Ainsley sits on a range of committees that deliberate bioethics issues in a policy context, including the Australian Health Ethics Committee, and the Regulatory and Ethics Working Group within the Global Alliance on Genomics and Health. Ainsley originally hails from Melbourne, and relishes any opportunity to visit.
Professor Jeff Craig is a lecturer in Medical Sciences at School of Medicine at Deakin University, Waurn Ponds, Victoria. He has a BSc in Genetics and Cell Biology from the University of Manchester, a PhD from the University of Edinburgh and a Grad. Cert. in Higher Education Learning and Teaching from Deakin. His research goal is to apply techniques of epigenetics and cell biology to develop biomarkers of health and disease. This includes a focus on the role of epigenetics in mediating the effects of early life environment on the risk for chronic conditions. In 2018 Prof Craig established the multidisciplinary network 'Gen(e)quality'. Its broad aim is to develop ideas on the technical, ethical, legal and social implications of epigenetics research and testing
A/Prof Rosalind McDougall is an ethicist, based at the Centre for Health Equity in the Melbourne School of Population and Global Health. Originally trained in genetics and philosophy, she has postgraduate degrees in bioethics from the University of Oxford and the University of Melbourne. Her research and teaching focus on the ethical challenges faced by health professionals. She has published widely in clinical and reproductive ethics, and was selected in 2018 as one of the ABC's Top 5 researchers in the humanities and social sciences. Rosalind has been involved in providing clinical ethics support in hospitals since 2008. She is currently clinical ethicist at Austin Health and the Royal Children's Hospital.
Watch the seminar:
The seminar will be available to stream on YouTube live. Access using the live link here.
Details:
Date/Time: Thursday 23rd June 2022, 10:00 - 11:30am (Australian Eastern Standard Time, GMT+10)
Location: Deakin Burwood Corporate Centre, 221 Burwood Highway Burwood, VIC 3125
Q&A with the speaker to follow. To send questions/participate in the chat, you'll need to sign-in using a YouTube account.
The seminar will be recorded and available to watch on the SSN YouTube channel after the Livestream.