Location
S&R Orchard Perth
36 Halleendale Road
Walliston, WA 6076
Australia
Refund policy
Contact the organiser to request a refund.
Eventbrite's fee is nonrefundable.
Please note one car one ticket only. All other adults in your car pay at entry gate.
About this event
The annual Blossom Festival is back from 5th - 26th September at S&R Orchard Perth.
The car parking ticket costs $12.00 per car and includes ONE free entry only for an adult.
All other adults will be charged $12.00 at the festival gate.
Please choose your date carefully. There are no refunds or date changes on the tickets, the event will go ahead in all weather - rain, hail or shine.
Parking tickets are NOT required on weekdays.
Car bays are limited on the weekends so book your parking ticket now.
PLEASE NOTE: No car park ticket, no entry to the festival on Weekends.
S&R BLOSSOM FESTIVAL by S&R Orchard Perth
5-26 SEPTEMBER 2022
Monday to Sunday 9:00am - 5:00pm
Address: ‪36 Halleendale Rd Walliston‬ Perth
We open our gates to the public in September for a limited 3 week spectacular Blossom Festival! Come and enjoy the magical blossom, take in the fragrantly sweet fresh air, and pose for those ever so popular photos amongst the flowering trees!!
Located just 30 minutes drive from Perth's CBD, in the beautiful hills. Bring your family, picnic basket and enjoy a day out on the relaxing orchard with plenty of family friendly activities Inc tractor rides, animal farm, ferris wheel, bouncy castle and food vans.
ENTRY COST INFO
Monday - Sunday
Adults $12
Kids $5
Kids under 3 free
* Parking tickets needed on Weekends
Parking is limited!! A reserved parking bay MUST be booked before entry for your convenience and to avoid disappointment.
* No Parking tickets needed on Weekdays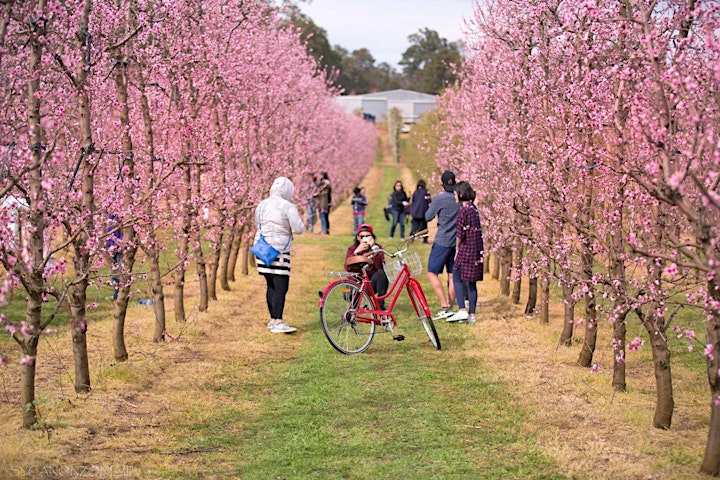 TERMS AND CONDITIONS
Refunds
Subject to refund requests made in relation to refundable tickets (see the Refundable Tickets Terms and Conditions of Sale below).
1. S&R Orchard will only offer a refund or exchange if the event date is cancelled or rescheduled. S&R Orchard does not offer refunds or exchanges because of a change in your personal circumstances. In the event of S&R Orchard cancelling the event, a refund of the ticket price minus the booking fee will be offered.
2. S&R Orchard will only replace lost, stolen, damaged or destroyed tickets if the validity of the ticket can be verified, including proof of purchase, and if you give reasonable notice before the event.
Conditions of Entry
1. You may be denied entry into, or removed from, the event if you are intoxicated, under the influence of illicit drugs, or adversely affecting the enjoyment of the event by others.
COVID-19 specific conditions of entry
1. If you are attending the event as part of a group, as the primary ticket purchaser, you are responsible for knowing the contact details of all attendees in your group. In the event you are contacted directly by the Government, including the Department of Health for the purposes of contact tracing, you must: (a) make the contact details of your group available to the Government (if you have the consent of each group member to do so); or (b) contact each member of your group, and request that they provide their contact details to the Government directly.
2. All attendees in your group, including yourself, must commit to stopping the spread of COVID-19. If at the time of the event, either you or any other members of your group are feeling unwell or are subject to a self-quarantine or self-isolation period, you agree not to attend the event.
Athenticity and validity of tickets
1. Entry to an event may be refused if the authenticity or validity of a ticket is questionable, including because the ticket has been damaged or defaced in any way, or has not been purchased from Eventbrite.Resale of tickets
1. Tickets may not, without the prior written consent of S&R Orchard, be resold or offered for resale at a premium (including via on-line auction or other unauthorised resale sites) or used for advertising, promotion or other commercial purposes (including competitions and trade promotions) or to enhance the demand for other goods or services. If a ticket is sold or used in breach of this condition, the ticket may be cancelled without a refund and the ticketholder of the ticket may be refused admission.