Sales Have Ended
Ticket sales have ended
Please follow us on Facebook & Instagram to keep up to date
Sales Have Ended
Ticket sales have ended
Please follow us on Facebook & Instagram to keep up to date
Ponies, glamour, fashion, food and drink – Spring Polo is equally exciting for what takes place on and off the field.
About this Event
The Spring Polo presented by Lexus of Toowoomba offers a truly unique opportunity for Toowoomba.
There will be two spectator friendly polo matches, all easily visible from the Hit FM Canopy Lounge, Stick & Ball Bar, Classic Beauty Pavilion and Lexus Lounge. A wide range of hospitality and guest seating that includes general admission and an elegant VIP area with the option of exclusive private spaces to cater for those wishing to entertain their guests in a more private setting.
Field side champagne, live music and scrumptious food mixed with polo is the perfect reason to join us at the Lexus of Toowoomba Spring Polo in Queens Park!
Tickets on sale Monday 27th May at 8am until exhausted!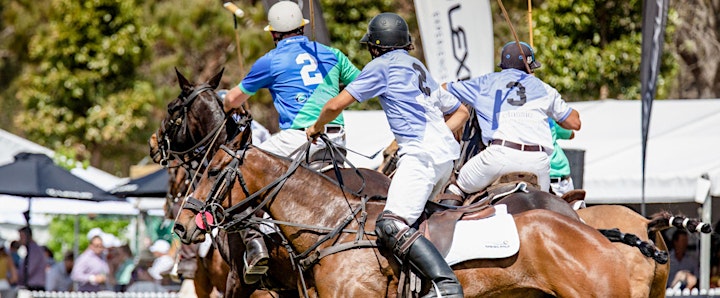 FREQUENTLY ASKED QUESTIONS
GATES OPEN at 11:30am.
HOSPITALITY PACKAGES for the Lexus Lounge, Classic Beauty Pavilion, Private marquees and the Stick & Ball Bar will commence at 12noon. No Food or beverages will be served prior to this.
HIT FM CANOPY LOUNGE HOSPITALITY will commence at 11.30am with cash sales.
WET WEATHER - The game will proceed if the field is safe for both horses and players. If there is inclement weather in the area or we have experienced a major rain event in the days leading up to, please check our Website, Facebook or Instagram.
WHEELCHAIR ENTRANCE at the Corner of Hume & Godsall Streets.
MAIN ENTRANCE located on Hume Street, please follow the signs.
RESERVED SEATING - No! We are sorry but to play it fair we do not reserve seating for groups.
PASS OUTS - Yes, we do allow you to leave and come back as long as you have your wristband on.
VISITING FRIENDS IN OTHER AREAS is not available. Your wristband entitles you to entry into your area ONLY.
CHILDREN must be accompanied by a parent or guardian at all times.
PARKING - On street parking will be available in the streets surrounding Queens Park as well as the Chalk Drive and Neil Street parking lots. Some parking is metered so please ensure you pay & display where required. We recommend carpooling & public transport to reduce parking congestion.
ACCOMMODATION - looking for accommodation, make sure you speak with the team at Burke & Wills Toowoomba as our official accommodation partner.
DOGS & PETS - No pets are permitted at the Spring Polo (service dogs approved)
WHAT TO BRING - Please ensure you bring your ticket, photo ID, sun protection & money for food/drink. Your ticket can be printed or open on your smart phone. If you purchased your ticket as part of group, make sure you get your ticket before arriving on the day. No ticket, no entry.
ID will need to be current. The only acceptable forms of ID are a current driver's licence, current 18+ card, current passport.
For those in the HIT FM CANOPY LOUNGE you are welcome to bring a picnic blanket if you would like to sit on the embankment.
Make sure you have CASH for the day as there will be NO ATM on site.
WHAT NOT TO BRING - Spring Polo is a fully licensed & catered for event. You are not permitted to bring alcohol or illicit substances, private tents, tables, eskies, umbrellas, glassware, cutlery, sharp knives, unsealed plastic bottles or professional cameras. All bags will be submitted to a search by security staff upon entry & all contraband will be confiscated.
DRESS CODE - Casual clean looks and flowing spring flare are ideal for a day at the polo. Ladies are recommended to leave the heels at home with the gents, matching tailored shirts with dress shorts or chinos to achieve a polished yet casual look. Ladies, fascinators are a NO, NO however stylish sun hats, sunnies and head scarves are ideal. Opportunities to get active throughout the day during the Divot Stomp and mingling with the players and horses so a little practicality is required to maintain that air of class. Relaxed, feminine dresses cut above the knee or longer playsuits, Maxi dresses, tailored shorts paired with a shirt are all great. Effortless class, sophistication, fresh make up and natural hair.
Men steer clear of dark suits, t-shirts, and thongs! Chino's or a tailored pant paired with loafers, or two-tone brogues. Classic shirts or even some gingham with a bow tie. Blazers, sports jackets and stylish hats all offer great polo style.
RANGE EVENT HIRE & BURKE & WILLS DIVOT STOMPS - find a lucky item on the field to win a beautiful prize pack.
WARNERS FINE JEWELLERY LADIES & MEN'S DASH - Be the first across the line to win some amazing prizes! (This is restricted to 18+ attendees only)
GRAND CENTRAL FASHIONS ON THE FIELD - If you think you have what it takes to take out the coveted Grand Central Fashions on the Field prizes then make sure you are in the running by completing an entry at the Front Gate. Only those that register at the front gate will be included in the judging.
PRICELINE PHARMACY BEAUTY TENT - need a freshen up during the day, then make sure you stop in at the complimentary beauty tent provided by Priceline Pharmacy Toowoomba Stores.
FITZY'S AFTER PARTY will kick off approx. 5pm at Fitzy's. This is an 18+ only function.
A SAFETY NOTE - Please always be mindful of what is going on in the game. Balls may often be mis-hit or unintentionally deflected and fly into the crowd. The horses can come over the boards so always be behind the white safety line. PLEASE never lose sight of your children who may wander towards the field! It's up to the spectators to be aware of what's happening around them to keep the game safe and enjoyable.