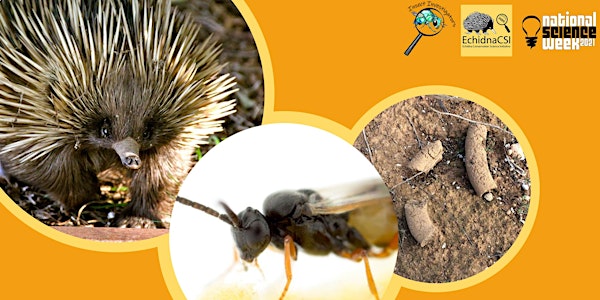 Spines, Scats and Six Legs
Location
Parndana Campus
Wedgewood Road
Seddon, SA 5223
Australia
Join leading researchers in echidna and insect biology to learn all about the secret lives of these remarkable species on Kangaroo Island
About this event
Spines, Scats and Six Legs: exploring echidnas, poop and insects on Kangaroo Island
Did you know that the Kangaroo Island echidna is the best studied echidna population in the world? That there are unique insects that live on the island that can't be found anywhere else? And on top of that echidnas eat those insects and we can tell which ones by looking at the DNA in the echidna poop?! Better yet, that you can get involved in this research as a citizen scientist?
During National Science Week, come learn about the wonderful world of echidnas and insects by leading researchers and award-winning science communicators with an event for all ages on Kangaroo Island. Hear from the leading echidna ecologist, Dr Peggy Rismiller, who will share secrets about echidnas she has learnt from over 30 years of studying them! Learn all about the creepy crawlies that are living in your own backyard from Dr Erinn Fagan-Jeffries and even catch and identify insects yourself on the day. You'll also hear from Dr Tahlia Perry about the successful citizen science project EchidnaCSI, how you can learn even more about echidnas from their poop and how you can be apart of this research yourself as a citizen scientist!
The two hour event will be a combination of entertaining talks and hands-on activities including insect catching and learning how to identify different animal's poop!
The event is free but make sure you register for either the 10am or 2pm session. Suitable for all ages.