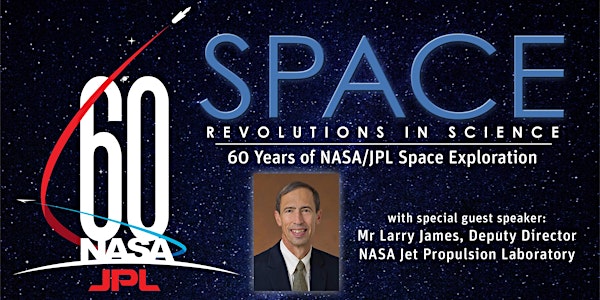 Space - Revolutions in Science - 60 years of NASA/JPL space exploration
Location
Questacon - The National Science and Technology Centre
King Edward Terrace
Parkes, ACT 2600
Australia
Description
SPACE: Revolutions in Science - 60 years of NASA/JPL Space Exploration
with special guest speaker: Mr Larry James, Deputy Director, NASA's Jet Propulsion Laboratory
Since the establishment of NASA in October 1958, there has been a revolution in science and space exploration that has changed our understanding of the universe around us and of our home, planet Earth.
NASA's Jet Propulsion Laboratory located in Pasadena, California has been at the forefront of that revolution with its pioneering and history-making missions exploring the planets orbiting our Sun and the universe beyond.
In the past 60 years, robotic spacecraft have ventured to every major celestial body in the Solar System with missions to study the planets, moons, asteroids and comets. These great adventures of exploration have taken us further into the cosmos with deep space telescopes showing us vistas of distant stars, nebulae and galaxies.
Join us for a fascinating evening with one of the leaders of today's revolution in science, as we discover where we've been in space, and the exciting plans of where we'll go in the future.
'NASA 60th' 'space'
ABOUT LARRY D. JAMES
Larry D. James was appointed Deputy Director of the Jet Propulsion Laboratory in August 2013. At JPL he is the Laboratory's Chief Operating Officer responsible to the Director for the day-to-day management of JPL's resources and activities. This includes managing the Laboratory's solar system exploration, Mars, astronomy, physics, Earth science, interplanetary network programs, and all business operations. These activities employ 5800 scientists, engineers, technicians, and business support personnel, generating US$2.2 billion in annual revenues.

Prior to his retirement from the Air Force and his appointment as JPL Deputy Director, Lt. Gen. James was the Air Force Deputy Chief of Staff for Intelligence, Surveillance and Reconnaissance at the Pentagon. He was responsible to the Secretary and Chief of Staff of the Air Force for policy formulation, planning, evaluation, oversight, and leadership of Air Force intelligence, surveillance and reconnaissance capabilities and led more than 20,000 Intelligence, Surveillance and Reconnaissance officers, enlisted and civilians across the Air Force ISR Enterprise.

Lt. Gen. James received his Bachelor of Science in Astronautical Engineering (1978) from the US Air Force Academy (Distinguished Graduate) and his Master of Science in Aeronautics and Astronautics (1983) from the Massachusetts Institute of Technology, Cambridge MA. He was also a Draper Fellow at the Charles Stark Draper Laboratory in Cambridge MA.

James' 35 year military career included assignments as a Space Shuttle Payload Specialist, GPS Program Manager, Titan IV Launch Director and Commander of the 50th Space Wing at Schriever AFB, CO. James has also served on the staffs of US Space Command, Air Force Space Command, and HQ Air Force. He was commander of the 14th Air Force at Vandenberg AFB, responsible for all military satellite, launch and C2 operations, and was Director, Signals Intelligence Systems Acquisition and Operations Directorate, National Reconnaissance Office, Washington, D.C. He was the Director, Space Forces for Operation Iraqi Freedom at the Combined Air Operations Center, Prince Sultan Air Base, Saudi Arabia.

Major Awards and Decorations:
Defense Superior Service Medal with oak leaf cluster
Legion of Merit with three oak leaf clusters
Bronze Star Medal
National Reconnaissance Office Leadership Award
General Thomas D. White Space Award
General Jerome O'Malley Distinguished Space Leadership Award

FAQs
How can I contact the organiser with any questions?
If you have questions, please contact pr@cdscc.nasa.gov
Is my registration free or ticket transferrable?
There is no charge for this talk. It is free. If you find that you are unable to attend, you can transfer the ticket to another person. If you decide cannot attend at all, please let us know so that we can make your seat available to someone else.
Will the talk be suitable for children?
The presentation will be generally non-technical in nature and will be suitable for most ages. Individual interests may vary.
Will the audience be able to ask questions?
Yes, there will be Q&A as part of the evening.