Some women play by the rules. Some play with fire. Join the discussion.
Description
Entry: General Female Entry $50
Our first event features some of the smartest, funniest, bravest and most accomplished women we know.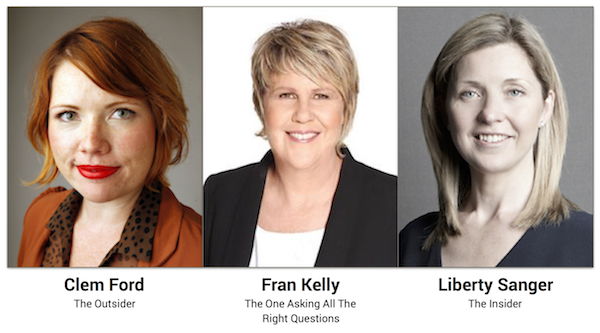 We've assembled three fantastically different women with a shared passion for seeing us succeed in all walks of life:


Clem Ford: The Outsider
Author of Fight Like A Girl (mandatory reading for every female on the planet), Google Clem and you'll understand quickly the definition of guts and tenacity. On the days when I think as women, we are nowhere, I go and read Clem. She is the literary equivalent of the badass Amazon Warriors from Wonder Woman. And she's on your side.
Fran Kelly:
The One Asking All The Right Questions
In an age of dumbed down media, Fran's sharp intellect and journalistic excellence in the area of current affairs and politics are a standout.
When covering the Labor Party leadership battle between Bob Hawke and Paul Keating in 1991, Fran notes "I remember standing in the pack in the corridor outside the PM's office, and being right up at the front of the crush, asking questions of Kim Beazley. I also remember not being intimidated, which is when I realised that this was probably the job for me."
Unapologetically terrifying federal politicians ever since, Fran hosts the ABC's Radio National program, Breakfast.
Liberty Sanger:
The Insider
A Principal and Board member at Maurice Blackburn Lawyers, Liberty's long list of legal achievements is epic, but that isn't the hat she's wearing at this event.
A long time campaigner and advocate for women via her involvement and leadership on various boards and associations made her an excellent choice as the Chair of the Equal Workplaces Advisory Council created by the Victorian Government to promote gender equality across the public and private sector. You know that thing about Knowledge being Power? You'll get to see that up close and personal with Liberty on the panel.
Why are we adding 16% to the price for the guys?
The gender pay gap is the difference between women's and men's average weekly full-time equivalent earnings, expressed as a percentage of men's earnings. The Workplace Gender Equality Agency calculates the national gender pay gap using Australian Bureau of Statistics' Average Weekly Full-Time Earnings data. The national gender pay gap is currently 16.0% and has hovered between 15% and 19% for the past two decades.
Click here to visit the Australian Federal Government Workplace Gender Equality Agency.


Our Event Sponsor
The SGLBA is delighted to have Maurice Blackburn Lawyers contribute to the success of this landmark event.