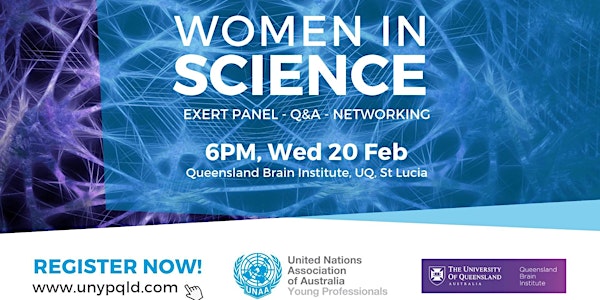 SOLD OUT - Women in Science: Expert Panel. Q&A. Networking
Event Information
Location
Queensland Brain Institute
Level 7, QBI Building 79
University of Queensland
St Lucia, QLD 4072
Australia
Refund policy
Refunds up to 7 days before event
Description
Join us on the QBI terrace (with sunset views!) for an evening showcasing women in science in celebration of the UN International Day of Women and Girls in Science. Hosted at one of the forefronts of neuroscience research in Australia, the Queensland Brain Institute, hear our panel of inspirational, engaging scientists from various research disciplines share about their journey into science and their exciting research - with plenty of time for our ever popular Q&A session.
OUR SPEAKERS:

- Linda J. Richards, PhD, FAA, FAHMS is a Professor of Neuroscience and Deputy Director of the Queensland Brain Institute at The University of Queensland, Brisbane, Australia. She is a Fellow of both the Australian Academy of Science and the Australian Academy of Health and Medical Sciences and is a National Health and Medical Research Council Principal Research Fellow. She is President of the Australasian Neuroscience Society and Co-Chair of the Australian Brain Alliance. In October 2018 she was appointed to the Federal Government's Million Minds Mission Advisory Panel.

- Dr Kelly Trinh specialises in econometric modelling and developing statistical inferences for economic models with high dimensional data in Bayesian framework. She has strong programming skills on MATLAB, C++ and R. Her most recent work has focused on modelling labour market changes for Queensland's future workforce and exploring the impacts of task automation.

- From psychology to high-tech Vietnam - Jessica Atherton holds a Bachelor of Psychology (first class honours) from Griffith University and now works at CSIRO's Data61examining digitalisation in Vietnam as well as the nation's plausible development pathways over the next two decades. She has worked in a diverse set of areas, from learning analytics to career development, organisational development, and industry research to inform policy and strategy. Her learning analytics research predicted student academic performance from student engagement with online learning tools. This work was presented at the Australian Psychology Learning and Teaching Conference, and is being prepared for publication. Jessica's current work at CSIRO includes analysis related to smart cities for sustainability (SDG 11) and the next wave of digital disruption in manufacturing (SDG 9).
- Cecile Godde is a food systems research scientist at The University of Queensland and the Australian federal government agency CSIRO. She is passionate about the challenges in relation to agriculture, food security and global change, at the farm level as well as in a national and global context. In 2018, Cecile was awarded a several awards, including the Queensland Women in STEM prize in recognition for her research and advocacy for diversity leadership and gender equality. Cecile was also one of the 80 female scientists selected worldwide to take part in the largest ever female-only expedition to Antarctica, as part of the science and leadership program Homeward Bound
ABOUT: A significant gender gap has persisted throughout the years at all levels of science, technology, engineering and mathematics (STEM) disciplines all over the world. Even though women have made tremendous progresses towards increasing their participation in higher education, they are still underrepresented in these fields. Along with supporting UN Sustainable Development Goal (SDG) 5, promoting gender equality, this event will highlight the role of science in achieving a number of other SDGs.
Come ready to be inspired and network with some brilliant minds in science!
-Food and drinks will be provided.
-RSVPs are essential!
-Dress code is business casual
---------------------------------------------------------------------------------------------------------------------------
Become a member now, stay in the know, and save on a year's worth of great events!
https://unaaqldyp.tidyhq.com/public/membership_levels
Date and time
Location
Queensland Brain Institute
Level 7, QBI Building 79
University of Queensland
St Lucia, QLD 4072
Australia
Refund policy
Refunds up to 7 days before event