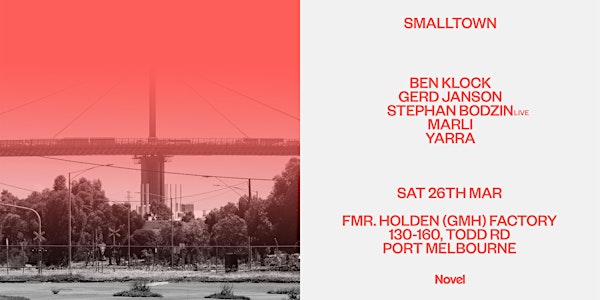 smalltown with Ben Klock, Gerd Janson + Stephan Bodzin (Live)
Performers
Ben Klock, Stephan Bodzin, Gerd Janson
Location
Former Holden (GMH) Factory
130 - 160 Todd Rd, Port Melbourne
Melbourne, VIC 3207
Australia
smalltown with Ben Klock, Gerd Janson + Stephan Bodzin (Live)
About this event
smalltown with Ben Klock, Gerd Janson + Stephan Bodzin (Live)
Sat 26th March 2022, 3PM - 11PM
Fmr. Holden (GMH) Factory, 130-160 Todd Rd, Port Melbourne
–––––––––––––––––
TICKETS ON SALE
–––––––––––––––––
Ben Klock
Gerd Janson
Stephan Bodzin (Live)
Marli
Yarra
Like the low rumble of a distant stampede looming closer, you feel your stomach tense as the anticipation of what's coming finally hits you. It's gutteral, it's all-consuming, it's nearly here. smalltown is back.
2020 and 2021 has seen us waiting patiently behind the starting line until we can take our marks, and kick things off with a bang. A heavyweight return calls for a lineup of gargantuan proportions. And for you, we haven't held back.
Ben Klock, Gerd Janson and Stephan Bodzin (Live). Three global techno powerhouses, rarely seen together on one stage. Each of them individually exhibit a unique skilled output of techno and electronic genres, together the three of them can only be described as a dance music trifecta. With three of the world's most renowned techno titans soundtracking our return in 2021, you can expect the same level of production as featured at our curated events B3, Let Them Eat Cake, and Pitch Music & Arts.
Featuring stage and lighting by Studio John Fish and unrestricted Funktion-One sound by Full Throttle Entertainment, smalltown is taking over a never before used inner-city location to host a top-notch street rave, to so-long the year that was, and celebrate the year that will be. All will be revealed soon.
Local support: Marli & Yarra
–––––––––––––––––
Strictly 18+
FB: Novel (Tours & Events)
IG: @wearenovel
W: www.novel.com.au
–––––––––––––––––
We acknowledge the traditional custodians of the land this event is taking place upon, the Wurundjeri People of the Kulin Nation, and we pay our respects to their elders of past, present and future.
Any patrons who have specific queries regarding the accessibility of the venue are encouraged to get in touch with us at hello@novel.com.au.