Description
Industry Seminar | SM Retail : Opportunity for Australian Fashion Export
Join the likes of Forever 21, Uniqlo, The Body Shop and Calvin Klein Platinum and find out what SM Retail is all about! Meet the multi-awarded business redefining the customer shopping experience in the Philippines;
Understand retailing in the Philippines and how your brand fits in directly from SM Retail

Find out what they are looking for in their brand partnerships, and how to sell to them

Learn about opportunities for Australian businesses in the Philippines fashion sector




WHEN | Tuesday 10.00 am - 12.00 pm, 27th September 2016

WHERE | Upstairs at the Textile & Fashion Hub, Building F (End of Dove St), 85 Cremorne St, Richmond VIC 3121 (MAP >>>)
COST | FREE! Simply RSVP via Eventbrite
We'll be hearing presentaions from Pascale Vermeerbergen Jimenez (Senior Vice President Business Development, SM Retail) and Tina Sendin (Business Development Manager, Manilla at Austrade), followed by a Q&A session joined by Roque A. Lim (Executive Vice President-Controllership, SM Retail, Inc.)
For those interested, there will be opportunity to meet with SM Retail and show your sample products. Please apply via email to info@tfia.com.au and include a brief description of your brand and products.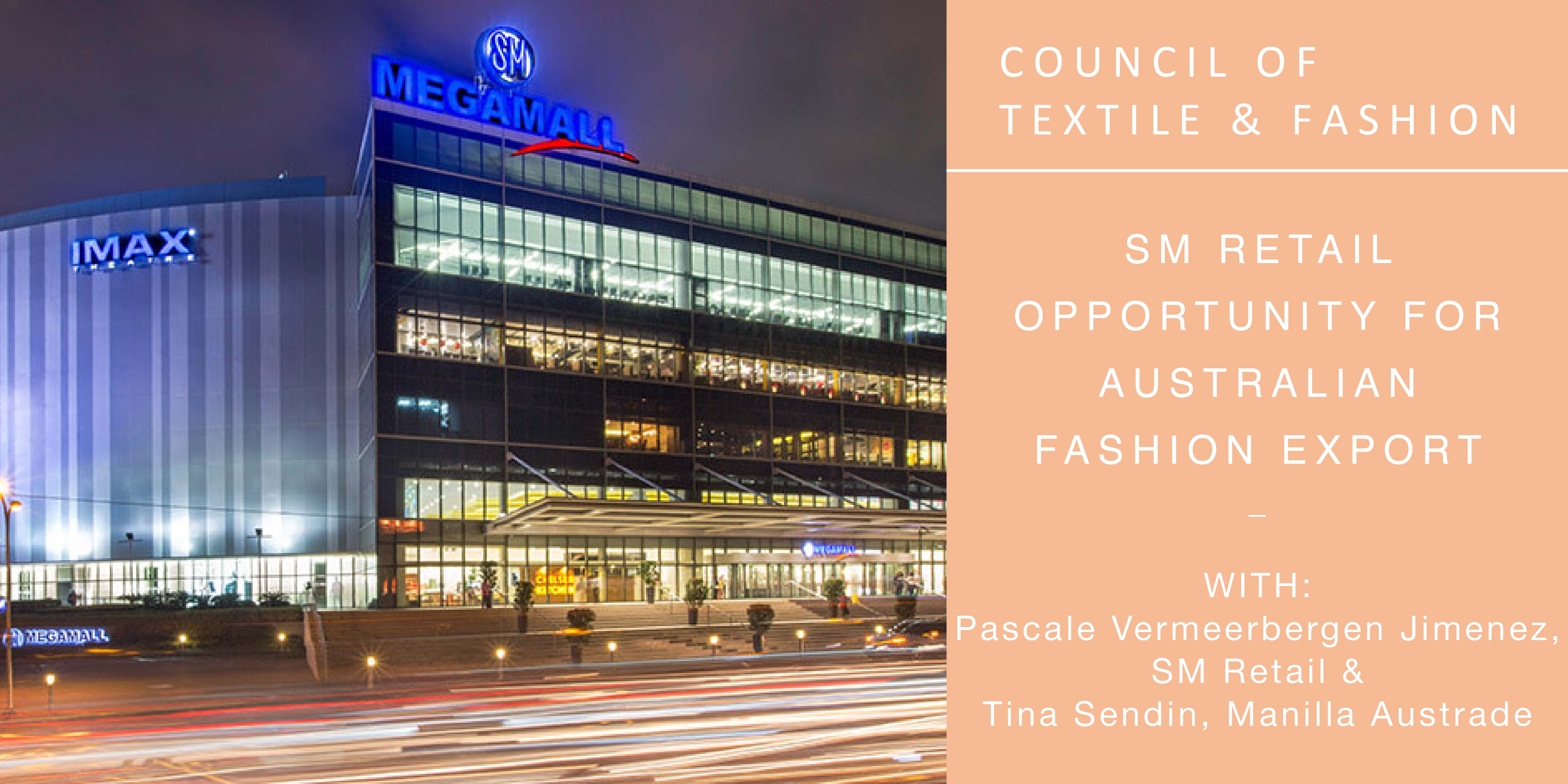 We Look Forward To Seeing You There!
---
ABOUT | SM Retail
SM Retail, Inc., which belongs to the SM Group of Companies, is a significant player in both fashion and food segments. SM's department store business, now branded as "The SM Store", has close to 55 stores strategically located in key cities throughout the country and carries a wide range of apparel, accessories, housewares, general merchandise and lifestyle products.
The multi-awarded business has been redefining the customer shopping experience in the Philippines. Its exciting array of merchandise from fashion to home furnishings is complemented by inspired and aspirational store designs that likewise offer convenience and accessibility.
The Retail arm of the SM Group also handles all the retail affiliate stores, Joint Ventures and Franchises of the group such as Forever 21, Uniqlo, Crate & Barrel, Ace Hardware, Watsons, Marie Claire, The Body Shop, Calvin Klein Platinum, Joseph UK, among others.
Through individual business units under the umbrella of SM Retail, inc. SM retail continues to selectively pursue interesting brands to partner with, in business ventures that work for both parties, and ultimately also contributes to the partner's success on the international market.
Find out more about SM Retail >>>


MEET | Pascale Vermeerbergen Jimenez
Senior Vice President Business Development, SM Retail, Inc.
Pascale Vermeerbergen Jimenez, Senior Vice President for Business Development for SM Retail inc., a Belgian national, economist, specialized in Marketing, Communication and Branding, started with SM Retail inc., the retail arm of the SM Group of Companies, 10 years ago, as VP Marketing for the SM Department stores.
In 2010, she started up the Department for Business Development, to attract International brands & businesses to the Philippines, and facilitate their entry to the Philippine market. This new area managed to forge partnerships with Forever 21, Uniqlo, Joseph UK and Crate & Barrel, among others. A portfolio of affordable and luxury brands that have contributed to changing the retail landscape in the Philippines.
Prior joining SM, Pascale's work experience was acquired internationally, in different countries, UK, Spain and UAE specifically, where she occupied International/Management positions in Carrefour, Atari, The Walt Disney company, LVMH and Estee Lauder.
After living in the Philippines for nearly 9 years, Pascale relocated to Singapore in April 2014, to set up the Representative office for SM Retail inc. where she remains to date.


MEET | Roque A. Lim
Executive Vice President-Controllership, SM Retail, Inc.
Roque (Ricky) Lim is Executive Vice President, Controllership at SM Retail, Inc. He joined the SM Group in 1978, and has more than 38 years of experience in the retail trade. Aside from being the Executive Vice President for Controllership of SM Stores, he also holds the position of Director in other companies of the SM Group.
Mr. Lim has served as President of the SM Savings and Loan Association for the past 28 years. He began his career as auditor of the auditing firm Sycip, Gorres, Velayo & Company. Mr. Lim was also a professor for 14 years at the University of the East, University of the Philippines and De la Salle University. He is a Certified Public Accountant and a Cum Laude graduate from the University of the East.
---


MEET | Tina Sendin
As Business Development Manager from Austrade Manila, Tina promotes and facilitates international trade with particular focus on Australian consumer goods including fashion, personal care and healthcare products. She contributes to the growth of Australia's trade export in the Philippines for consumer goods by developing market entry and growth strategies and identifying trade opportunities for Australian exporters.
Prior to joining Austrade, Tina specialised in Business Development and Marketing working in a multinational Public Relations firm, Edelman, where she acquired global brands and brought in new businesses for the Philippine market. She headed client acquisition and strategic planning for clients in multiple sectors such as Corporate, Information Technology, Mining, Education, Multilaterals and International NGOs. She also developed a local network of contacts by working with government agencies, industry associations and major businesses in the Philippines.
Tina also oversees the Marketing and Social Media initiatives in Austrade Manila. She takes the lead in developing content, implementing strategies and introducing new and effective ways to promote Australian capabilities in the digital space. She oversees the promotion of Australian education, agribusiness, consumer goods, and food & beverage in the Philippines through publicity and digital marketing.


---