Event Information
Location
Daylesford Town Hall
74 Vincent Street
Daylesford, VIC 3460
Australia
Description
The Slow Meat mantra is 'eat better meat, less'. This event is for supporters, enablers, and enactors of the Slow Meat philosophy to discuss and debate all things around the ethical and ecologically-sound production and consumption of meat. As in 2017, farmers, abattoir operators, butchers, chefs, restaurateurs, academics, and anyone interested in how animals are raised for meat will come together at Slow Meat Australia.
The second Slow Meat Symposium will be held in Daylesford on 23 - 25 September 2018 and will include farm visits, butchery and cooking demos, feasts, and of course stimulating plenaries and debates around how to progress the slow meat and food sovereignty agendas in Australia and globally.
This year we are delighted to be bringing Adam Danforth out from America to share his skills and wisdom. Adam is a butcher, educator, and James Beard Award winning author of two books about slaughtering and butchering livestock: Butchering Beef, and Butchering Poultry, Rabbit, Lamb, Goat, Pork.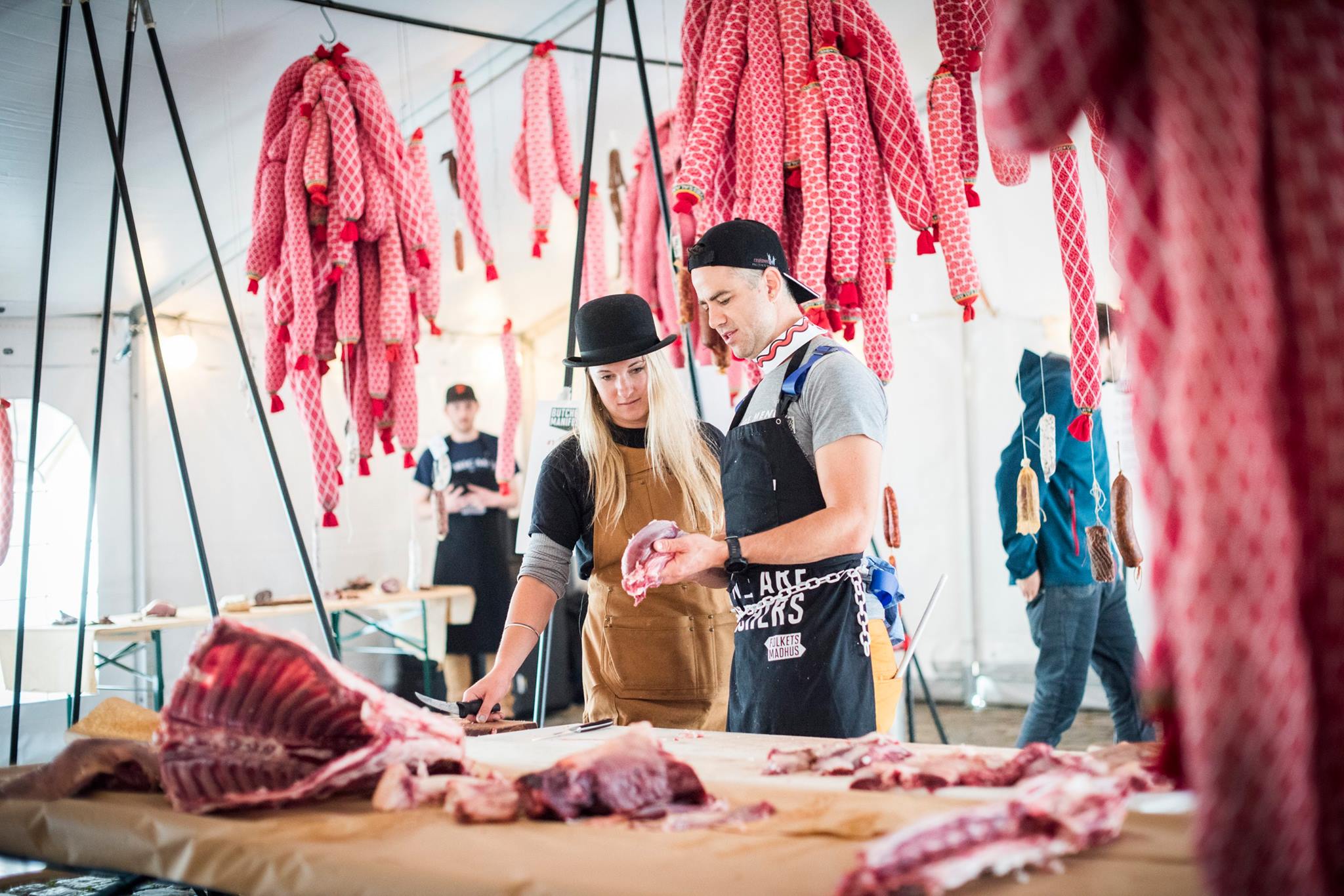 Award-winning food writer Richard Cornish will MC Monday's activities, and local regenerative livestock farmer and butcher Tammi Jonas of Jonai Farms & Meatsmiths, president of the Australian Food Sovereignty Alliance, will present an update on the state of the Slow Meat movement.
Three passionate proponents for Slow Meat will offer provocations on producing, processing, & selling slow meat including: Adam Danforth, farmer, butcher & abattoir owner Michael Hicks of Extraordinary Pork, and ethical meat purveyor Laura Dalrymple of Feather & Bone.
Four local female chefs will pair up with local producers to offer food samples and stories of the effects of breed, feed, age, ageing, and cooking on the deliciousness of slow meat.
Adam Danforth will present a two-hour demo on whole-animal butchery, and the science of flavour to demonstrate slow meat in action.
What contributes to incredible flavour in meat? How do we increase flavour and achieve palatable tenderness? What conditions during the life of the animal impact the quality of the meat? These questions (and many more) are answered as a whole carcass is systematically broken down, with individual muscles isolated and described for function, flavour, tenderness, and potential for incredible food memories. In this unique format of experiential education, stigmas in meat are challenged through the use of an older animal such as a cull dairy cow. The workshop concludes with several rounds of blind tasting contrasting muscles, reinforcing the core workshop concepts of prioritising flavour over tenderness and the direct correlation between an animal's welfare and the nutrition and emotional potential in its meat.
Program details
Sunday ($85): On the Sunday we'll enjoy a day of informative and delicious farm visits to local farms. We'll meet at Daylesford Secondary College, Smith St at 8:30am then at 9:45am begin a tour of Vue du Volcan, producers of pastured, slow grown, delicious duck, situated 15 minutes east of Daylesford. Afterwards, a long lunch will be held at 12:30pm at family-owned winery Captains Creek in Blampied, where we'll get to feast on local delicacies and taste organic wines, ciders from apples grown on the farm, and local handcrafted beers. We'll then head around the corner for a tour of Brooklands Free Range Farms to begin at 2:15pm. To catch the bus from Daylesford, please meet us at 8:30am, returning to Daylesford by 5pm.
Monday ($200) - On Monday at 9am we'll convene at Daylesford Town Hall for an un-conference where we'll work collectively through the wicked problems of the meat industry, including production and processing. As in 2017, there will be an educational slow meat lunch with paired local chefs & producers sharing their knowledge about impact of breed, feed, age, aging, and cooking. Adam Danforth will offer a two-hour craft butchery demo. Matthew Evans of Fat Pig Farm will bring it all back together with a revisited vision for slow meat in Australia, and our Slow Meat Manifesto developed together over the course of the day.
Monday will be topped off with a celebratory dinner in keeping with the Slow Meat mantra of 'eat better meat, less'. The meal will include snacks to start, share style communal mains, and dessert, all lovingly prepared by Ben McMenamin of the Social Food Project and Sascha Rust of Copper Pot Seddon and Messer.
Tuesday ($200) - On day three, we will convene at 'the Woodshed' (21A Raglan St, Daylesford) for a half-day masterclass on craft butchery by Adam Danforth, followed by a simple lunch catered by young chef and Jonai sous butcher Morris Willcock of Paddock to Pie. The afternoon will then culminate with a roundtable strategic discussion on the issues facing existing and emerging small-scale abattoirs. We will discuss how to protect, preserve and promote existing abattoirs, and how we can build new regional abattoirs across Australia.
Locations
Daylesford Town Hall, 74 Vincent St, Daylesford VIC 3460
The Woodshed, 21A Raglan St, Daylesford VIC 3460
Vue du Volcan Farm, Daylesford Malmsbury Road, Denver VIC 3461
Captains Creek Winery, Kangaroo Hills Rd, Blampied VIC 3364
Brooklands Free Range Farms, 340 Blampied-Kooroocheang Rd Blampied Vic 3364
Contact
Sarah de Wit
Phone: 0449 128 992
Email: admin@afsa.org.au

Date and time
Location
Daylesford Town Hall
74 Vincent Street
Daylesford, VIC 3460
Australia
Refund policy