Description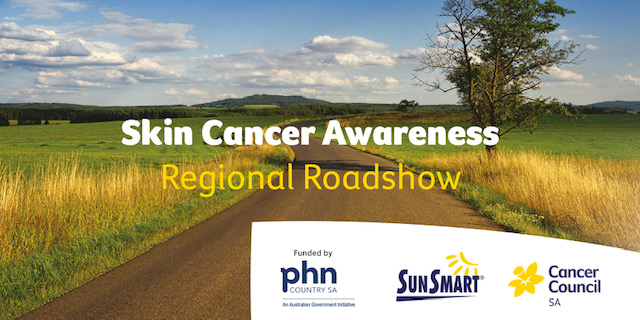 South Australians living in rural areas have a higher chance of developing skin cancer. What's more, agriculture and other outdoor workers are at increased risk due to the many hours spent working outside, often unprotected from harmful UV radiation.
Despite many South Australians being able to identify UV as the major cause of skin cancer, it's a common misconception that UV is related to hot weather.
Skin cancer is one of the most preventable cancers. Reducing your risk is a matter of adopting a number of everyday habits.
During the session, you'll learn:
> why protecting your skin from UV is so important
> when and how you should be protecting your skin
> how to check yourself for early signs of skin cancer
All attendees receive a skin cancer awareness pack which includes a free personal skin cancer early detection tool and a number of additional SunSmart resources to take home. Registration is essential.
5:30pm Light refreshments
6:00pm Start, please arrive by 5.45pm
6:45pm Q&A
This session is part of the Skin Cancer Awareness Regional Roadshow, proudly driven by Cancer Council SA and funded by Country SA PHN.