Description
This workshop will explain how to draw architecture by feeling edges, abstracting shapes and constructing volumes (three ways of visual thinking as explained in my Foundations online course).
I will be sharing my experience from 20 years as an architect and over 200 sketchbooks of applying this knowledge to real-life sketching on-location.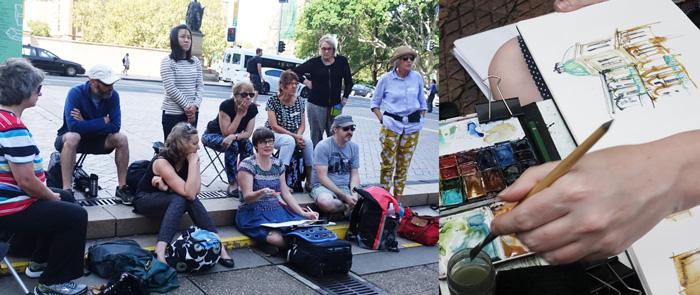 In this workshop you will learn:
How to understand buildings as volumes and how to abstract this into lines and shapes to make it easier to draw

How to map light and dark and use this to define form

How to see underlying structure and thicknesses and then express these through 'leading edges'

How to draw in perspective using my latest hands-on approach – what I call "pointless perspective" (ie. ways of achieving accurate perspective without using the traditional vanishing points that often are off the page)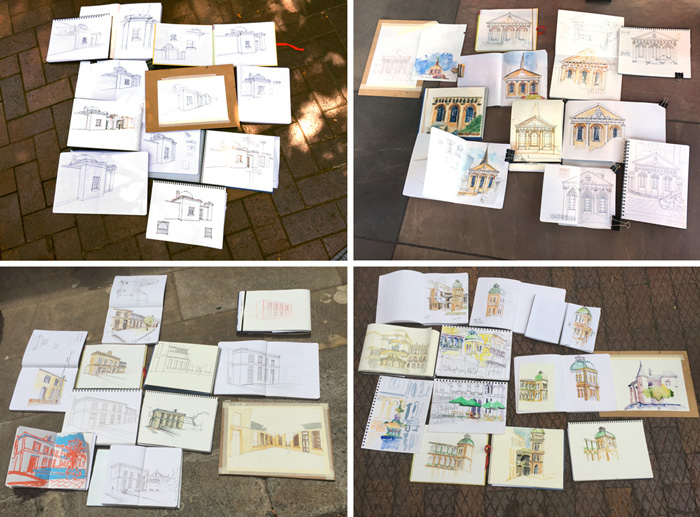 This workshop will be a summary of the content taught in my SketchingNow Buildings online course plus a session on perspective.
Apart from a brief introduction and warmup exercise each morning, the workshop will be all sketching out on location.
This is predominately a drawing workshop – I will be demonstrating in ink and wash, but will not be specifically teaching watercolour techniques.
Some drawing experience is needed. ie. this workshop is not suitable for a total beginner.
---
Price: $352.00 AUD ($320 plus GST)
Time: 10.00am – 4.00pm
Minimum Participants: 6
Maximum Participants: 12
---
Materials List
Paper/sketchbook suitable for ink and wash – A5-A4 size.
Permanent ink pen
I suggest that you bring two different pencils for setup lines. A mechanical pencil with HB/H
leads or a HB or H pencil, and a brown/yellow ochre coloured watercolour pencil.
Coloured media: Watercolour is the preferred medium. Bring your normal watercolour kit – there are no special requirements for specific colours. If you want to use the same colours as I do this 12 colour set contains most of hte colours I will be using.
Waterbrush or sable brush and water container.
Any other materials you have in your bag!
Small portable stool or something to sit on.
Hat, sunscreen, extra layer, rain protection etc. We will be sketching out on the streets of The Rocks.
---