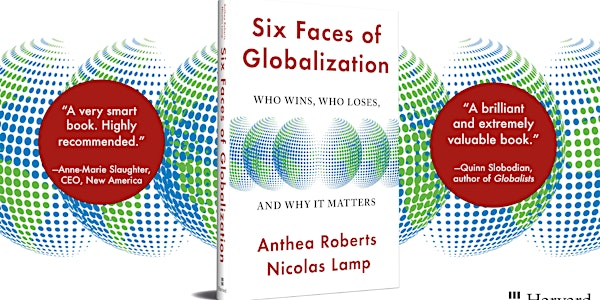 Six Faces of Globalization by Anthea Roberts and Nicholas Lamp- Book launch
Professor Anthea Roberts warmly invites you to the launch of her new book Six Faces of Globalization: Who Wins, Who Loses and Why It Matters
About this event
When it comes to the politics of free trade and open borders, the camps are dug in, producing a kaleidoscope of claims and counterclaims, unlikely alliances and unexpected foes. But what exactly are we fighting about? And how might we approach these issues more productively? In Six Faces of Globalization, ANU Professor Anthea Roberts and her co-author Nicolas Lamp cut through the complexity, providing an essential guide to the intractable public debates about the virtues and vices of economic globalization.
Join us for a presentation and panel discussion to mark the release of Six Faces of Globalization: Who Wins, Who Loses, and Why It Matters (Harvard University Press, October 2021). The event will be opened by Chancellor Julie Bishop, chaired by CAP Dean Helen Sullivan, and closed by Vice Chancellor Brian Schmidt. It will feature a presentation by Professor Anthea Roberts and comments by Professor Hilary Charlesworth, Richard Maude, Heather Smith and Jason Yatsen Li.
Anthea Roberts, a Professor at the School of Regulation and Global Governance (RegNet), is an interdisciplinary researcher and legal scholar who focuses on the governance of complex and evolving global fields. Anthea chairs the ANU Working Group on Geoeconomics and previously taught at the London School of Economics, Columbia Law School and Harvard Law School. In 2019, the League of Scholars named Anthea the world's leading international law scholar and Australia's leading law scholar. Her last book Is International Law International? (OUP, 2017) won numerous prizes, including the American Society of International Law's Book Prize for creative legal scholarship, and was Oxford University Press's top-selling law monograph worldwide in 2017-2018. She has received an ANU Futures Award and a UK Leverhulme Award and has twice won the American Journal of International Law's prize for the best article by a younger scholar.
Helen Sullivan is a political sociologist and public policy scholar. Educated in the humanities and social sciences she holds degrees in Modern History and Political Science (BA Hons), Women's Studies (MA), and Public Policy (PhD). She currently serves as Dean of the College of Asia and the Pacific at the Australian National University. Helen's career is defined by a long-term commitment to bridging the gap between research and policy. In 2013 Helen established the Melbourne School of Government – a multi-disciplinary School that broke new ground through its integration of engagement and impact with research and teaching. Between 2017 and 2021 Helen was Director of the Crawford School of Public Policy at the ANU, the Asia-Pacific's leading public policy school. Helen's research has won 'Best Paper/Publication' awards from global academic societies including the Public Management Research Association and the International Research Society for Public Management. Helen was awarded a Fellowship of the Higher Education Academy in 2002 in recognition of her teaching quality and innovation, and in 2016 she was made a National Fellow of the Institute of Public Administration Australia in recognition of her significant contribution to public policy and administration. In 2020/21 she serves as elected President of the Australian Political Studies Association.
Hilary Charlesworth is Harrison Moore Professor of Law and a Melbourne Laureate Professor at Melbourne Law School and a Distinguished Professor at the Australian National University. On 5 November 2021, Hilary became the first woman from Australia to be elected to the International Court of Justice. Her research includes the structure of the international legal system, peacebuilding, human rights law and international humanitarian law, feminist approaches to international law, and the art of international law. Hilary received the American Society of International Law's award for creative legal scholarship for her book, co-authored with Christine Chinkin, The Boundaries of International Law. She was also awarded, with Christine Chinkin, the American Society of International Law's Goler T. Butcher award for 'outstanding contributions to the development or effective realization of international human rights law'. In 2021, the International Studies Association conferred a Distinguished Scholar award on Hilary. She has held both an Australian Research Council Federation Fellowship (2005-2010) and an ARC Laureate Fellowship (2010-2015).
Richard Maude joined Asia Society Australia in January 2020 as the inaugural Executive Director, Policy, and Senior Fellow, Asia Society Policy Institute – the first senior executive role in the Institute outside the United States. Richard Maude most recently served as Deputy Secretary, Indo-Pacific Group, in the Australian Department of Foreign Affairs and Trade. His portfolio covered Australia's bilateral relations with Australia's partners in Asia and North America, as well as Australia's regional political, security, economic and development assistance interests. Richard holds a first class honours degree in politics from the University of Adelaide and a Master of Arts (International Relations) from The Australian National University.
Heather Smith PSM was appointed as a Professor at the ANU National Security College in June 2021. Before this she served as Secretary of the Department of Industry, Innovation and Science from 2017 – 2020. Heather has had 20 years' experience in the Australian Public Service at senior levels covering economic, foreign affairs and intelligence matters. She has previously served as Secretary of the Department of Communications and the Arts, Deputy Secretary in the Departments of the Prime Minister and Cabinet and Foreign Affairs and Trade, and as Deputy Director-General of the Office of National Assessments. She has also held positions in the Australian Treasury and Reserve Bank. She was the G20 Sherpa in 2014 during Australia's Presidency. Currently, she is a non-executive director of financial services firm Challenger Limited and deputy chair of the United States Studies Centre. She is also chair of the independent panel undertaking a review into the Australian Public Service Hierarchy and Classification System. Heather holds a PhD in Economics from the Australian National University, has been a visiting scholar at the Brookings Institution, and has completed the Advanced Management Program at the Harvard Business School. She is a proud member of Chief Executive Women.
Jason Yatsen Li is currently Chairman of investment group Vantage Asia and Managing Director of corporate advisory firm Yatsen Associates (YSA). YSA specialises in complex cross-border, Asia-related M&A and capital raising mandates. Jason is a Pro-Chancellor of the University of Sydney, Fellow of the University of Sydney Senate and Chair of the University's Risk and Audit Committee. He is currently the President of the Chinese Australian Forum, Chair of Refugee Talent, a director of Asialink, a Young Global Leader of the World Economic Forum and was a member of the World Economic Forum's Global Agenda Council on China. He was previously a non-executive director of the George Institute for Global Health, a Director of the Sydney Institute and a Governing Member of the Smith Family.
This event will be held online via Zoom. Attendees will be emailed the link upon registration.