Description
SISTER CITIES AUSTRALIA FORUM IN WA
---
Sister Cities Australia invites you to join with like-minded people in discussing interesting topics and exploring new ideas aimed at boosting established relationships and encouraging new affiliations.
---
THE DATES AND TIMES
Thursday, September 19, 2019 - arrive by midday to settle in and explore the city before the evening dinner and National Awards presentation commencing at 7:00pm at the Parmelia Hilton hotel.
Friday, September 20, 2019 - the Forum commences at 9:00am and finishes around 4:30pm, before the evening reception starts at 6:00pm at the Parmelia Hilton hotel.
Saturday, September 21, 2019 - OPTIONAL TOUR of the iconic Optus Stadium, including a hearty breakfast. Details to be confirmed later, but will be finished by midday for those flying out that afternoon.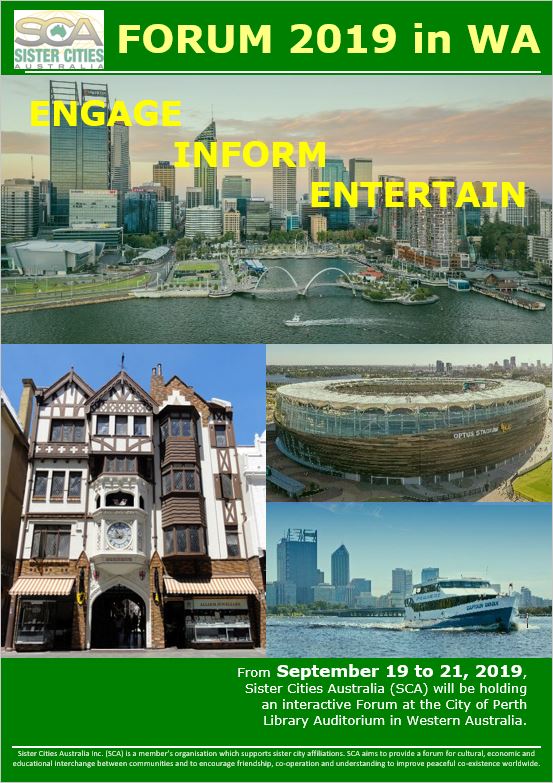 Join SCA in the beautiful City of Perth where we are planning to engage, inform and entertain you while you have opportunities to network with your colleagues from WA and across Australia. All of the venues for the Forum and the social activities are within walking distance within the Perth CBD - except for the optional tour on Saturday morning.
Make sure you arrive early on the Thursday so that you can soak up some of the relaxed city atmosphere before commencing the Forum activities. Formalities will begin with a dinner to be held at the Parmelia Hilton Hotel, Karri Room, and the highlight of the evening will be the presentation of the 2018 SCA National Awards.
Friday is the day of the Forum and your chance to engage with colleagues to discuss important topics that affect all those involved in sister city relationships. Sessions during the Forum will not be full of PowerPoint presentations, rather we are encouraging conversations with the audience to stimulate thoughts and ideas. The 2019 SCA AGM will be held as part of the Forum and this year is an election year with all positions on the Executive Committee open. Following the Forum we will have a networking reception where you will be able to continue the conversations started in the sessions earlier that day. The reception will be held also in the Karri Room at the Parmelia Hilton hotel.
Saturday morning will be an opportunity to join us for a tour of the jewel in the crown of WA sporting venues - Optus Stadium. This state-of-the-art facility will be shown to us through a guided tour, and there will also be a delicious breakfast included. The Tour will finish in plenty of time for those wishing to take an afternoon flight back home. Or, why not stay a little longer and explore Perth, Fremantle and a little further afield if you have the time to do so.