Event Information
Location
Molly Huxley Room
University House
The Australian National University
Acton, ACT 2601
Australia
Description
Join us for a night of Shut-Up & Write.
These evenings are offered every week to support ANU Higher Degree Research students who cannot attend regular SUAW sessions to make progress with their thesis. We will use the Pomodoro Technique (25 minutes writing; 5-minute breaks) to make the evening as productive as possible. You can work on anything you like, so long as you are writing.
To ensure you get the most out of this session, we ask you must commit to attending the whole evening (from 5.30 to 9 pm) at registration. Dinner is free. There will be vegetarian and gluten-free options available. If you have special dietary requirements, please feel free to bring your food on the night.

Please note that SUAW Nights will now be twice a week. Please only register for a maximum of four out of this month's ten sessions. Due to limited places, we cannot allow participants to attend all sessions. If you have registered for more than four sessions, your tickets will be cancelled at random until you are registered for only four sessions.


What to bring?
1. Laptop computer
This Write-a-thon is about getting as many words written as possible. While you may choose to write by hand on paper for some of the time during the day, you will need a laptop to get the most out of the day. If you do not own your laptop, you may ask to borrow one from a friend or family member or your College IT people. Note: You will be able to charge your laptop during Write-a-thon.

2. Key texts only
If you were stranded on a desert island and had to write your chosen thesis section, what three books or journal articles would you take with you? This is how you should think of Write-a-thon – you do not require backpacks full of tomes.
3. Things that make you comfy
We do our best to provide you with a safe and comfortable environment for the duration of Write-a-thon. Remember, however, that you will be sitting down for many hours on the day - though we highly encourage regular stretching and short breaks.
Have questions? Please email researchtraining@anu.edu.au
The location for the day is Molly Huxley Room at University House; the entrance is at the arrow below.
PLEASE NOTE THIS ROOM IS ACCESSIBLE BY STAIRS ONLY.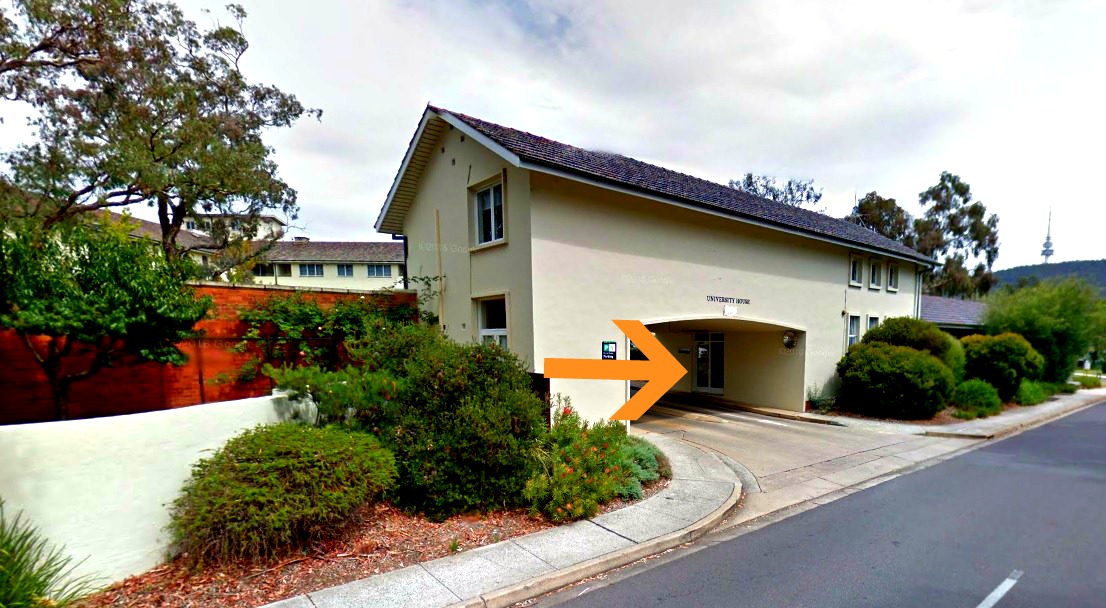 Strictly limited places.
By registering for this event, you are committing to attendance. If you are no longer able to attend the event you have registered for, please notify us at researchtraining@anu.edu.au and cancel your ticket on Eventbrite. If you fail to attend and do not contact us with an explanation, this may limit your attendance at other SUAW events.

ANU Research Skills and Training team
researchtraining@anu.edu.au
#ANUHDR #PARSA

Location
Molly Huxley Room
University House
The Australian National University
Acton, ACT 2601
Australia
Organiser of Shut Up and Write Nights August
The ANU Researcher Development team run university-wide programs for all HDR candidates, supervisors and early career researchers. Our workshops are designed to support researchers in their work, drawing on expertise from the broader ANU research community. The events are multi-disciplinary and help you develop transferable skills and knowledge that will be useful to your future career.
All ANU HDR candidates are sent notice of upcoming research-related news, events, and opportunities in the monthly edition of the ANU HDR Update.
All our workshops count towards the Science, Health and Medicine Career development Framework program
In addition to the events and workshops program, ANU Researcher Development run a number of programs where researchers can meet and interact with other candidates on campus including the ANU Three Minute Thesis (3MT) Competition and Thesis Boot Camps.