Perth's biggest Afro & Dancehall Dance Battle Comp!!
About this event
❗️THIS EVENT WILL SELL OUT ❗️
IT'S BACK PERTH! Watch dancers freestyle head to head! Get your tickets now to avoid FOMO!
📍 The Rechabite : 224 William Street, Northbridge
⏱ 11th July, 6:00pm - 8:00pm (Dance Battle and Performances)
⏱ 11th July, 8:00pm - 10:00pm (After Party)
💵 Early Bird Tickets $25 per person - Ends 19th June 2021
💵 General Admission Tickets $35 per person
💵 After Party Entry $15
💵 Competitors - $20 per person 💵
🤜 18+ event
LOOKING TO COMPETE? Simply fill out the entry form here.
https://www.elandance.com.au/show-dem-battle-signup/
Also keep an eye out for SHOW DEM DANCE WORKSHOPS with interstate choreographers coming soon!
For more information on the event or enquiries, visit:
https://www.elandance.com.au/show-dem-battle-signup/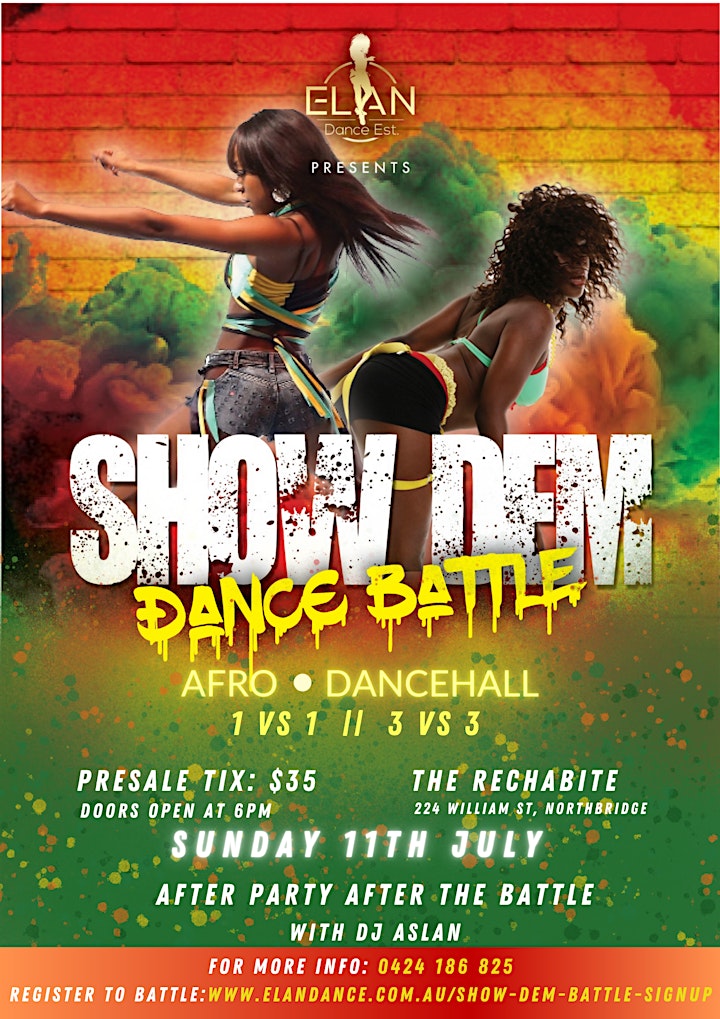 Organiser of Show Dem Perth Afro & Dancehall Dance Competition
WELCOME HOME
YOU are about to be a part the most inclusive dance family in Perth. While others talk the talk we, well, dance the dance. 
With collectively over 30 years of experience, we are the only Perth dance company that offers inclusive dance classes for people of all skills, all styles, all shades, with all stories.

Our teachers have been hand picked and are known to be able to transform a "wall flower" into someone so confident that they turn heads as they take over the center of the dance floor.

Élan is beyond just dance. It's a culture. Our tribe accept and celebrate each others flaws. Together we wear our flaws as armour to fight against the status quo.

At Élan, everyone is welcome. And everyone can dance. Promise.

Let's get you dancing TODAY within a STRESS FREE, fun orientated and WELCOMING environment.