Lecture and panel discussion ft. Dr Peter Mackie (Cardiff University) who will talk about his pioneering work on homelessness prevention
About this event
PUBLIC SEMINAR
The right to housing: Shifting policy and practice from crisis responses to homelessness prevention
Around the western world there is strong evidence that short-term crisis interventions are ineffective and costly, and that preventing homelessness from occurring in the first place is better for individuals and communities. Despite some policy movement towards prevention, governments continue to fund crisis responses such as short-term emergency accommodation.
What needs to happen to shift the focus to prevention?
What would an effective homelessness prevention approach look like?
And, is legislation that is based on the human right to housing the way forward?
If so, how is rights legislation connected to the most important element of homelessness prevention – affordable housing?
Co-hosted by the Council to Homeless Persons, Unison Housing, the Centre for People, Organisation and Work, and the Social Global Studies Centre at RMIT University this 90-minute lecture and panel discussion features Dr Peter Mackie (Cardiff University) who will talk about his pioneering work on homelessness prevention in Wales, in particular the legal duty on local authorities to prevent homelessness.
Peter's presentation will be followed by a Q&A style panel moderated by Dr Cameron Duff, and featuring some of Victoria's leading thinkers on homelessness prevention.
The event will conclude with networking drinks for an opportunity to mingle and continue the discussion.

About Dr Peter Mackie, Cardiff University
Peter is a Reader at the School of Geography and Planning, Cardiff University, UK and also a father of two young Welsh rugby enthusiasts. The primary focus of Peter's research is on the development of homelessness policy and law through research and advisory work, particularly in relation to homelessness prevention. Most notably, he led the 2012 review of homelessness legislation in Wales that formed the basis of the pioneering Housing (Wales) Act 2014. Peter's current research includes a second phase of exploratory work relating to housing rights within Welsh homelessness law, the potential transfer of the world-renowned Geelong project to a Welsh context, homelessness administrative data linkage, and a review of the UK's progress towards homelessness prevention.
Peter is currently a FEANTSA Research advisor for the UK, a Knowledge Exchange Lead for the UK Collaborative Centre for Housing Evidence, a member of the International Advisory Board for the Canadian Youth Homelessness Social Innovation Lab (Making the Shift), and a member of the Welsh Government's Homelessness Action Group.

About Q&A Host, Dr Cameron Duff, RMIT University
Cameron is a Senior Lecturer at the Centre for People, Organisation and Work at RMIT University in Melbourne. Cameron's research explores the role of social innovation in responding to complex health and social problems in urban settings.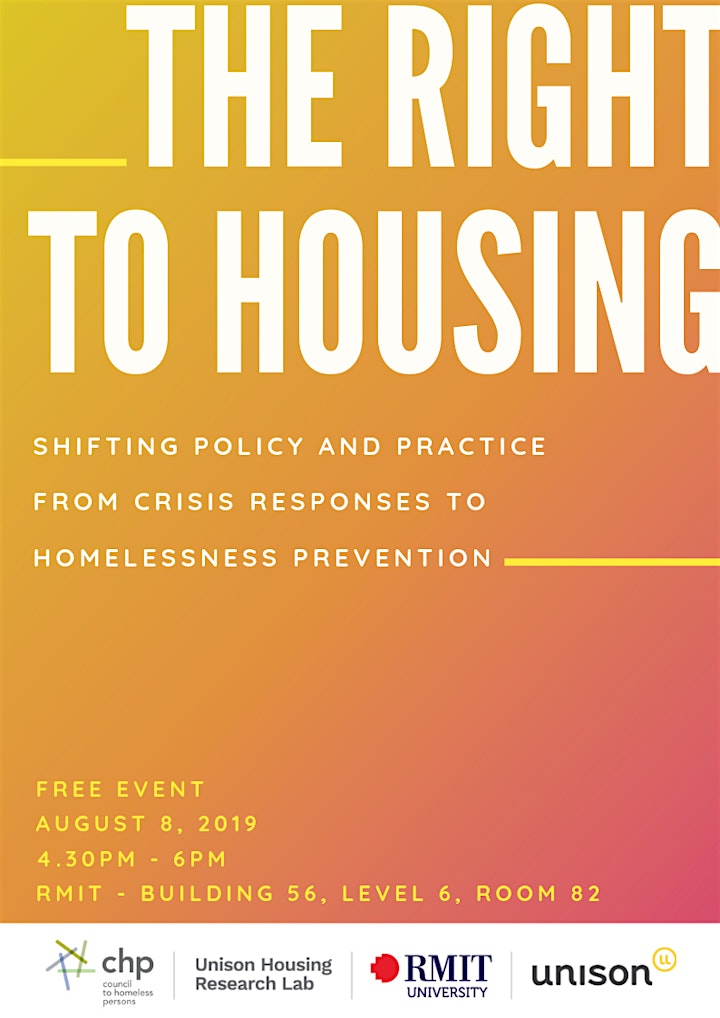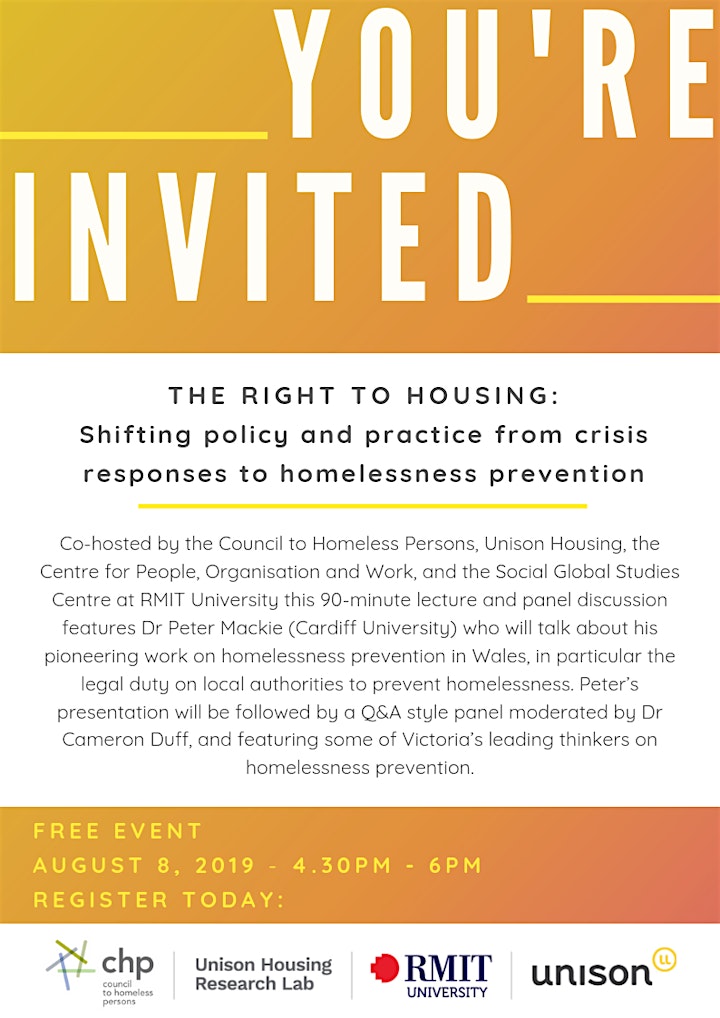 Organiser of Shifting policy & practice from crisis responses to homelessness prevention
Unison is a not for profit organisation that works to reduce disadvantage and social exclusion by creating communities that thrive. We develop and provide a diverse range of housing services across Victoria and in Adelaide, including social housing, affordable housing, private rental, transitional housing and owners corporation services. Unison is also one of the largest providers of services for people who experience or at risk of homelessness in Melbourne's West. Find out more at unison.org.au