Description
Experience a world-class live classical music concert, specifically designed for children and adults with sensory and/or special needs.
The music is programmed to engage, be interactive, and calm your senses. Acclaimed musicians from Orchestra Victoria will partner internationally-celebrated concert pianist and Sensory Concerts® Creative Director Grace Kim in the presentation of these delightful concerts.

Sensory Concerts® are different to traditional classical music concerts where you are expected to sit still and keep quiet for the whole performance. Audience numbers are small, and you are free to roam, vocalise, or retreat as needed.

You can relax on a crash mat, cushion or any seating of your choice and have an up-close-and-personal experience with the musicians! Venues are specially modified to minimise sensory stimulus such as noise, light, crowds, and lighting and experienced therapists are on site to support.
It is a wonderfully safe environment where your whole family can enjoy music together!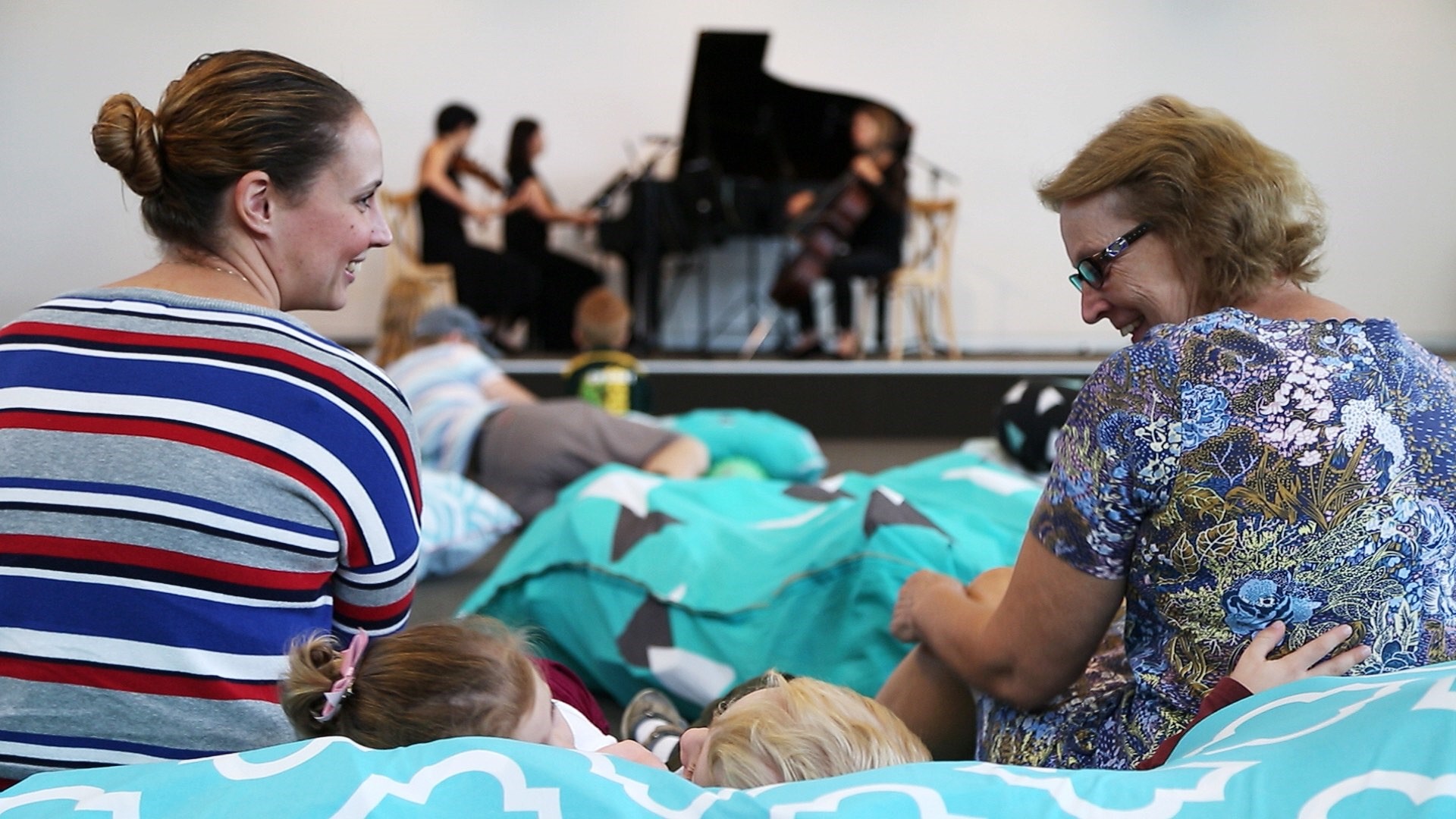 Performances:
Sunday 27 October 2019

Three performances: 10:00am, 11:30am and 1:30pm
Each performance is limited to 50 participants
Orchestra Victoria supports the National Companion Card scheme. For more information about the Companion Card, visit www.companioncard.gov.au To book tickets using your Companion Card, please phone Orchestra Victoria on (03) 9694 3600.
Performers

:
These are the musicians who will perform in the concert, you can click on their names to see a photo of them and read more about who they are.

Erica Kennedy – Violin
Monica Naselow – Violin
Melissa Chominsky – Cello
Grace Kim (Creative Director, Sensory Concerts) - Piano
Onsite Therapists:
These are some of the people who will be attending the concert to support everyone, you can click on their names to see a photo of them and read more about who they are.

Josey Sharpe – Principal Occupational Therapist
Kahli Joyce – Guest Occupational Therapist

Jenny Wu – Rehab Therapies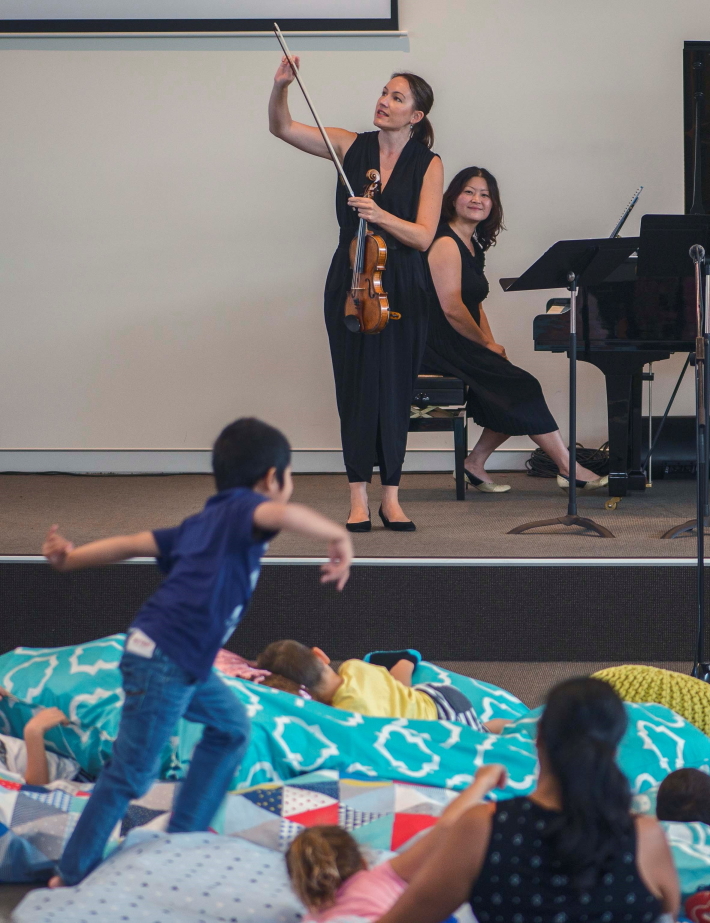 Two of the musicians you will meet: Erica Kennedy and Grace Kim (above) photography by David Hill, Deep Hill Media

---


Coming to the Sensory Concerts® with Orchestra Victoria performance:


Getting Ready
Coming to a Sensory Concert® for the first time?
See photos, videos and feedback from previous concerts at the Sensory Concerts® Facebook page, Read some helpful tips from Occupational Therapist Josey Sharpe about what to expect here.



Sensory Concert® Social Story

You can download a Sensory Concert® social story template to personalise, and see a sample of one here.
Ahead of the performance, you will receive venue-specific information via email, in the format of a social story that you can share with the whole family.


Your trip to our venue, Joan Hammond Hall.

Box Office/Front of House opening hours:
The Foyer and Box Office will be open from one hour prior to each performance, there will be a retreat area away from the main bustle of the foyer available.
The building has both a revolving and accessible doors, and a friendly member of the Orchestra Victoria team will be stationed out the front to greet and assist you.

Book ahead online to avoid a queue. Online ticket sales will remain open up to 1-hour prior to the performance.
Getting Here:
Orchestra Victoria's studio, Joan Hammond Hall, is located at 77 Southbank Boulevard, on the corner of Sturt St and Southbank Boulevard, opposite the ABC Building. It is within walking distance of the Melbourne CBD and Southbank complex. There is a map at the bottom of this Eventbrite page.

Parking is available at The Australian Ballet Centre, conveniently located behind Arts Centre Melbourne on Kavanagh St. Discount parking vouchers (Reduces a Sunday park to $12, from $17) valid for this car park on the day of the performance will be available for audience members at each performance. For more information about car parking, visit The Australian Ballet Website.


Southbank Redevelopment:
Melbourne City Council has started construction for the first stage of the Transforming Southbank Boulevard and Dodds Street project.

Southbank boulevard is closed to cars between Sturt St and Kavanagh Street (it remains open to pedestrians). Detours are in place between Kavanagh Street and City Road. We will supply up-to-date information about traffic conditions.

For more information about this project, visit the City of Melbourne website.

Access:
If a family member or I need to
take some time out during the performance, i

s there somewhere to go?

Yes, we will have two retreat spaces available, one in a curtained-off area in the performance space where you can listen to the performance, and a quiet area outside the performance space.


You may exit the performance at any point as required. You will be able to re-enter the performance when you are ready and our friendly therapists and staff are on-hand to assist at all times.

Please note that children must be accompanied by an adult at all times when they are in the venue, including the quiet areas and bathrooms.



Is there someone I can speak to about my or a family member's specific access requirements?
Yes, please phone Orchestra Victoria reception on (03) 9694 3600 or email us at orchestrainfo@australianballet.com.au to discuss your access needs.
Does Orchestra Victoria support the National Companion Card Scheme?
Yes, Orchestra Victoria supports the National Companion Card scheme. For more information about the Companion Card, visit www.companioncard.gov.au To book tickets using your Companion Card, please phone Orchestra Victoria on (03) 9694 3600.
Audience Seating and Amenities:
Seating:
Audience seating for this performance is general admission. Various seating options are available, including cushions, crash mats and chairs.

Refreshments:
Unfortuntely we do not have an onsite cafe, however there are many in the surrounding area. The Botanical Gardens and Kings Domain are also walking distance away and can be a peaceful spot to enjoy a pincic meal on a Sunday.

Babes-in-arms:
Children aged under two years do not require a ticket and are admitted free of charge provided they sit on the lap of the accompanying adult throughout the performance.
Pram Parking:
An area will be available for pram parking during the performance. This will be accessible during the performance however to ensure safe access for all, prams cannot be taken into the audience seating area or left in the designated walkways in the studio space.
Baby Change Facilities:
Baby change facilities will be available and accessible to all parents.

FAQs:
What if I need assistance during the show?
The onsite Therapists and Front of House staff will be on-hand during the performance to assist you at all times.
Am I
eligible

for a concession ticket?

Concession tickets are available to holders of the following proof-of-concession cards provided that the card is valid at the time of purchase: Australian Government issued Seniors Card, Pension Card or Healthcare Card, State Government issued Seniors Card, or Public Transport Victoria Concession Card.

You may be asked to provide proof of concession to venue staff when attending performances.
Can I send my child to the performance unaccompanied?
Sensory Concerts® are designed to be a shared live performance experience for children and their carers. All children must be accompanied by an adult at all times when in the venue.
Can we bring food or drink into the performance space?
For the comfort and safety of all audience members, food and drink besides water in a sealed drink bottle cannot be brought into the Joan Hammond Hall. Food and drink can be consumed in the foyer, and there are many great cafes in the precinct to have a pre or post-show snack.
---

Header image photography Jenny Wu.

Organiser of Sensory Concerts® with Orchestra Victoria
Now in its fifth decade, Orchestra Victoria is one of Australia's two specialist pit orchestras. It is proud to be the performance partner of The Australian Ballet, Opera Australia and Victorian Opera. In addition to its core pit activities, Orchestra Victoria presents concerts and education workshops in regional and outer metropolitan centres across Victoria. Delivering more than 200 performances each year, Orchestra Victoria is committed to creating opportunities for all Victorians to experience orchestral music.