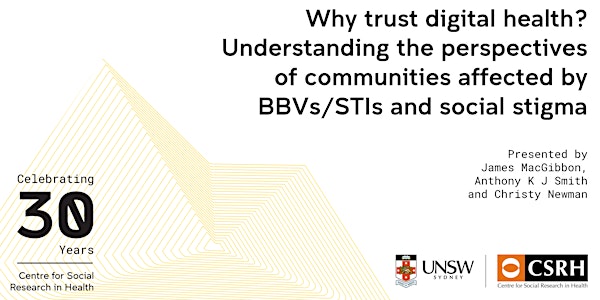 Seminar with James MacGibbon, Anthony K J Smith and Christy Newman
Why trust digital health? Understanding the perspectives of communities affected by BBVs/STIs and social stigma
About this event
The use of integrated digital health systems has the potential to improve health and wellbeing but some of the communities who could benefit most from these systems also have the best reasons for not trusting them. Communities affected by blood borne viruses (BBVs) and sexually transmitted infections (STIs) can experience stigma and discrimination from health care professionals and face serious risks to their capacity to work and parent if information on criminalised practices is shared. Yet little social research has explored the views and practices of these communities about storing and sharing personal data in digital health systems and technologies.
In this seminar, we discuss key findings from a national community survey and key informant interviews conducted in the Trust in Digital Health study: a partnership between the UNSW Centre for Social Research in Health and community organisations representing people with HIV, sex workers, gay and bisexual men, and trans and gender diverse people in Australia.
James MacGibbon is a social scientist and PhD candidate at CSRH researching health, sexuality and intimate relationships.
Anthony K J Smith is a Scientia PhD Candidate and research assistant at CSRH, researching clinician perspectives on providing PrEP in Australia. Anthony is broadly interested in HIV prevention, health sociology, and qualitative research methods.
Christy Newman is Associate Professor at CSRH, where she contributes to the program of social research on sexual and reproductive health, blood borne virus prevention and care, and sexual and gender diversity.
Need assistance to register for this seminar? Ring +612 9385 6776.