LIFE'S TOO SHORT TO BUILD SOMETHING NOBODY WANTS: Learn from a master on how to build the right products faster with less effort and money
About this event
Presented in partnership with THNK.Innovation, this is Episode 4 in Dream Launch's
Monthly Dream Talk Series for Product Innovators and Creators:
Enabling you to understand the FUTURE OF PRODUCT DEVELOPMENT and the journey ahead
WEBINAR 4 - RUNNING LEAN: SELL BEFORE YOU BUILD!
More than ever before in our new Covid world, the challenge today isn't building more products, but uncovering the right products to build.
And last month's panel discussion confirmed the number one pitfall in product development was to not understand your customer's problem and thereby build something nobody wants.
To address that challenge, we're delighted to be hosting a special interactive morning session with LEANSTACK Founder Ash Maurya, creator of Lean Canvas and the best-selling author of Running Lean and Scaling Lean
In this talk, Ash Maurya will unpack the mindset required to uncover the right products to build.
And he will go through his three-step framework for uncovering what customers want and building products they cannot refuse, before running out of resources and wasting needless time, money and effort.
Ash will also be sharing product development case-studies as well as the world-class tools and content he's developed at LEANSTACK to help early-stage teams systematically find product/market fit.
As Ash puts it, "The top reason why products fail is that we waste needless time, money, and effort building something nobody wants".
Please come with any burning questions as this is intended to be a dynamic learning session with open-ended Q & A.
WHO SHOULD ATTEND?
Product-developers, designers or inventors
Small business owners
Entrepreneurs and Founders
Engineering firms / Manufacturers developing new products or optimising existing ones
Corporate innovators
WHY ATTEND?
Producing market-ready products with speed and focus is even more essential now.
As mentioned last month, nearly 50% of products developed aren't wanted by the market.
Hear from an international entrepreneur on what you need to do to be product-development ready:
Practice Trumps Theory – understand the Innovator's bias that stands in the way of product development success
Learn how and why you need to test and test and sell before you build.
And learn how to shift your mindset from thinking of your solution as a product and learn how your business model is the product.
Receive access to some tools and resources to get you started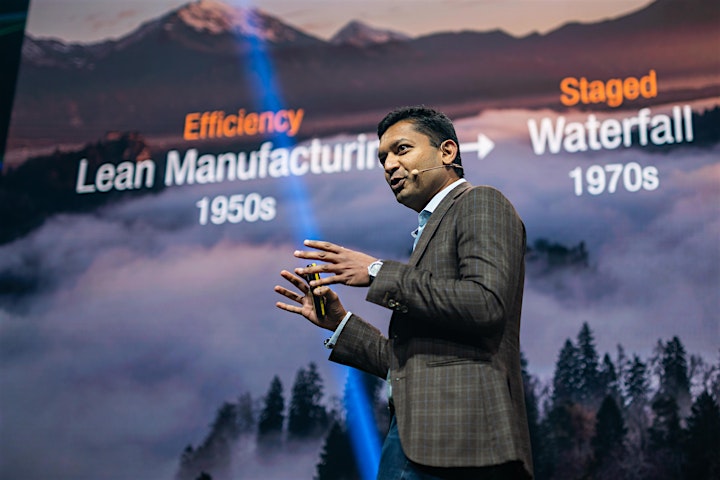 ABOUT ASH MAURYA
A practising entrepreneur, Ash Maurya understands the practical steps, processes and tools that no academic or consultant ever will. "Entrepreneurship is like a martial art. You can't simply read or teach it, you have to live it".
One of the world's most articulate speakers and writers about the lean startup, Ash Maurya is the author of two international bestsellers "Running Lean" and "Scaling Lean".
He is also the creator of the one-page business modelling tool "Lean Canvas - Helping Entrepreneurs Find Their Business Model @LEANSTACK.
His LEANSTACK Continuous Innovation Framework was built by entrepreneurs for entrepreneurs through thousands of hours of testing... and it shows.
Ash is praised for offering some of the best and most practical advice for entrepreneurs and intrapreneurs all over the world.
Driven by the search for better and faster ways for building successful products, Ash has developed a systematic methodology for raising the odds of success built upon Lean Startup, Customer Development, and Bootstrapping techniques.
Ash is a leading business blogger and his posts and advice have been featured in Inc. Magazine, Forbes, and Fortune. He regularly hosts sold out workshops around the world and serves as a mentor to several accelerators including TechStars, MaRS, Capital Factory, and guest lecturers at several universities including MIT, Harvard, and UT Austin.
Ash also serves on the advisory board of a number of startups and has consulted to new and established companies.
DREAM LAUNCH MONTHLY DREAM TALKS SERIES OVERVIEW
Product Developers once imagined a future with a market of cashed-up buyers, but overnight the world changed. Global markets are unstable, and most people are and may continue to work from home in the foreseeable future.
Whether you're a Product-developer, designer, inventor, engineer, entrepreneur or corporate innovator, this series is for you.
And to help you navigate these turbulent times in the new upside-down world, we will be providing you with access to global and local experts, product development specialists who can keep you abreast of trends, changes and the best methodologies.
These talks are designed to be interactive so bring your burning questions and share your needs and challenges with other innovative thinkers and doers.
We want to help you refocus on new possibilities: and to foster collaborative discussion so you'll also be able to connect with like-minded innovators to help you bring your ideas to life –people who can help you in your current & future enterprise.
Organiser of Running Lean - with Ash Maurya
Dream Talks is the education arm of Dream Launch.
Dream Launch provides the services you need to help you through all the stages required to turn your idea into a commercial, manufactured product meeting your defined market's needs.
Our be-spoke services are aimed at both businesses and inventors, locally and internationally, offering a one-stop shop saving you time, money and effort.

Product-innovation on a budget is our specialty.

Our support team comprise best-in-class Engineers, Designers Project Managers and Marketers which means your idea and product will receive all the advice, support and action you need through the end-to-end stages of Ideation to Prototyping to Commercialisation to Manufacturing to distribution.