Description
Revolutionise your Risk Advice Process!

Would you like to experience a paradigm shift in the way YOU view personal protection?
And would you like to be empowered to create a paradigm shift in the way your clients view personal protection?
These are just two of the outcomes that attending my Risk Workshop will produce; here are a few more:-
• Turn a grudge purchase into a fantastic opportunity for your clients
• Get a structured track to run on for every step in the client engagement process
• Obtain a host of simple, practical and usable engagement tools that will add real value to your risk advice process
• Understand the key difference between creating a quality experience for your clients and just completing a transaction
• Find out how to make referrals a natural consequence of business
If you recognise how much value these outcomes will add to your risk advice business, then you need to register now for the Risk Workshop in your capital city and get your free copy of my book "The Risk Workshop" in advance.

Book now!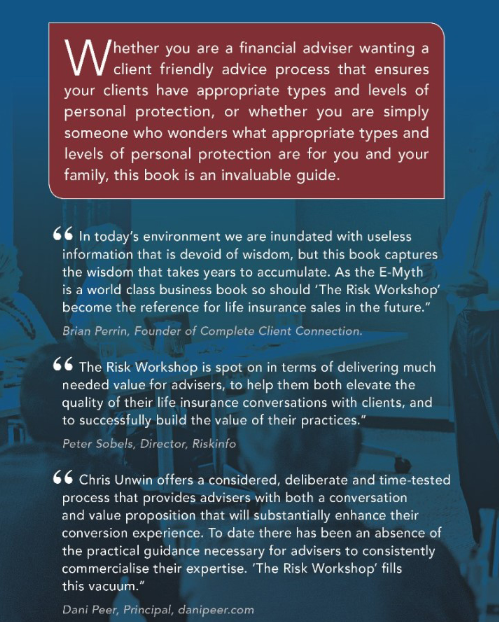 ---
Transport and Parking - Commonwealth Bank Pl, 11 Harbour St, Sydney

Public Transport
All forms of public transport are available including ferries, trains and buses.
For further information, visit the Transport NSW website
Train
1 Harbour St is about a five minute walk from Town Hall Station
Parking
There are a number of nearby public car parks, most with earlybird parking rates. There is also public car parking in Commonwealth Bank Place for visitors to the Darling Quarter area.
For further information go to the Wilson's Parking Website