'Results Not Embroidery' - Corporate Innovation as Management Practice
Description
'Results Not Embroidery' | Corporate Innovation as Management Practice (only 25 spots available!)
This interactive workshop and round table discussion will be facilitated by Peter Glasheen, Head of Faculty Innovation360 Group AB of Stockholm and Principal of Stratovation (this workshop is not a sales pitch!).
During this session Peter will focus on:
- Corporate Innovation Maturity/Capability Assessments & Metrics
- Helping you get a better understanding of why and how organisations around the globe (private and public) are able to assess and measure their strengths and weaknesses of their innovation capabilities.
- How these assessments help guide organisation's strategies, decisions and resource allocation for increasing their chances to succeed with their innovation efforts.
Peter will be using the Innovation360 framework and InnoSurvey® for assessing innovation capabilities that bridges science and business through AI, data driven analysis and insights from over 6000 organizations in over 60 countries. It is one of the largest databases of organisational capabilities available globally, allowing benchmarking against best in class innovators across all regions and industries.
This event is for you if you are:
Someone who wishes to understand more about corporate innovation, how to assess and improve
Corporate Innovator
Innovation Program Manager
Director / Executive / Business Manager
Business or Digital Transformation Manager
Organisational Change Manager with a focus on Innovation
Business Improvement Manager
Entrepreneur or researcher that wish to understand more about corporate innovation
Business Analyst, Enterprise Architect, Program / Project Manager
Getting the most out of the workshop

If you would like to really test-drive one of the world's most advanced innovation management models and learn how your organisation can sharpen its innovation strategy, then send an email to contactus@bigjump.com.au and we will send you a link to the assessment survey.
Completing this 20-minute survey before mid-day Friday 2 November, we will bring your personalised report to the workshop for you.
You will then be able to walk away with a holistic view of your organisation's current state, a common language for innovation grounded in research (no buzzwords) and new perspectives through facilitated round table discussions with peers covering strategy, process, culture, governance, metrics and organising for innovation.
Prefer not to complete the survey
This is also fine, we will provide an example that we will work through during the workshop so you can still understand the framework and the value it provides.
About Peter
Peter is a second career Consultant focusing on advisory work that significantly improves the management practice of Strategy and Innovation - and recognises the intrinsic links between the two - in both private and public sector organisations.
Peter was Australia's first Innovation 360 Licensed Practitioner and the first accredited globally as a Master Black Belt Practitioner. He is also the Head of Faculty at Innovation360 Group AB which is headquartered in Stockholm, responsible for developing their Accreditation programs as well as directing and delivering Accreditations in their tools and methodologies internationally in Stockholm, New York, Dubai and Australia.

Innovation360 is a Swedish company leading the way globally in Innovation Maturity Assessments.The extensive methodology is based on the book 'How to Assess and Measure Business Innovation' written by Magnus Penker, Founder of Innovation360. Magnus was recognised as "CEO of the Year in Sweden" in 2016 for his achievements in Innovation and Growth Strategies.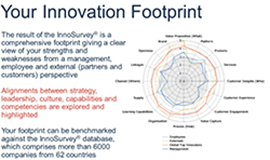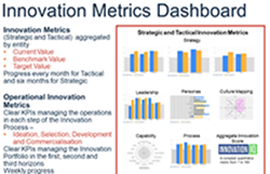 Note: If you have any issues accessing the floor, either go to level 2 and walk up the large wooden stairs or give me a call on 0421 408 643.