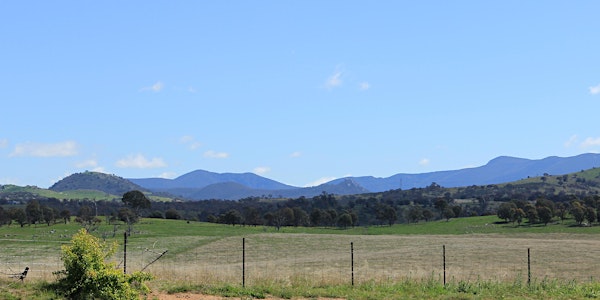 Resilient farming in a changing climate
Location
National Museum of Australia
Lawson Crescent
Acton, ACT 2601
Australia
The ACT Government is hosting a FREE one day forum for farming families in the ACT and border region of NSW.
About this event
Come along to find out how farmers from across our region are managing climate conditions and making their farming operations more resilient. Hear about the challenges and opportunities ahead, from speakers from ANU, the NSW Department of Primary Industries and the Emissions Reduction Fund.
RSVP: by Tuesday 10 November.
This event is funded by the National Landcare Program and the ACT Government.
Please note: Due to COVID restrictions numbers for this event are limited to adhere to the venue capacity. If there are no more tickets, please join the waitlist to be notified about tickets should they become available and to receive event material and a recording after the event.
Draft Program
Keynote address: Professor Mark Howden, Director, ANU Climate Change Institute
Setting the scene – climate change in our region and what it means for agriculture in our region
THEME: Farming for the future
Farmer stories – farmers in our region talk about managing drought, floods, climate change and the future and how they are making their farms more resilient:
Peter Holding, Harden, a canola, wheat, wool, and lamb producer has put in place strategies to manage and adapt to climate change on his farm, since participating in the Managing Climate Variability Climate Champion program, which ran from 2009-2016.
Annie McGrath, Majura Valley, ACT is diversifying her family farm to include producing and selling free range eggs, corn, and lamb direct to the Canberra community.
The Watson family, "Millpost" Bungendore have run their 3000-acre wool and sheep grazing property on permaculture principles since 1979, and extensively revegetated their property for shelter, shade, biodiversity, stock fodder and farm timber and now sell their own branded Merino Wool.
Vince Heffernan, Moorlands Biodynamic Lamb, Dalton, sells his lamb direct to consumers in Sydney and across our region, has been revegetating his property to improve farm resilience over many years
THEME: Soil Carbon – how to improve soil carbon and the low down on soil carbon markets
Dr Susan Orgill, NSW Department of Primary Industries, an expert on soil carbon under farming systems will speak on what soil carbon is, why you need it and how to increase soil carbon.
Samantha Anderson, Select Carbon, assists farmers to develop soil carbon projects and will take us through the ins and outs of trading in soil carbon and what is required to meet Australian Government requirements.
Stuart Austin, General Manager Wilmot Cattle Co, NSW Northern Tablelands – will speak on the work by Wilmot Cattle Co to improve soil carbon and the company's registered soil carbon project.
Michelle Crosbie, the Australian Government's Emission Reduction Fund will talk about opportunities to earn carbon credits under the Aust Govt Emissions Reduction Fund by undertaking activities that reduce or store greenhouse gas emissions. She will focus on opportunities in the land sector including regenerating native vegetation and other vegetation related carbon storage.
THEME: Farmers and community working together promoting well being
Paul Hewitt, Grabben Gullen grazier runs his farm along holistic principles and facilitates a local grazing management group with his local Landcare coordinator which supported landholders through the drought. He will speak on the changes he has made to his farm over the years and how the grazing management group works.
Siwan Lovett from the Rivers of Carbon – talks about why people matter and how the Rivers of Carbon Program empowers people to act in response to climate change by restoring their streams to boost biodiversity, sequester carbon and promote wellbeing.