Description
How can we achieve a zero-carbon future?
Addressing climate change and reducing carbon in our environment are hot topics, but do we know the facts and solutions for the future?
Over the past seven years the Cooperative Research Centre for Low Carbon Living (CRCLCL), has worked closely with the University of South Australia (UniSA Node) and five other universities across Australia, to develop next-generation, low carbon materials and technologies to help develop sustainable cities.
During May and June, the CRCLCL will stage a series of nationwide events to celebrate seven years of continuous research with its university and industry partners. The Expo's will celebrate and mark the closure of the CRCLCL at the end of June 2019.
In South Australia, UniSA will host an Expo to showcase regional highlights and CRCLCL achievements. The event is FREE and open to ALL. Expo visitors will have the opportunity to talk directly with researchers in the exhibition section about the aspects of low carbon living that are relevant to them. The day will end with a networking opportunity with drinks and nibbles.
The Expos will be hosted by Dr Josh Byrne, CRCLCL Project Leader and host of ABCTV's Gardening Australia with low-carbon living experts on hand to answer questions.
Speakers Announced:
The Hon Dean Brown AO, Chair SMC UniSA Reasearch Node for LCL & Professor Wasim Saman, UniSA
'Engaging locally - the experience of the UniSA Research Node for Low Carbon Living'
The Hon Robert Hill AC, CRCLCL Chairman
'Closing speech'
Dr Stephen White, CRCLCL
'CRCLCL legacies'
Professor Wasim Saman, UniSA & Andrew Bishop, Renewal SA
'Adelaide Living Labs'
Associate Professor Anne Sharp, UniSA
'Sharing economy mobility services project'
Dr Michael Short, UniSA & Dr Ben van den Akker, SA Water
'Energy benchmarking for water recycling project'
Dr Ke Xing, UniSA
'Energy and embodied carbon'
Dr Josh Byrne, Curtin University
'ZEH, Zero Emissions Homes'
Dr Vanessa Rauland, Curtin University
'Low Carbon Schools Community Program'
A/Professor John Merson, BMWHI
'LCL Australia program, Low Carbon Tourism and Communities'
James McGregor, Blue Tribe
'Behaviour change and demonstration projects' (My Renovation Planner and Renovate or Rebuild reality tv series)
Dr Henry Petersen, UNSW
'Urban Heat/Cooling Cities/UHI Decision-Support Tool & Index'
Full Day Agenda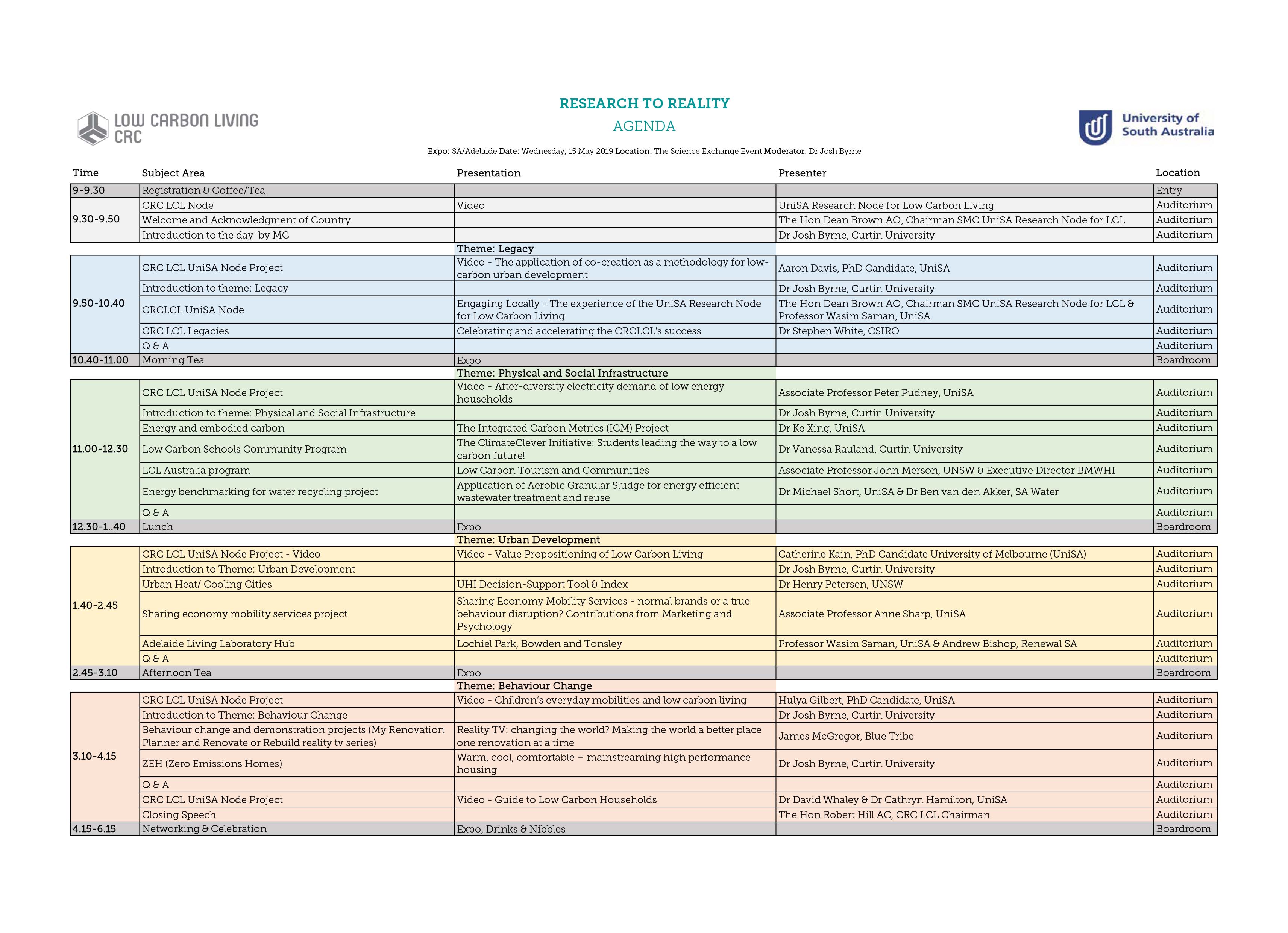 For full view please open image in new tab.
Please note that changes to presentation times can occur without notice.
CRCLCL Expo dates around the country:
14 May – NSW – hosted by UNSW Sydney and the University of Wollongong
15 May – Adelaide – hosted by the University of South Australia
5 June – Perth – hosted by Curtin University
Local enquiries email: ResearchNodeLCL@unisa.edu.au
CRCLCL enquiries email: info@lowcarbonlivingcrc.com.au