Research School of Biology Early and Mid-Career Researchers Conference 2021
The RSB Early Career event of the year is here! Join us to share, network, and collaborate with the star biologists of tomorrow and today.
About this event
The major RSB early career event of the year, the 2021 EMCR Conference, will be taking place on Thursday 16 September!The EMCR Conference allows early career scientists to showcase their research to the broader biology community at ANU, as well as to practice oral presentation and attend associated networking and development events.
This year the focus is on collaboration and communication, with events focused around communicating to a general audience and building links between disciplines and with the wider world.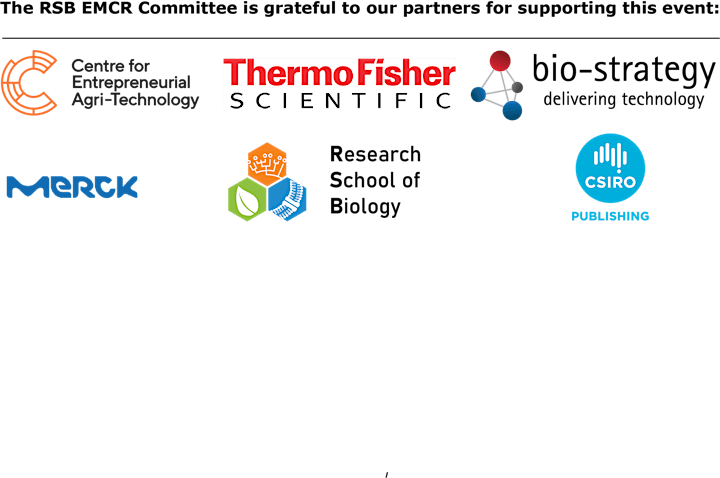 ***Postponement policy***
The event will be postponed if COVID restrictions appear likely to remain on Thursday 16 September. If so, we will transfer your registration to the new date, so you will not need to register again. Currently the expected alternative date would be in November.
Schedule
All sessions held in R.N. Robertson Lecture Theatre except as noted.
THURSDAY 16 SEPTEMBER
8:30 – Registration (Catcheside Court)
9:00 – Welcome and Introductions
9:10 – EMCR Research Talks Session 1
10:00 – Morning Tea and Partner Displays (Catcheside Court)
10:30 – EMCR Research Talks Session 2
11:20 – CPAS Science Communication Workshop (Science Teaching Building)
12:10 – Lunch and Partner Displays (Catcheside Court)
13:10 – Science Speed Networking Workshop (Science Teaching Building)
14:00 – EMCR Research Talks Session 3
15:00 – Afternoon Tea and Partner Displays (Catcheside Court)
15:30 – Diverse Career Pathways Panel
16:50 – Awards and Acknowledgements
17:00 – Social Hour (R.N. Robertson Tearoom, Level 2 R.N. Robertson Building)
18:00 – Close
Privacy notice
This is an online event and will be recorded. The recording will be made available to RSB students and staff on the RSB website after the event. Questions asked by audience members will be included in the video. Please let us know if you do not consent to this or have any questions/concerns.
COVID Safety policy
Per the ANU COVID-safe campus guidelines, please do not attend if you are unwell, experiencing any COVID-19 symptoms, self-isolating, or have recently been in a COVID affected area. If you are unable to attend in person but would still like to present, let us know and we will arrange for you to present remotely.
Please check in via QR code on entering the building. Physical distancing of 1.5m will be observed on campus and during the event. Room capacity will be limited per ANU policy. Extra hand sanitiser and wipes will be available in the seminar room.
Organiser of Research School of Biology Early and Mid-Career Researchers Conference 2021