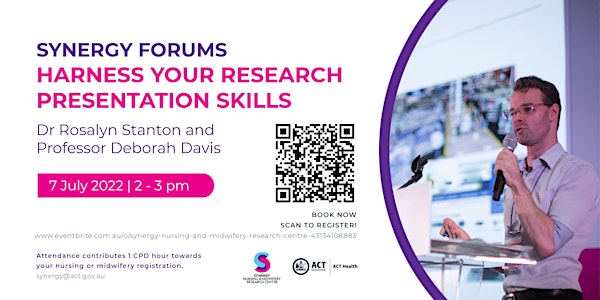 Research Development Series - Harness your research presentation skills
SYNERGY: Nursing and Midwifery Research Centre PRESENTS free monthly forums for nurses and midwives
About this event
Synergy is excited to offer forums to support healthcare practitioners to develop skills, knowledge and research capability. This research series includes a range of forums for all levels of healthcare practitioners to explore innovation in practice, and to champion and lead service design. This research series includes topics to cultivate critical thinking to lead cutting edge research in healthcare.
This forum will be recorded and made available on the SYNERGY website.
Attending this forum will contribute to 1 CPD hour toward your nursing or midwifery registration for the year.
Presentation
Harness your research presentation skills
2 - 3pm
Presented by: Dr Rosalyn Stanton & Professor Deborah Davis
This session will provide the opportunity for healthcare practitioners to understand the principles for effective presentation skills. It is an important skill to be able to present research information clearly and effectively to get evidence across to diverse target audiences. This session will provide an overview of effective strategies to promote and delivery an engaging presentation.
Learning outcomes:
On successful completion of this session the healthcare practitioner will be able to:
1. Develop an understanding of effective presentation skills.
2. Design a conference presentation with impact.
Questions?
Please direct any questions to us at the SYNERGY Office: synergy@act.gov.au