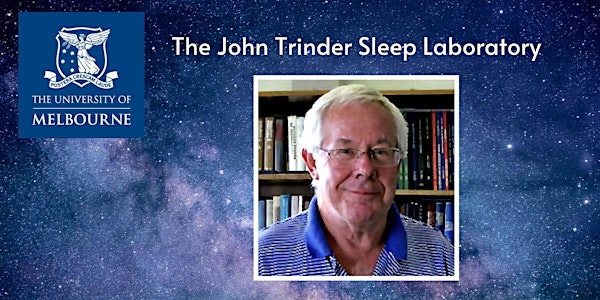 Renaming of the Sleep Laboratory in honour of Prof Emeritus John Trinder
This event celebrates the renaming of the Sleep Laboratory in honour of Professor Emeritus John Trinder
About this event
Join us as we celebrate Professor Emeritus John Trinder's remarkable career and achievements and commemorate the renaming of The Sleep Laboratory to the "John Trinder Sleep Laboratory".
Professor Emeritus John Trinder established the Sleep Laboratory at the University of Melbourne in 1987 and directed it until his retirement in 2015. Professor Trinder's research work has dramatically advanced the field of sleep medicine. The Sleep Laboratory, located at the Melbourne School of Psychological Sciences, conducts a variety of sleep related research including the effects of poor sleep on mental health and cognition, as well as research to better understand the causes for sleep disorders such as obstructive sleep apnea.
Professor Trinder's achievements include publishing more than 200 scholarly articles, training more than 40 PhD/Masters students and over 100 honours students and obtaining continuous funding from the NHMRC and the ARC for 20 years prior to his retirement. In honouring Professor Trinder for his considerable contributions to the School, the Sleep Laboratory will be renamed the "John Trinder Sleep Laboratory".
Our confirmed speakers are:
• Professor Rob Hester, Head of School, Melbourne School of Psychological Sciences
• Professor Amy Jordan, Director of the Sleep Laboratory and Deputy Head of School, Melbourne School of Psychological Sciences
• Professor David White, Professor of Medicine, Harvard Medical School
• Professor Ian Colrain, Honorary, Melbourne School of Psychological Sciences
• Emeritus Professor Doug McEvoy, Academic Status & Web Supervisor, College of Medicine and Public Health