Event Information
Refund Policy
Contact the organiser to request a refund.
Eventbrite's fee is nonrefundable.
About this Event
The future of workshop facilitation is being able to successfully run them in person AND virtually.
Our 'Virtual Creative Facilitation Training' will arm you with the tools and techniques to facilitate virtual workshops that are effective, creative, engaging and collaborative.
Give yourself a competitive edge and learn the techniques that we have used with our clients - Nike, The United Nations, LEGO, Ogilvy, Westpac, Nestle and Google.
You will learn:
How to set up, design and plan a dynamic workshop online
Creative thinking tools and techniques that work virtually to help everyone generate highly creative ideas
How to create the right atmosphere and keep everyone energised and engaged
Online platforms to use when holding a virtual brainstorm or any type of workshop
Facilitator tips and tricks for running highly engaging and productive online workshops
Presentation skills for engaging facilitation
Topics covered:
Part One:
Facilitator guidelines and tips for when your workshop is remote
Presentation skills and techniques for presenting and facilitating online.
How to design a dynamic workshop around your chosen objectives
How to create the right atmosphere online and make sure every participant is active
How to keep all participants focused and energised in an online workshop
Part Two:
Facilitation tools and techniques that work for online workshops (brainstorming and strategy workshops)
Online facilitation platforms to use (Zoom, Miro, Mural and others)
How to break people into groups seamlessly
How to collect and group participants ideas post workshop
Who is this course for?
If you are someone who needs to lead and facilitate impactful, engaging and dynamic workshops or brainstorms (online and in-person) then this course has been designed for you!
Important info:
This training is delivered online in 2 x 2.5 hour sessions on the same day. With a one hour break at 12:30 pm in between sessions. The session will be run on zoom. If you can only join for Part 1, let us know and you can join Part 2 at a later date.
See you at the workshop!
Cheers,
Nicole and The Ideas Bodega team.
What have others said about the Masterclass…
Nicole ran a one day workshop for online facilitation, which has become essential in recent times. The energy, passion and enthusiasm Nicole had kept me engaged for the duration of the day. I came away with many new tools in my toolkit that I'll use for both online and in-person facilitation. Nicole's passion for the creative process was infectious and no matter what your industry or role, we can all do with a little more creativity in developing solutions. I'll be referring back to the comprehensive workbook that Nicole provided for many years. I thoroughly recommend this courses if you're looking to sharpen your facilitation or inject some creativity in your approach. Director, Band Consulting
Brilliant workshop! I'm putting to good use immediately – first online workshop tomorrow! Thanks for such an awesome and worthwhile training session. 10/10 recommended for anyone running workshops or even just trying to connect more with clients whilst we are all online. Senior Account Director and Strategic Planner at Nectar and Co.
Loved the session! Thank you! Workshopping and meeting remotely for creative conversations can be pretty challenging - but you showed us with the right facilitator and tools they can be totally worthwhile, successful and enjoyable. Thanks for all the practical tips and tricks. I highly recommend Nicole's workshop! Brand and Strategy Consultant
I recently attended the Master class with Nicole from the Ideas Bodega and I was blown away by the amount of relevant information and productive tools that were provided. It was by far and way the most useful course I have attended and Nicole's passion and professionalism were undoubtedly major contributors to this experience. She has identified an important area in our market and has made herself an expert in the art of the brainstorm. Director, Nine Entertainment Co, Sydney
Really valuable tools and techniques for creative facilitation, planning and brainstorming. It was a hugely beneficial process and I would highly recommend it to any organisation wishing to inject a fresh approach to their creative output. Managing Director, One Green Bean, Sydney
The masterclass was both inspiring but also really practical too (where many other training courses fail), arming you with the best ways to get the most out of your and your team's thinking. Nicole led the class superbly, using lots of different examples and experiences. Would recommend it for all agency folk; relevant for suits, creatives and planners alike. Senior Planner, Ogilvy and Mather, Melbourne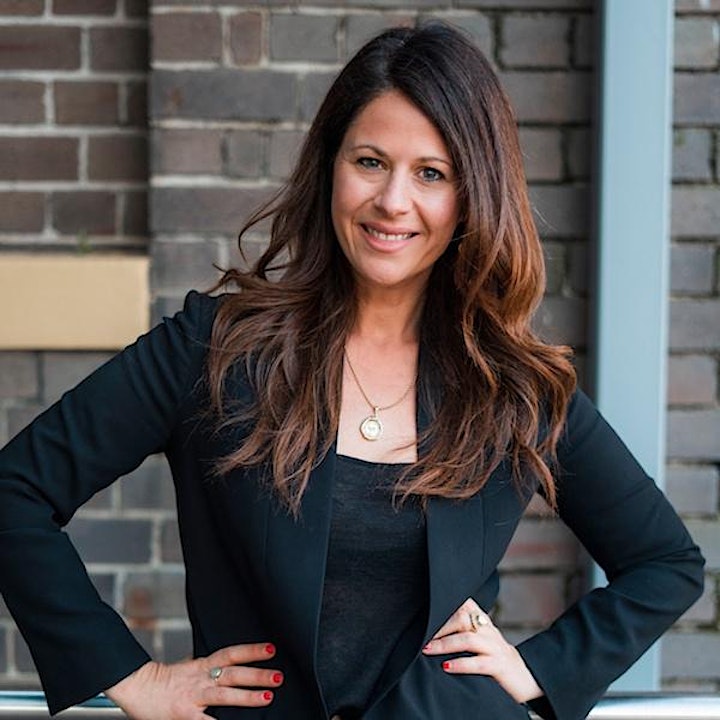 About your trainer:
Nicole Velik, Founder of The Ideas Bodega.
Nicole Velik is a leading Innovation and Creativity speaker, facilitator and trainer. She is the founder of innovation company, The Ideas Bodega.
During Covid-19 Nicole has embraced the virtual world in a big way! She has planned and hosted CreativeMornings online to 200+ people across the world. She has virtually MC'ed a global creative conference and trained 150 media professionals online across Australia.
For over a decade Nicole has facilitated and trained organisations in creativity. Her clients include The United Nations, Nike, Amazon, LEGO, Coca-Cola and Google and she's worked across The United States, Australia, Africa and Europe.
Nicole worked in advertising as a brand strategist at Saatchi &Saatchi, Sydney and KBP, New York City. She founded The Ideas Bodega in 2008.
Nicole is a regular speaker on creativity and has inspired audiences at global conferences such as Vivid Ideas, Ad:Tech, Pause Fest, CreativeMornings, Promax, Creative Innovation, CREA and Emergence Creative.
She is also the host of CreativeMornings Sydney - A global lecture series for the creative industry. Sydney is one of 215+ cities to take part each month.
Date and Time
Location
Refund Policy
Contact the organiser to request a refund.
Eventbrite's fee is nonrefundable.