Regulation Workshop in Paris: Expedite access to Chinese Cosmetic Market
About this event
In 2018, China's national retail sales of cosmetics above the designated size was €33.8 billion, and in the first quarter alone of 2019, the retail of cosmetics has increased to €9.7 billion. For the imported cosmetics sector, the import value amounted to €8.5 billion, with a year-on-year increase of 67.5%, the import volume and amount of beauty products and skin care products in China continually increased in recent years.
However, the complicated pre-market entry process and changing policy, especially the complicated regulatory framework and the fast evolving retail and e-commerce infrastructure, are holding back foreign brands to this lucrative market.
Chemlinked, as a leading regulatory information platform, will set our first workshop stop at Paris, France to help you find solutions to these challenges. This workshop features straightaway regulation decoding & up-to-date market intelligence. If you are targeting at Chinese market, or already active in those markets but aim to achieve more, it must be an unprecedented opportunity to communicate with regulatory experts face-to-face and develop a better understanding of China cosmetic market and regulations.
Who Should Attend
CEO/GM/Import&Export Director
Business & Commercial Manager
CSO Chief scientist officer
Technical & Development Manager
Regulatory affairs managers&directors
Policy & regulatory maker
Quality assurance managers&directors
Lawyer, consultant, academic researcher
What to expect
Catching up Market Opportunities:
How big is Chinese Cosmetics Market? What's the opportunity today and tomorrow?
What's Chinese cosmetic consumption preference and trend?
What are the niche beauty categories in China?
How to export cosmetics through Cross Border E-commerce & General Trade to China?
What cosmetics can be traded via CBEC channel? What are the characteristics of China's major CBEC platforms?
Understanding Policies:
What's the difference between definition of cosmetics in China and EU?
China's New Cosmetics Competent Authority(SAMR): Duties and key work of supervision?
What's the difference between Pre-market Registration & Filing Policy: requirements, time?
Will animal testing be exempted in China?
How to prepare GMP and COFS (Certificate Of Free Sale)?
What are the most-likely issued Policies and Regulations in 2019?
What are the special requirements for Baby products?
What's the difference between Responsible Person and Responsible Agent, and what qualifications should they have?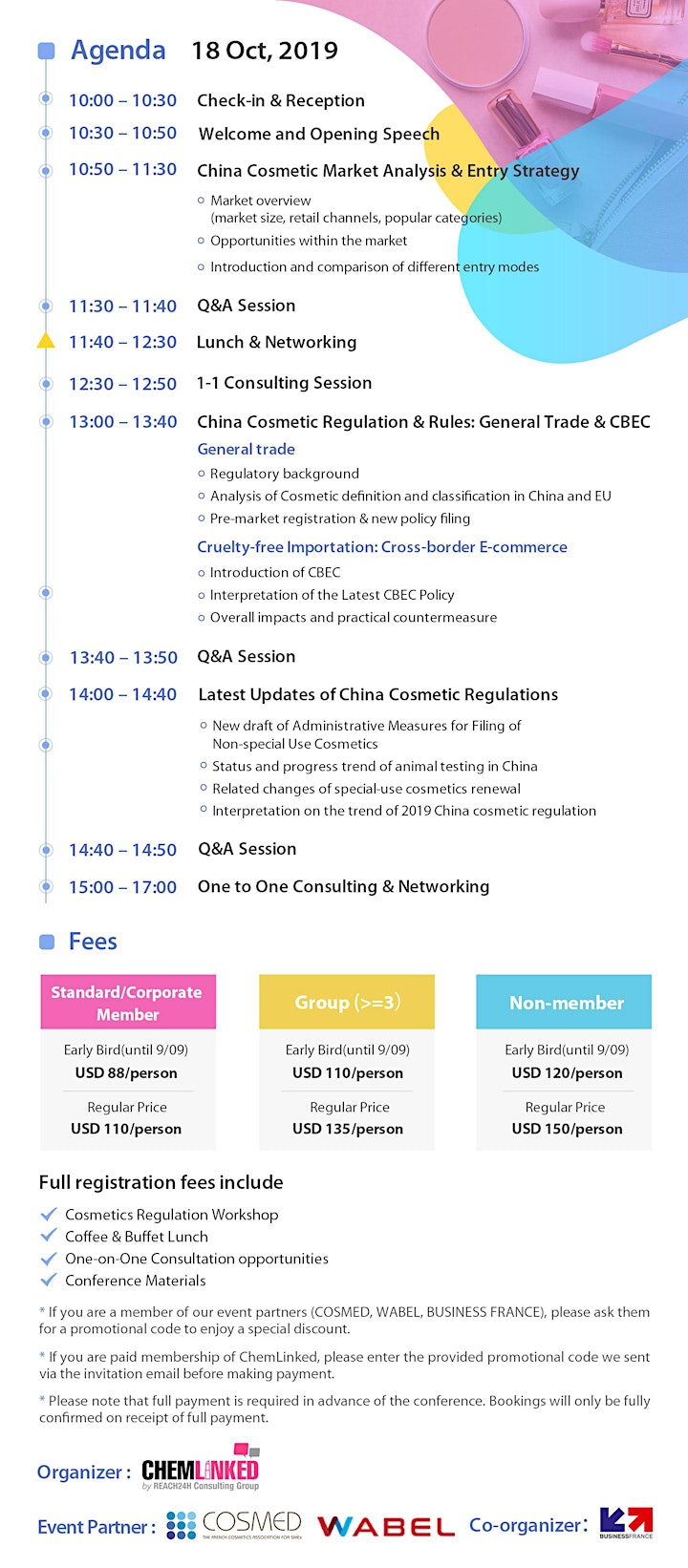 To learn more about this event, please visit the official page.
For Sponsorship or Media Partner Opportunities, please contact:
Ms. Eris Huang
Tel: +86 571 8997 7686
Email: eris@chemlinked.com
Organiser of Regulation Workshop in Paris: Expedite access to Chinese Cosmetic Market