Description
MangroveWatch helps you to measure the guardian mangrove habitat's beating pulse.
For curious students, nature loving gardeners and people of the sea edge, come prepared for a boat trip and a short walk amongst the Groves. It won't be too difficult or muddy, but it maybe sunny or rainy. Come prepared for the day.

Do you know about the albino mangroves in Trinity Inlet (pictured)? What causes these lethal mutations? These and other indicators of mangrove health will be discussed. Learn what all the fuss is about, and how you can help make sure our mangroves are healthy.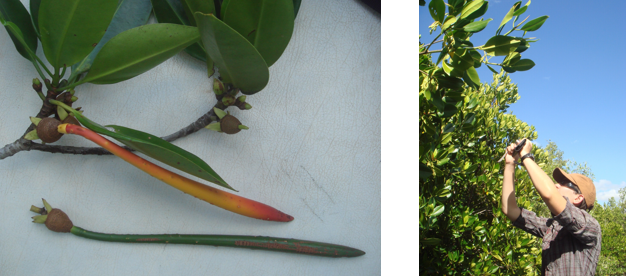 During the tour, you will learn the signs to look for, and how citizen scientists are using assessment tools like the shoreline video assessment method. It's fun! Find out how you might join other citizen volunteers to record valuable environmental data.

By being part of this Watch program you can SEE the habitat, SCORE it's condition, and help SAVE it.

Your understanding and contributions make more informed environmental management possible. This is needed if we are to protect valuable natural assets like the Great Barrier Reef!

Our hosts for the morning are local country custodians, the Mandingalbay Yidinji (MY) people along with expert scientists with MangroveWatch. Come join us! You are most welcome to this ReefBlitz event.


A brief itinerary of the mangrove tour hosted by – MY Eco Tours and MangroveWatch.

7.30 am. Visitors arrive Cairns Reef Terminal
Groups sizes will be around 12 people each. Bookings are essential. Group numbers limited to two.
8.00am Group 1 (Rhizophoras) aboard vessel departs to Hills Creek Bund Wall – Bus tour of East Trinity Mangrove Land Base – approximately 1.5-2 hrs. (Boat returns to Reef Terminal to pick up Group 2)
8.15am - Group 2 (Avicennias) aboard vessel departs to Trinity Inlet to undertake water-based MangroveWatch activities amongst the surrounding waterways.
10.30-11.00 – Group 1 and 2 swap places at East Trinity Mangrove Land Base.
11.00-1.00pm – Group 1 (Rhizophoras) to do water-based MangroveWatch activities in Trinity Inlet, and Group 2 to do East Trinity Mangrove Land Base.
1.00-1.45pm - Lunch and talks with Mr Dale Mundraby and Dr Norm Duke. Completion of tour.
1.45-2.00pm – Depart East Trinity Mangrove Land Base by vessel with Group 1 first then Group 2 to Cairns Reef Terminal.

FAQs
Are there requirements for the event?
Participants must be comfortable on boats; must wear close-toe shoes that are able to get wet; be sun smart; and, carry drinking water. This is a commercial vessel that complies with Australian Maritime Safety survey requirements. Participants less than 18 years of age must be accompanied by parent or guardian.
Where can I contact the organizer with any questions?
Norm Duke, Mangrove Watch
M: 041 967 3366, E: norman.duke@jcu.edu.au