Description
REAL WORLD VR & TRANSITIONS FILM FESTIVAL

VR FOR POSITIVE CHANGE (Virtual Reality film showcase, panel & forum). Supported by Film Victoria, Reality Reload and Kaiju Beer
Real World VR is one of Melbourne's flagship VR/AR/MR events and presents a series of high quality virtual, augmented and mixed reality events on a bi-monthly basis. Featuring talks, panel discussions, and VR demos, this month's event explores the potential of these cutting-edge technologies to create positive change in the world.
VIEW PROMO FOOTAGE FROM DECEMBER HERE
_________________________________________________
DOORS OPEN at 5pm
SPEAKER 7:00pm
PANEL + Q&A 7.30pm
DEMOS + NETWORKING + NIBBLES 8.30pm - 10.30pm
VR SHOWCASE 5:00pm / 5.30pm / 6:00pm / 6:30pm / 8.30pm / 9:00pm / 9:30pm (Pre-booked)
_________________________________________________

SPEAKER 7:00PM - EMMA WASSON - THE BOB BROWN FOUNDATION
Campaign Manager - Melbourne

Emma has a breadth of Community Organising experience working across a variety of campaigns and programs for peak environmental NGO's such as the Nature Conservation Council of NSW, Greenpeace and the Wilderness Society. Emma's work with the Bob Brown Foundation focuses on galvanising support and building momentum for the protection of takyana/Tarkine in Tasmania's North West, from Melbourne. The Foundation has recently embarked upon the use of VR technology to enable supporters to connect with takyana/Tarkine, one of the last great wild places left on Earth. It is currently under threat for rainforest logging, mining and off road vehicles. Hear how you can join the campaign to protect this special place as a World Heritage listed National Park including return to Aboriginal Ownership. www.bobbrown.org.au
_________________________________________________
7.30PM - 8.30PM - VIRTUAL REALITY FILM PRODUCTION PANEL ON EMPATHY + Q&A
We will host a panel discussion and Q&A session with some of Australia's leading Virtual Reality filmmakers and changemakers on the topic: positive change.

MC - Anna Reeves - Anna Reeves is a creative entrepreneur, producer and writer with a passion for culture change and storytelling. She has worked with Cordell, Jigsaw, Zapruder and XYZ films and was the campaign Director of The Global Poverty Project. Anna is currently the CEO of That Startup Show, a Webby Award honoured series on startup culture. She is also producing The Stand in My Shoes Project, a VR documentary film and education lab exploring the evolution of Empathy.

PANELISTS
Gerald Fisher - Affect (YGAP, Alcatraz, IMPACT)
Ahmed Salama - Co Founder of That Start Up Show (VR film on empathy in the making for 5 years).
Michael Beets - VR Writer, Director, Filmmaker


Michael Beets: Michael will discuss Virtual Reality project;"Vicki The Truck" currently touring Victoria and providing a platform using new technologies to share stories of new Australians with the focus on acceptance and empathy.
Michael's virtual reality projects and films have been screened at festivals around the world including Cannes, Toronto International Film Festival, Kaleidoscope World Tour, and the Melbourne International Film Festival. He is also a recipient of Screen Australia's 2017 Hot Shots funding for his upcoming interactive VR experience titled 'The Unknown Patient'. His work can be viewed at http://www.michaelbeets.com ​
Gerald Fisher: Gerald is Managing Director at We Are Affect. Affect produces digital content and products that make a difference. Using cutting-edge technology such as 360 video, virtual reality and augmented reality, we create bespoke tools for healthcare, education and social impact. After travelling to over 50 countries by age 25, Gerald decided that he wanted to throw himself into psychology, research and startups before starting his own business. Now, over a year into his business, he continues to find excuses to travel. He is a keen advocate for mental health research and has a passion for improving indigenous health and asylum seeker policy and seeks to keep on creating immersive media that can help change attitudes towards these issues for the better.
Ahmed Salama: Ahmed is a creative entrepreneur, designer, developer and filmmaker with a passion for using technology to create impact storytelling and VR. He is a two time Directors Guild Award nominee and AIMIA Award winner for his work in innovative storytelling and development. As creative director, he executive produced critically acclaimed internet cult hits such as the "The Tunnel" – the first feature film to be crowd funded and released commercially via BitTorrent with over 20 million downloads worldwide. He has also produced the Free Hugs Campaign - Australia's first online viral music video spawning a worldwide movement. As a creative director, he has helped steer global culture transformation within companies such as Accor Hotels overseeing the design and development of their culture change app across 15,000 staff and 12 countries. He has freelanced as a creative director for agencies such as WPP, Moon, Adrenalin and Human and has been a judge on leading industry awards such as the AWARD awards and ADG awards. Recently he directed and produced That Startup Show, an online TV series with over a million viewers worldwide. Ahmed is also co founder of The Stand In My Shoes Project, a VR empathy lab and documentary film.

_________________________________________________
DEMOS + NETWORKING + NIBBLES FROM 8.30PM
We will have a selection of 360/VR films for you to view. Meet Virtual reality filmmaker enthusiasts, filmmakers panelists and speakers.

_________________________________________________
TRANSITIONS FILM FESTIVAL - VR SHOWCASE - (Must pre-book) 5:00pm Session / 6:00pm Session / 8.30pm Session
Experience a selection of virtual reality (VR) films hand selected from Transitions Film Festival . VR Sessions are 45 minutes duration and must be pre-booked on Eventbrite (limited numbers so book early).
SHOWCASE VR PACKAGE 5 x VR Films
- Chasing Coral: The VR Experience (USA, 2017), Director: Jeff Orlowski.
- Virtual Tarkine: The Bob Brown Foundation.
- The Crystal Reef: Co-Director Cody Karutz & Produced by Virtual Human Interaction Lab.
- Remain At Home: Director - Gero A.E Egger, Go Pictures.
- The Polished Man (SA & NYCC) - YGAP: Director Gerald Fisher, Affect.

CHASING CORAL - Following Chasing Ice, US filmmaker Jeff Orlowski returns with the underwater VR experience Chasing Coral: The VR Experience, which follows scuba diver and researcher Zackary Rago as he documents the unprecedented 2016 coral bleaching event at Lizard Island on the Great Barrier Reef.

VIRTUAL TARKINE: Enter the world of Australia's largest remaining cool temperate rainforest: Tasmania's Tarkine.
Delve into the wild windswept beaches, extensive buttongrass plains and pristine wild rivers. This VR experience will take your breath away.

THE CRYSTAL REEF - Director - Cody Karutz. A rocky reef off the coast of Italy demonstrates the future of climate change. Meet Dr. Fio Micheli, the marine scientist who studies this reef, and dive underwater with her to learn about ocean acidification and how human-produced carbon dioxide will turn all the world's oceans into what scientists are calling "the ocean moonscape."

REMAIN AT HOME - Director - Gero A.E Egger, Go Pictures. The viewer slips into the role of altruistic grandmother "Zahira" who needs to convince her grandson "Mahmud" and his family to abandon their home and escape the war, despite the heart-wrenching realization that they might not make it if she accompanies them…
THE POLISHED MAN - The Polished Man experiences both delve into the work of entrepreneurs and therapists on the ground in South Africa and NYC and provide insight into where funding from the campaign goes, plus the work that Polished Man supports and the stories of the people involved...
_________________________________________________
TICKETS
1) General Entrey is Free (must register).

2) VR Showcase Package $15 Includes 5 x VR Fims and Kaiju Beer on Arrival), part of Transitions Film Festival (VR).
Includes VR Films: - Virtual Tarkine: The Bob Brown Foundation, Chasing Coral: The VR Experience (USA, 2017), Director: Jeff Orlowski, The Crystal Reef: Co-Director Cody Karutz & Produced by Virtual Human Interaction Lab, Remain At Home: Director - Gero A.E Egger, Go Pictures) and YGAP - The Polished Man: Director Gerald Fisher, Affect.
REGISTER/BOOK TICKETS (TOP RIGHT)
_________________________________________________
We look forward to seeing you on the night
Thank you.
PARTNERS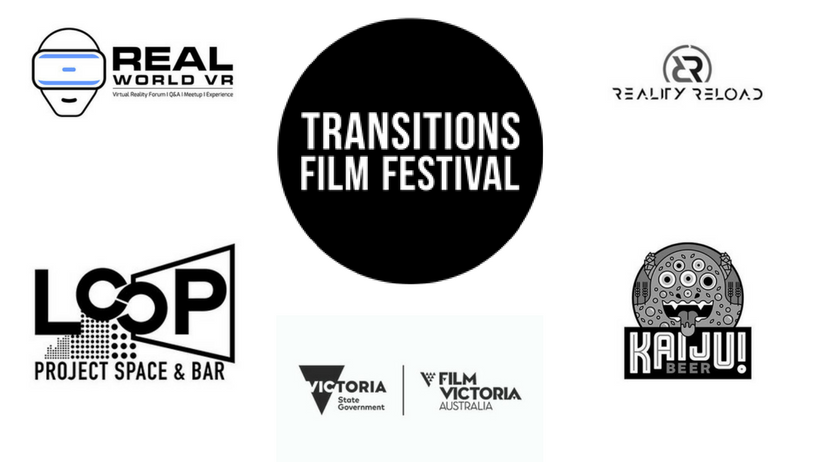 Organiser of Real World VR - Virtual Reality Transitions Film Festival - VR For Change