Description
The Roscoe Library has a book club, Reading with Spiritual Eyes, based on works of fiction. You're invited to join with us as we discuss our book for Term 4 2018, Boy Swallows Universe by Trent Dalton.

For catering and set-up purposes, please let us know if you're planning on joining us by registering (via this site). We are looking forward to another interesting book chat!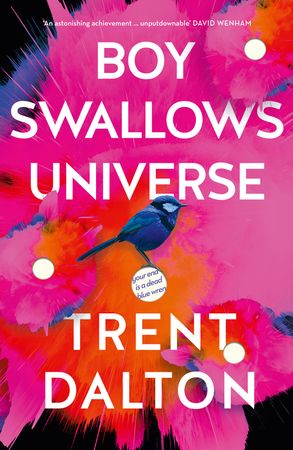 What? Book chat
Where? Roscoe Library
When? Tuesday 27 November 5:30 pm - 7:00 pm
How? Facilitated discussion / Drinks & nibbles provided
Who? +Godfrey, Eve, Susan, Kay ... you?
"Brisbane, 1983: A lost father, a mute brother, a mum in jail, a heroin dealer for a stepfather and a notorious crim for a babysitter. It's not as if Eli's life isn't complicated enough already. He's just trying to follow his heart, learning what it takes to be a good man, but life just keeps throwing obstacles in the way - not least of which is Tytus Broz, legendary Brisbane drug dealer.
But Eli's life is about to get a whole lot more serious. He's about to fall in love. And, oh yeah, he has to break into Boggo Road Gaol on Christmas Day, to save his mum.
A story of brotherhood, true love and the most unlikely of friendships, Boy Swallows Universe will be the most heartbreaking, joyous and exhilarating novel you will read all year."
*****
'Trent Dalton is the most extraordinary writer - a rare talent. A major new voice on the Australian literary scene has arrived.' Nikki Gemmell
'An astonishing achievement. Dalton is a breath of fresh air - raw, honest, funny, moving, he has created a novel of the most surprising and addictive nature. Unputdownable.' David Wenham
'I couldn't stop reading from the moment I started, and I still can barely speak for the beauty of it. Trent Dalton has done something very special here, writing with grace, from his own broken heart.' Caroline Overington
'Enthralling - a moving account of sibling solidarity and the dogged pursuit of love.' Geoffrey Robertson QC
'Stunning. My favourite novel for decades. Left me devastated but looking to the heavens.' Tim Rogers