Description
The Roscoe Library has started a book club, Reading with Spiritual Eyes, based on works of fiction. You're invited to join with us as we discuss our book for Term 2 2018, The Immortalists by Chloe Benjamin. Rosemary Gardiner will facilitate our discussion.

For catering and set-up purposes, please let us know if you're planning on joining us by registering (via this site). We are looking forward to another interesting book chat!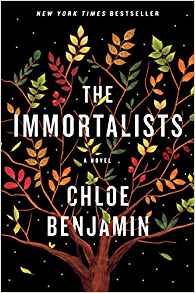 What? Book chat
Where? Roscoe Library
When? Tuesday 19 June 5:30 pm
How? Facilitated discussion / Drinks & nibbles provided
Who? Eve, Susan, Kay, Rosemary ... you?
"If you were told the date of your death, how would it shape your present?

It's 1969 in New York City's Lower East Side, and word has spread of the arrival of a mystical woman, a traveling psychic who claims to be able to tell anyone the day they will die. The Gold children—four adolescents on the cusp of self-awareness—sneak out to hear their fortunes.

Their prophecies inform their next five decades. Golden-boy Simon escapes to the West Coast, searching for love in '80s San Francisco; dreamy Klara becomes a Las Vegas magician, obsessed with blurring reality and fantasy; eldest son Daniel seeks security as an army doctor post-9/11, hoping to control fate; and bookish Varya throws herself into longevity research, where she tests the boundary between science and immortality."
*****
"A page turner, as addictive as it is emotionally searing…Captivating, moving and addictive. It makes you think, feel, fall in love, and question how to best live your days left on earth."—Lambda Literary
"Chloe Benjamin's The Immortalists is the very best kind of literary thriller, its suspense deriving from characters we care about deeply and surprises that feel embedded in our shared humanity. As profound a meditation on destiny as readers are likely to encounter."—Richard Russo
"A beautiful, compassionate, and even joyful novel. Chloe Benjamin has written an inspiring book that makes you think hard about what you want to do with the time you're given. This is not really a book about dying—it's a book about how to live."—Nathan Hill, author of The Nix