Neighbourhood Books is delighted to host the launch of Questions Raised by Quolls, the newest work from Harry Saddler.
About this event
When Harry Saddler first encountered a quoll while camping with his father, he was struck by the beauty of the rare creature who had emerged from the bush, sniffing for dinner. As Harry frantically snapped a photo, the fast-moving mammal disappeared back into the undergrowth.
Many years later that blurry photo remains a memory, as fleeting as the animal it captured. After two centuries of habitat destruction, quolls are now on the brink of extinction and Harry, contemplating fatherhood, aches for the absence of all the species lost to children born today.
Questions Raised By Quolls is an eloquent examination of extinction and conservation set against the backdrop of global climate change. From his own family lineage, Harry reveals how humanity's ever-accelerating modern way of life runs parallel with the destruction of the natural world.
Evocative and challenging, this eulogy to lost species will force you to question your place in the vast interconnected web of life.
--
Neighbourhood Books is delighted to host the launch of Questions Raised by Quolls, the newest work from local author and nature-lover, Harry Saddler. The honour of launching this remarkable book falls to writer, speaker and conservationist Fatima Measham.
Harry is a Melbourne-based writer. His writing about the interactions between people, animals, and the environment has been published in the Lifted Brow, Meanjin, and the Guardian, among others. His book the Eastern Curlew: the extraordinary life of a migratory bird was shortlisted for the Queensland Literary Awards in 2019.
Fatima is a writer and speaker living west of the Werribee River on Wadawurrung country. Her recent work focuses on nature, conservation, and the tensions inherent in our claims of love for animals. She is also a conservation volunteer. She was formerly a consulting editor, columnist and podcast producer for Eureka Street, where she focused on issues of social justice, identity and politics. Her work has appeared in Meanjin, the Guardian, America magazine and other publications. She grew up on the traditional land of the Higaonon in the Philippine south.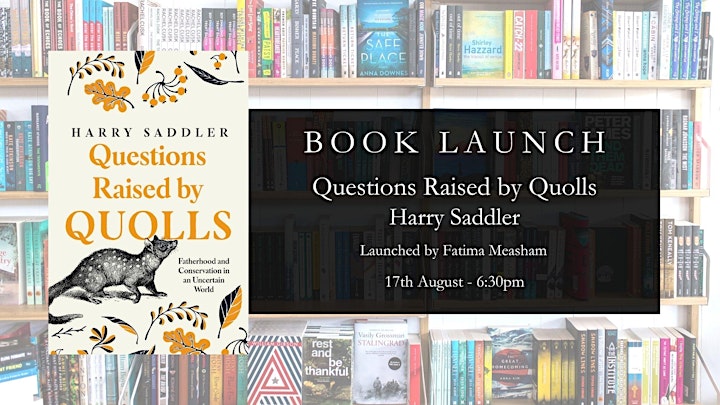 Organiser of Questions Raised by Quolls
Neighbourhood Books is a new-born independent bookstore curated to nourish the local community.
We house a range of new fiction, non-fiction and children's books, prioritising local writers, artists and publishers. Our knowledgeable and friendly staff are eager to talk books and share recommendations with all who will listen!
Ours is a 'profit for purpose' - we will be reinvesting our resources into developing an events program that brings the community together and supports the literary sector. We are bibliophiles and believe that people and books are two of the world's greatest assets.
Interested? Join our mailing list to be invited to be on the invitation list.
Our ambition is for Neighbourhood Books to be an inviting space to spend time in - for a browse, for a chat, for a meet-up or a meet-and-greet.
All are welcome, and we want to get to know everyone. This bookshop is for YOU, and we want it to reflect your values.
We hope you enjoy watching Neighbourhood Books evolve as much as we are enjoying building it.