Sales Have Ended
Ticket sales have ended
The sale of tickets to this event have closed.
Sales Have Ended
Ticket sales have ended
The sale of tickets to this event have closed.
Property Development Advanced Fundamentals 3 Day Workshop is designed to enable you to commence your first property development project.
About this event
Note: This course is online only

Awarded BEST PROPERTY DEVELOPMENT TRAINING PROVIDER AUSTRALIA for the second year in a row!
"We have learned so much and got an abundance of valuable information from the work shop. Value for money was absolutely there for us. We are so happy that we made this decision, the insight into the property development industry from your knowledge and experience was an eye opener. Thank you for sharing so many of your contacts with us and offering your ongoing support, this will definitely help us. We are now much more confident going forward into bigger projects on our own." Joseph B.
"Having done multiple property development training courses I can say he is a world class educator with a tonne of experience" Peter A
Steve Chandler, a third generation property developer with 40 years' experience in the industry, takes you on a journey deep diving into all things property development from how to approach home owners for acquiring their property for your project, through demonstrating how to undertake feasibility studies, preparing and obtaining development approvals, identifying niche markets to maximise revenues and how to deliver the building with minimum defects.
The course is based upon the 5 fundamentals of property development:
Acquisition;
Feasibility;
Authorities;
Revenue; and
Delivery.
Over 3 days there are no PowerPoint presentations whatsoever, only genuine property development activities using real property development techniques and tools. 
Feel free to contact us on +61 2 9357 1003 to discuss the course and its content.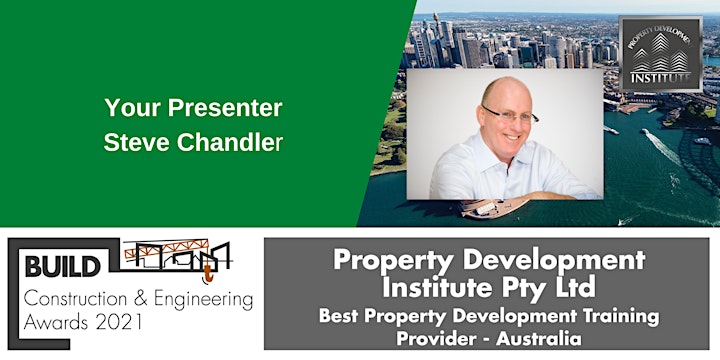 Organiser of Property Development Advanced Fundamentals - Online Only
Awarded "BEST PROPERTY DEVELOPMENT TRAINING PROVIDER 2020 & 2021 AUSTRALIA" in the Build Construction and Engineering Awards
.
Property Development Institute is an award winning property development training and mentoring organisation designed to help you BE a property developer. Our training programs are designed specifically to help you BE a property developer, not just learning about becoming one. What's the point in doing a training course if you can't use it when you complete it?
.
Property Development Institute provides you with real life training for real property development projects. All you need to do is learn the five fundamentals of property development and you're off!
.
Stop "wanting" to become a property developer and BE a property developer.
.
Property development is a learnt skill; you're not born with it!
.
"Steve combines his decades of direct property development experience with an authentic and down-to-earth approach to create a highly useful and content packed day. Perfect for those new to development, or those with some experience looking for practical tips from an experienced developer. Highly recommend." James and Lillian, February 2020   
.
"Attending the Property Development Fundamentals one day course was a valuable experience for me. I'm happy to recommend it to anyone who is looking to quickly connect with a real-world run-down on the pitfalls and benefits of property development. Steve touches on all aspects of property development projects, and generously shares lessons learned from what is clearly hands-on experience from his many personal projects and career.The boardroom style format provides a personal environment where questions are welcomed and answered." Adrian, February 2020  
.
"I recently attended the Property Development Institute's Advanced Property Development 3-day course in Adelaide. It was facilitated by Steve Chandler, who has incredible residential and commercial property development experience. He was able to draw on his vast experience to relate a story to any concept, which made the course all the more engaging and enjoyable. Having already completed a few property development intensive courses and with relevant practical experience, I was not expecting to learn more than a few snippets of information from a general 3-day course. But, boy was I wrong! I wrote 46 A5 pages of notes - including many practical actions for me to put in place the very next day on my current development of a 4 townhouse site. I will highly recommend this course to anyone in property development (whether just starting or already quite advanced). Besides the course, Steve is also happy to during the course or the breaks to answer specific questions to your project." Peter A, December 2019