Multiple Dates
Professional Resilience: Practical Strategies for Performance Under Stress
Description
Professional Resilience:

Maximise Performance & Decision Making Under Stress with an Individualised and Practical Resilience Plan

Duration: 10am - 4pm. (1-Day Course)



Overview
Resilience is a learnable skill that anyone can develop and benefit from daily.
Building resilience through proven and practical prevention and intervention skills is no longer just a desirable skill - it's a crucial one for success in today's competitive workplace.
Professional Resilience is your ability to predictably and rapidly return (or 'bounce back') to high-performance and productivity after periods of stress or disengagement.
This training program is delivered by Dr. Mike Larson (PhD Psychology) using psychological and neuroscience research and provides attendees with personalised and practical tools and strategies to enable high-performance even under the most difficult workplace conditions.
After completing this course, each participant will have a unique resilience strategy specifically designed for their own needs and style. This will enable you to develop your own resilience so you're able and ready to meet any challenge.
Individuals who complete this course and develop their resilience enjoy many benefits. Highly resilient individuals consistently perform better and are more productive on the job. They are less affected by stress and enjoy a better work-life balance. They also report better physical and mental health, such as better overall mood and satisfaction.
What are others teams saying about this workshop?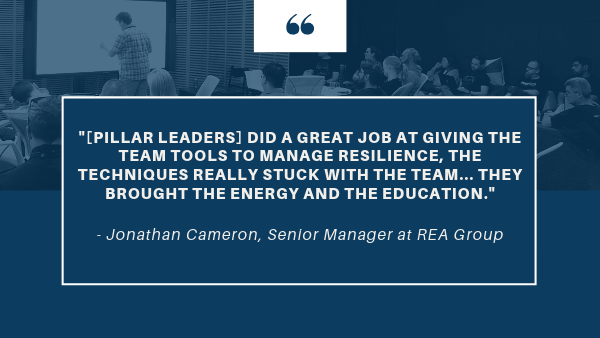 ---
Click 'Select A Date' and reserve your seat today
---
Who should attend?
Team members and leaders who work in a competitive work environment and want to build their resilience by understanding their stressors and develop a personalised plan to improve the way they respond to and perform in difficult situations.


What will I Learn?
Why Resilience is a super skill and vital to career success


Build a personal resilience plan that you can apply immediately to any situation.

How stress and apathy affect your brain (and performance at work).

The goals and science behind a successful resilience plan.

The two 'Cycles of Resilience'.

The key factors that inhibit or multiply your resilience.

The four types of resilience strategies

How resilience strategies change for 'major' vs 'minor' difficulties.


Why Join this Pillar Leaders Workshop?
Professional Resilience is delivered by an Emotional Intelligence Specialist with a PhD in Psychology (Dr. Michael Larson).

It is application-based and and highly practical. You will complete the course with specific strategies they can implement immediately in your own professional and personal lives.

It is highly interactive and participant input is highly encouraged in all activities.
---
Click 'Select A Date' and reserve your seat today.
---
Agenda:
9:45 Doors open. Meet and Greet!

10:00 - 11:30 Session 1: Introduction to Resilience and 5 Steps to Successful Self-Management.

11:30 - 12:30 Session 2: The Science and 'Cycles' of Professional Resilience.

12:30 - 1:15 Break: Lunch (Provided)

1:15 - 2:30 Session 3: The Four Types of Resilience Strategies - Building your Personalised Plan.

2:30 - 2:45 Break: Afternoon Tea

2:45 - 4:00 Session 4: Resilience in Action and Workshop Wrap Up
Facilator: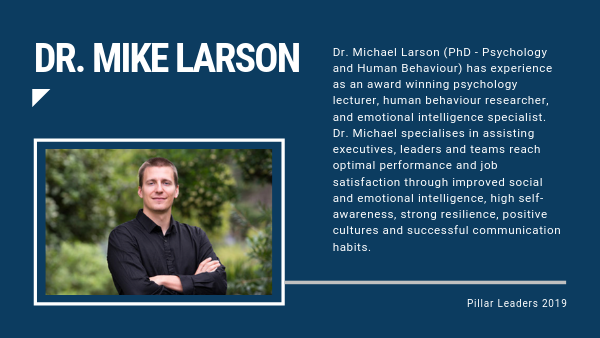 ---
Click 'Select A Date' and reserve your seats today.
Have a question about this course? Email resilience@pillarleaders.com
---