Refund policy
Refunds up to 1 day before event
Teachers and Librarians are invited to hear from Zana Fraillon and Phil Lesnie on their new picture book's fascinating take on diversity.
About this event
Our Book Chat for Primary School Teachers and Librarians are very popular: packed with bookish goodness for time poor people. We've had such a strong response and they've grown wonderfully over the last three years!
We're very excited that for Term 4's session we we'll host a local star of middle grade, the award winning Zana Fraillon and enormously talented illustrator Phil Lesnie where they will talk to us about their new picture book, The Curiosities.
Having captured readers hearts (kids and teachers alike) with her fiction, The Bone Sparrow, The Ones that Disappeared, No Stars To Wish On, and most recently, The Lost Soul Atlas, Zana once again turns her hand to picture books (previously publishing Wisp) and what a gem it is!
It really is brought to life by Phil's gorgeous illustrations! His previous work, Once A Shepherd, A Boy and a Ball, A Soldier A Dog and a Boy, and Miss Franklin are all wonderful in the way they capture each story. Many of these great historical slices of Australia. But the conversation between text and illustration in The Curiosities investigates diversity (specifically neurodiversity) in a similar way that John Marsden and Shaun Tan's The Rabbits looked at colonisation. It is a must for every library, across Prep to year 12.
Following the discussion, Michael will bring us up to speed on key new releases, point out upcoming titles to keep on your radar and generally share recommendations over great Lit-Circle reads.  This has proven to be a valuable segment to those trying to keep their avid reading students up to date, or engage their less enthusiastic readers.
LIVE STREAM the event! Appropriate links will be emailed to ticket holders.
A certificate of attendance can be provided for professional development purposes if required.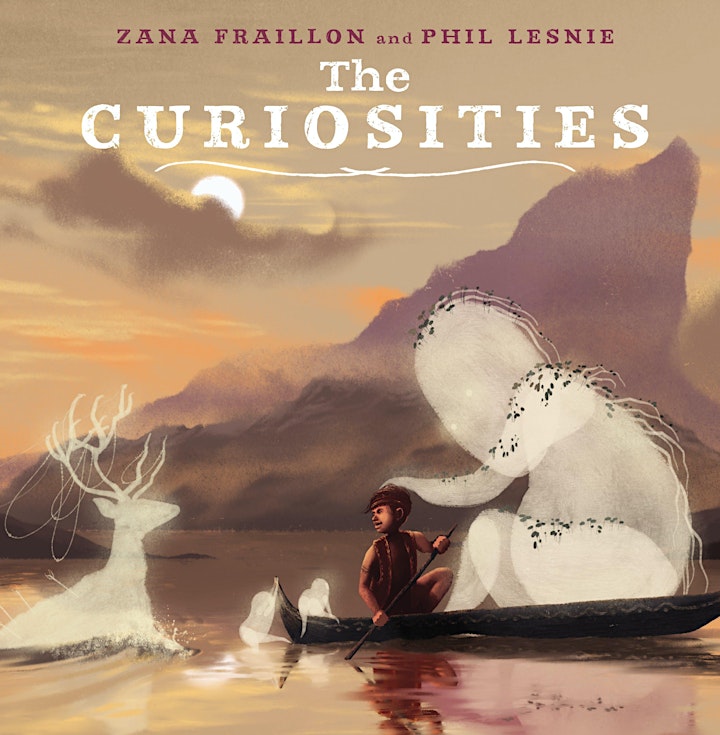 About the book:
A lyrical and moving story inspired by the people who see the world differently, from the award-winning author of The Bone Sparrow and Wisp.
With the Curiosities, a whole world of wonders and possibles awaits...
Miro wakes one morning to find the world isn't quite the way he thought it was. When the Curiosities choose Miro as the one they nest on, Miro is led to discover all the marvels waiting in the shadows where no-one else looks. Sometimes though, the Curiosities can make Miro feel alone and invisible in the darkness.
But perhaps Miro isn't as alone as he thinks...
A beautiful celebration of disability, diversity and pride in who you are, from one of Australia's most loved and awarded writers for children.
There are TEACHERS NOTES available.
About The Author:
Zana Fraillon (she/her) was born in Naarm (Melbourne), but spent her early childhood in San Francisco. Her 2016 novel The Bone Sparrow won the ABIA Book of the Year for Older Children, the Readings Young Adult Book Prize and the Amnesty CILIP Honour. It was also shortlisted for the Prime Minister's Literary Awards, the Queensland Literary Awards, the Guardian Children's Fiction Prize, the Gold Inky and the CILIP Carnegie Medal.
Her book The Lost Soul Atlas (2020) won the 2020 Aurealis Award for Best Children's Fiction and was shortlisted for the 2021 Children's Book Council Award for Book of the Year: Older Readers.
She spent a year in China teaching English and now lives in Melbourne with her three children, husband and two dogs. When Zana isn't reading or writing, she likes to explore the museums and hidden passageways scattered across Melbourne. They provide the same excitement as that moment before opening a new book - preparing to step into the unknown where a whole world of possibilities awaits.
About the Illustrator:
Phil Lesnie is a Sydney-based illustrator of children's books. He is also a children's bookseller. It is entirely possible that he hasn't read a title written for adults since he became one. He works primarily in watercolour, because in a watercolour painting even mistakes look lovely. He is the illustrator of Feathers, which was shortlisted for the Prime Minister's Literary Awards in 2018. His first three books were CBCA Notable books in 2015, 2016 and 2018. But his first cat, Cassidy, is notable all of the time.