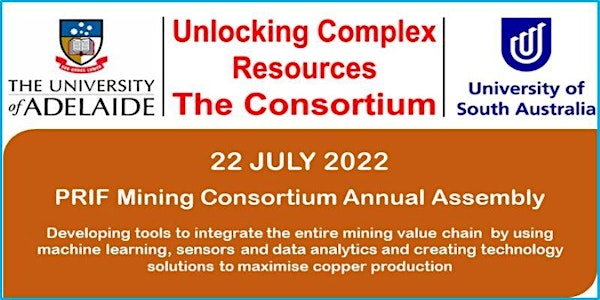 PRIF Mining Consortium Annual Assembly 2022 - "Unlocking Complex Resources"
Location
Adelaide Convention Centre
North Terrace
Adelaide, SA 5000
Australia
The Final 2022 PRIF Mining Consortium Annual Assembly. Please join us to learn more about outcomes from the Consortium projects.
About this event
The PRIF Mining Consortium Program is designed to integrate the entire mining value chain by using machine learning, sensors and data analytics and creating technology solutions to maximise copper production.
The 2022 Annual Assembly is the last Annual Assembly of the PRIF Mining Consortium. Please join us to learn more about outcomes from the leaders of Research projects and Translation projects within the Consortium, discuss outcomes, evaluate value propositions, and consider opportunities for end-user implementation and further research.
The PRIF Consortium is a five-year S.A. government initiative with total cash and in-kind support of ~ $14.1M. The Consortium has 14 Research and 11 Translation (industry) projects, 15 Chief Investigators experienced in mining, mineral processing and computer science, 8 postdoctoral researchers and 10 higher degree by research (HDR) students. Cash and other support comes from 17 industry partners and 2 universities.
2022 is the last year of the PRIF Mining Consortium and it is time for us to showcase the Consortium achievements - the PRIF consortium has generated a significant body of research and has produce over 130 publications to date, with more to come.
We now need to think about how better to preserve PRIF's work, ensure that findings are efficiently communicated to stakeholders and the wider mining community, and how to maximize impact on the Australian mining industry.
https://www.adelaide.edu.au/integrated-mining-consortium/