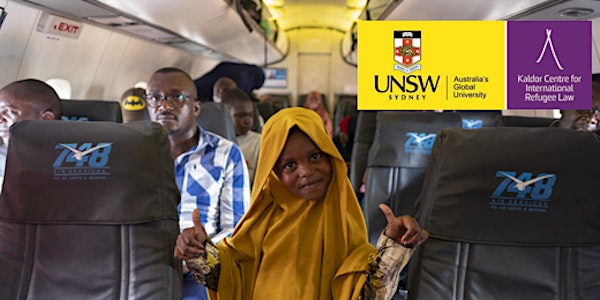 Pressing 'Reset' on Resettlement: How a lifeline can survive COVID-19
Resettlement is a life-saving tool, but what history is in the making for refugees in this current crisis?
About this event
Resettlement is a life-saving tool. It is a way that countries, like Australia, help refugees and their families to find safety. In their resettlement country, refugees can build a new life and create a new home, while enjoying a secure and long-lasting legal status.
Now resettlement is under unprecedented pressure. For the first time, UNHCR and the International Organization for Migration (IOM) had to suspend resettlement departures for refugees earlier this year. With the pandemic halting flights and closing borders, the agencies had little choice but to temporarily abandon this vital lifeline.
While the resumption of resettlement travel has just been announced, many refugee families have been stranded, delayed, separated. Though UNHCR had identified 1.4 million people who needed to be resettled in 2020, even its goal to resettle 70,000 people won't be met.
In this free Kaldor Centre online discussion, a panel of experts will bring you up to date on what this moment means in human terms and how governments, including Australia, are responding.
The UN High Commissioner for Refugees, Filippo Grandi, has said: "History has shown that with a strong sense of purpose, States can come together to collectively respond to refugee crises, and help millions to reach safety, find homes and build futures in new communities."
What history is in the making for refugees in this current crisis?
Find out from our expert panel, Kate O'Malley (UNHCR Canberra), Sally Pfeiffer (Department of Home Affairs), Paul Power (Refugee Council of Australia) and Melika Yassin Sheikh-Eldin (AMES Australia), in a conversation moderated by Kaldor Centre Director Jane McAdam.
Send us your questions so we ensure we cover as many perspectives as possible in this one-hour lunchtime webinar.
*Registration is free of charge but is essential. An online link will be sent separately prior to the event, so please double check your email address upon registration.
**Time displayed is Australian Eastern Standard Time (AEST, UTC +10).
Meet the Speakers:
The discussion will be moderated by Scientia Professor Jane McAdam, Director, Kaldor Centre for International Refugee Law. She will be joined by:
Kate O'Malley, Senior Protection Officer, UNHCR Regional Representation in Canberra
Sally Pfeiffer, Assistant Secretary, Humanitarian Program Capability Branch, Refugee, Humanitarian and Settlement Division, Department of Home Affairs
Paul Power, CEO, Refugee Council of Australia
Melika Yassin Sheikh-Eldin, International and Community Development Manager, AMES Australia