Description
Presmed Australia and in association with the Chatswood Private Hospital and Epping Surgery Centre, invites you once again to our Optometrist Conference.
Chatswood Private Hospital and Epping Surgery Centre are recognized centres of excellence in ophthalmic surgery providing class leading surgical facilities and technology to treat the full spectrum of adult and paediatric ophthalmic surgical conditions. The Conference is a fantastic opportunity to hear from leading Ophthalmologists from these Centres presenting the latest information from their respective specialist fields.
Our 2016 March conference attracted over 120 Optometrists and we are expecting greater numbers next year as this event is now getting bigger and better each time. We also intend to replicate our last Conference format with a 2 concurrent speaker program – each program will have 11 Ophthalmologists making a total of 22 Ophthalmologists presenting for 15 minutes each on topics of interest to the Optometrist community. Audience question time will be included within the program following feedback from last year's evaluations. This event is accredited for 12 Therapeutic OAA CPD points.
Hear from Ophthalmologist leaders in their fields and help strengthen your professional referrer and network relationships in an enjoyable and relaxed atmosphere.
Speaker list: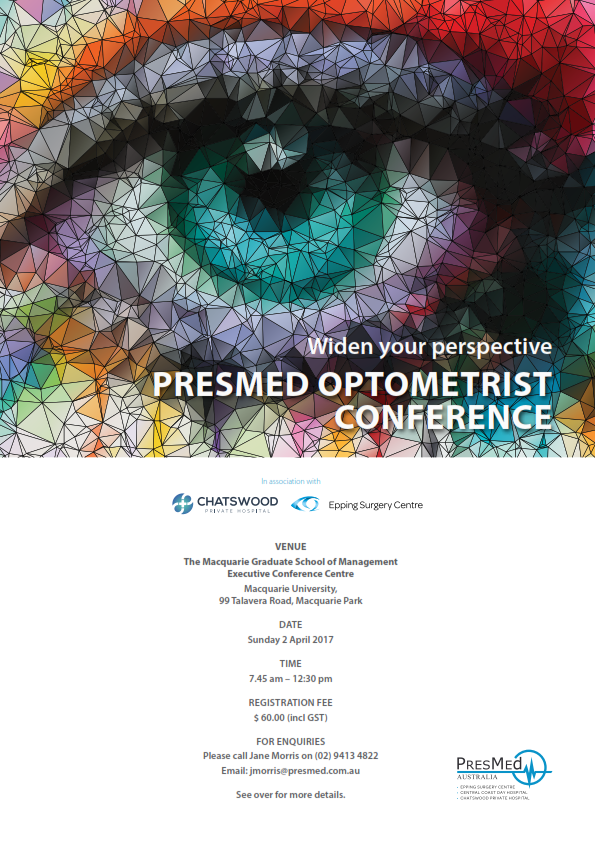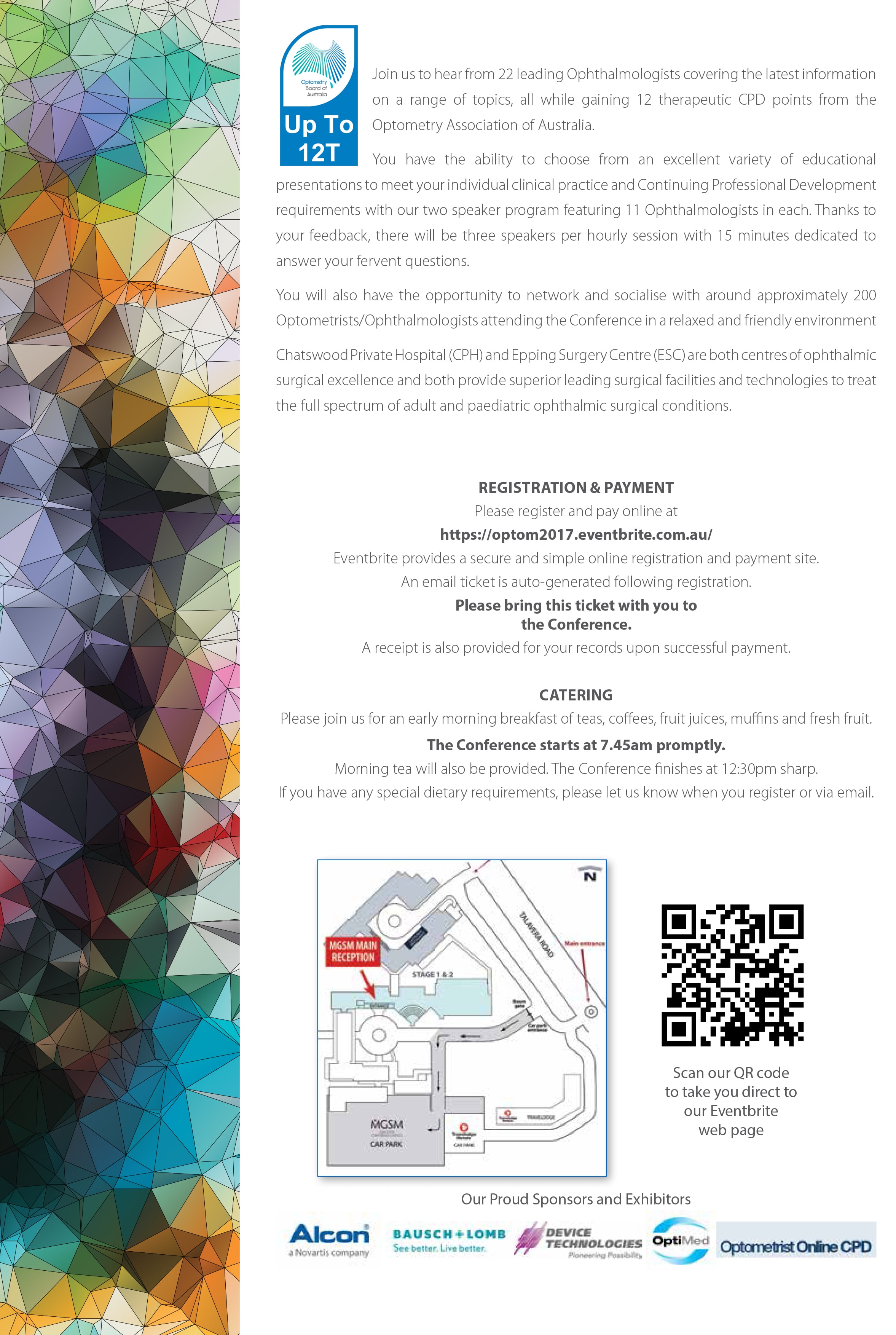 ---
Our sponsors:

For over 20 years, Device Technologies has been pioneering possibility in the Australasian healthcare landscape - seeking out and bringing to market, some of the world's most advanced healthcare products.
We are now Australasia's largest independent provider of total healthcare solutions, with a comprehensive range that extends from high quality consumables, to advanced equipment, robotics and fully digital O.R.s.
In partnership with some of the world's most innovative medical companies, our dedicated team of over 650 highly skilled healthcare specialists and support staff, are dedicated to providing superior outcomes for our customers and their patients across the entire healthcare community.
Find out more about Device Technologies at: www.device.com.au

Bausch + Lomb are a company solely dedicated to protecting and enhancing the gift of sight for millions of people around the world. From the moment of birth, through to every phase of life.
Bausch + Lomb has over a 160 year old heritage in optics and offer the worlds widest and finest range of eye health products including contact lenses and lens care products, ophthalmic pharmaceuticals, intraocular lenses and an extensive range of ophthalmic surgical devices and instruments.
Innovations to Bausch + Lomb's Intraocular Lens Portfolio include FineVision – The world's first Trifocal Diffractive IOL and FineVision Toric – Toric Trifocal IOL. Adding to the extended premium IOL range is MicroPure 123 – preloaded monofocal system.
Stellaris®, the next generation of phaco surgical systems is designed to accommodate any surgical technique from standard to micro-incision cataract surgery (MICS) procedures, The Stellaris® PC and PC Next Generation with integrated laser, allows surgeons to have true "procedural choice" by providing the most advanced technology for both vitreoretinal and cataract surgery in a single system.
Bausch + Lomb also offers a wide range of microsurgical instruments for ophthalmology. To help surgeons achieve the best outcomes using their preferred techniques, Bausch + Lomb Storz® Ophthalmic Instruments produces customised instruments for individual surgeons, providing trusted quality and leading design at their fingertips.
For more information on Bausch & Lomb's full suite of products please contact Bausch + Lomb Customer Service on 1800 251 150 or your Bausch + Lomb Territory Manager.
Find out more about Bausch + Lomb at: www.bausch.com.au

Through discussion with Optometrists and follow up surveys conducted over a period of time, a major area of need was identified to support the profession in keeping up to date, improve skills and earn CPD points at the same time.

With this in mind, the idea of Optometrist Online CPD was created as an ideal way to achieve these objectives, in your own time.

In a simple, yet professional format, you click in to CPD Modules, read the case study, complete the assessment, submit and receive your OAA accredited CPD points.
Find out more about Optometrist Online at: http://www.optomonline.com.au/Content_Common/index.aspx



Our exhibitors: