PR Measurement: get serious to be taken seriously - a FREE PRIA webinar
Is a renewed focus on measurement and evaluation a way to reclaim our expertise and respect for the profession?
About this event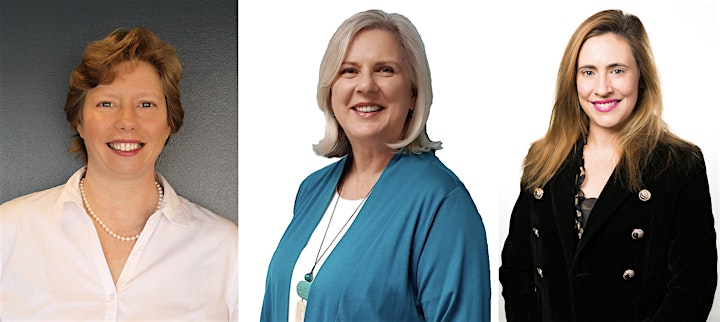 In a special Measurement Month panel webinar brought to you by the PRIA Education Community Committee, three veterans of very different communication fields come together to discuss the importance of M&E, why practitioners seem to be reluctant to use this powerful tool, how simple it is, and where the profession has potential to go by hitching its wagon to M&E.
Professor Maureen Taylor (left) is Head of Discipline, Public Communication at the University of Technology Sydney and editor of the international journal Public Relations Review. Deb Camden (centre) operates specialist measurement consulting firm, The Communication Dividend. They are joined by Johannah Livermore (right), from Queensland Investment Corporation. The session will be hosted by Sydney communicator, Elissa Lewis.
Date: Thursday, November 7
Time: 12 noon (Brisbane), 1pm Sydney and Melbourne
Venue: Online via Zoom - https://usq.zoom.us/j/914612674
Maureen Taylor's public relations research has focused on nation building and civil society, dialogue, engagement and new technologies. She is a member of the Arthur S. Page Society and serves as Editor in Chief of Public Relations Review, the largest and oldest journal dedicated to public relations research. Maureen has worked as a monitoring and evaluation specialist on strategic communication projects across Africa, Asia, Europe, and the Middle East and North Africa region for USAID, US Department of State, European Union and UK Department for International Development. This year she has been working on a Bushfire and Natural Hazards CRC project, Mapping approaches to community engagement for preparedness in Australia, and is the primary investigator on a $1.6 million US Department of Defence grant to study countering influence campaigns in former Soviet Union states.
Johannah Livermore is committed advocate for measurement and evaluation in public relations and marketing. Since she joined QIC in 2009, she has been fortunate to be part of great projects, lead a number of successful campaigns and was key to the development of QIC's marketing and communications measurements platform. Earlier this year, Johannah commenced study at NYU Stern as part of the Executive MBA program at Australian Graduate School of Management. Her studies have been focused on strategy, design thinking and consulting.
Deb Camden is the innovator behind The Communication Dividend, a new best- practice data and analytics firm that empowers communication professionals to prove their value. A self-confessed evangelist for measuring and evaluating communication, Deb has blended learnings from more than three decades of professional practice along with industry and academic research to create a measurement solution that provides the missing link between business strategy and communication strategy. The Communication Dividend and Deb's new app, the SMART Objective Builder for communication and PR professionals are testament to that commitment.
For more information, contact barbara.ryan@usq.edu.au
Brought to you by the University of Southern Queensland
Organiser of PR Measurement: get serious to be taken seriously - a FREE PRIA webinar
The School of Humanities and Communication offers short and conventional university courses in Advertising, Anthropology, Archaeology, Media Studies, Creative Writing, Editing and Publishing, Emergency and Disaster Communication, English Literature, History, Indigenous Studies, International Relations, Journalism, Photography, Professional Communication, Public Relations, Social Justice.