About this Event
Join us for an intimate discussion about sex, desire and the art of communication with writer and self professed sex-nerd Liz Duck-Chong in conversation with sex coach Georgia Grace.
You have to learn to have really good sex, it's something you have to work on. The biggest misconception I see is that people think good sex comes naturally. In reality, this is rarely the case. It takes intentional time and practice to learn how to have good sex with your partner consistently.
In times of stress, our sex drive can wane. Most people misunderstand sexual desire, thinking that as soon as you fall in love with someone you should desire sex all the time. But for many people desire doesn't work like that. Through this chat you'll discover myths about libido, the importance of understanding your body and how talking to your partner about your needs however awkward or clunky it may feel is the foundation for good sex.
Panelists: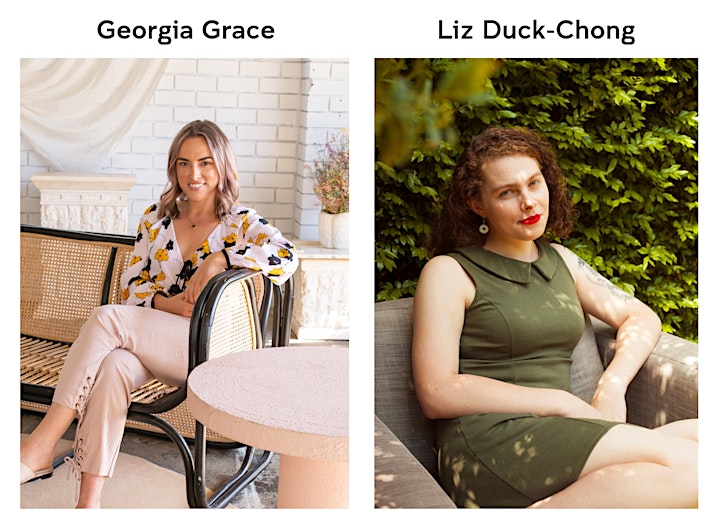 Georgia Grace
As a Certified Australian Sex Coach, Georgia applies a client-centred approach in supporting people to become more aware of their bodies, sex and sexuality. When working with clients she provides real, practical and useful tools designed to be easily integrated into relationships and life. Georgia also develops online and tech based programs, works with sex-tech companies and sex-positive brands, and is the Australian Ambassador for We-Vibe, an innovative company that designs and manufactures world-leading couples and solo vibrators. Georgia facilitates weekly workshops, presents on a range of topics Australia wide, is a qualified Journalist, media commentator, writes a column for GQ amongst other national and international titles and has published a book on masturbation, Pleasure Journal.
Liz Duck-Chong
Liz is a writer, sexual health nerd and filmmaker who has had articles, poetry and essays in a range of publications, including previously in Overland. She co-hosts wholesome queer sex ed show @letsdoitpodcast, and is on Twitter at @lizduckchong.
Got a question? Submit it when you register for this event for your chance to win a FREE subscription to Georgia's online course 'Modern Sex'.
All questions will be answered by the panel on the day!
Note: This event will be an online event, and registration is essential to gain access to the zoom link. All registration details are collected by the UNSW Health Promotions team and remain completely confidential.