Pet Painting P'art'y - Let your pet paint a Masterpiece... Sonia takes you and your pet through the process to create a beautiful artwork
About this event
Have you ever thought your pet is talented... Have you ever wondered if they have a creative streak. If you're a mum or dad, or have smart nieces and nephews, you've more than likely been gifted cute paintings and drawings you have put up on your fridge, or at your desk in the office to enjoy and celebrate their creativity.
Now you and your beloved pet can together create a painting that you can enjoy and appreciate, and hang pride of place in your home or office.
By attending one of Sonia's Pets Painting P'art'y's, you and your pet - together with up to 5 other pets and their owners - will be taken through a step by step process, in a fun, loving and friendly environment, to create an abstract-style artwork.
This is a very unique activity... and we would like to ensure you and your pet, and all other participants of the Pets Painting P'art'y session have an enjoyable experience, so we request pet owners attending the activity to read, sign and follow the elements outlined in the Registration of Attendance form (Note: Attendees will need to complete, sign and return the Registration and Waiver to email contact@allheartbysoniafarrell.com).
YOU WILL NEED TO BRING THE FOLLOWING:
- Pet needs for the activity:
Their collar and leash - they will need to remain on leash for the duration of the session
A water bowl (we will have access to running water)
A supply of 'poo' bags
Nibbles/treats that you pet absolutely loves
Approximately 3 tablespoons of smearing paste in a container that your pup enjoys - like soft cheese, peanut butter, and /or soft dog food.
- Your needs for the activity
Drinking water, snacks you might want during the session, a hat and sunscreen, and a fold up chair if needed
Wear comfortable shoes and clothes, that you wont mind getting a bit of paint on
A box that can close (dimensions at least 35cm wide x 70cm long x 5cm deep (Note you can bring a box bigger than this). You will be placing your newly painted pet artwork in the box to keep it safe as at the completion of the session as the paint on the artwork may not be dry)
PLEASE NOTE the Health and Safety of participants are very important to the event organiser... As the event is being held outdoors, if there is any adverse and/or unexpected weather conditions, the event may be postponed at short notice. If this occurs, the event organiser will not be issuing refunds, rather the attendees will have the option to attend the event at another date as organised by the event organiser.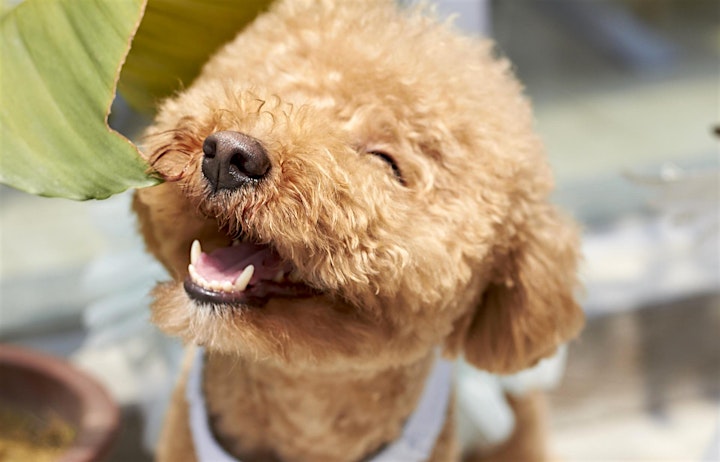 Here are our rules for easy reference (full details on the Registration of Attendance form mentioned above ):
Participants to the Pets Painting P'art'y activity are required to have registered for the event, and signed and returned the required Waiver of Liability form: Details are repeated here for easy reference:
TERMS AND CONDITIONS, AND WAIVER INFORMATION FOR PARTICIPATION IN PETS PAINTING P'ART'Y BY SONIA FARRELL
General:
• One pet per pet owner
• Meets criteria for 'Suitability of Participating Pet Owners'
• Meets criteria for 'Suitability of Participating Pets'
• Signed 'Liability Waiver Form'
• Attend the full 3 hour session, unless agreed ahead time
• Pre-registration and full payment of attendance fee
• In the case where the activity is not under cover - weather considerations, such as rain, wind, and heat may influence whether the activity takes place as planned
Suitability of Participating Pets:
• Adult dogs (aged 2+ years),
• Non-aggressive towards other dogs and people,
• Socialised
• Have updated vaccinations, and tick/flea prevention
Suitability and Responsibility of Participating Pet Owners:
• Maintain control of and have the participating pet leashed at all times.
• Must not leave participating pet unattended
• Has an active and friendly relationship with the participating pet
• Able to maintain control of the participating pet, including avoiding any disturbances such as barking and/or being uncontrolled around other dogs. If this type of behaviour continues you may be asked to leave (in which you will not be entitled to a refund)
• Be patient with and sensitive to the needs of the participating pet
• Be patient and sensitive to the needs of other participating pets and their pet owner
• In terms of health and safety - be alert to, and air any concerns or observations, and follow the instructions and advice of the Host of the Pets Painting P'art'y with regards to health and safety requirements
• Responsible, able and equipped to care for and clean up after their dog at activity location (for example bring your own doggy 'poo' bags, water bowl, nibbles/treats for the activity, edible smearing past for your pet)
• Pet owners are responsible for property damages and/or personal injuries resulting from their pet
• Pet owners of participating pets agree to indemnify and hold harmless All Heart by Sonia Farrell and all associated business entities for this Pet Painting P'art'y activity – including its owner, manager, staff - including the venue owner and its representatives, managers, staff from all liability, loss and damage suffered as a result of any of the participating dogs and/or owners of participating dogs. In addition, pet owners of participating dogs agree to solely accept all liability, financial or otherwise which may result in dog loss from disease, death, theft, running away of any dogs, or any other unavoidable circumstances.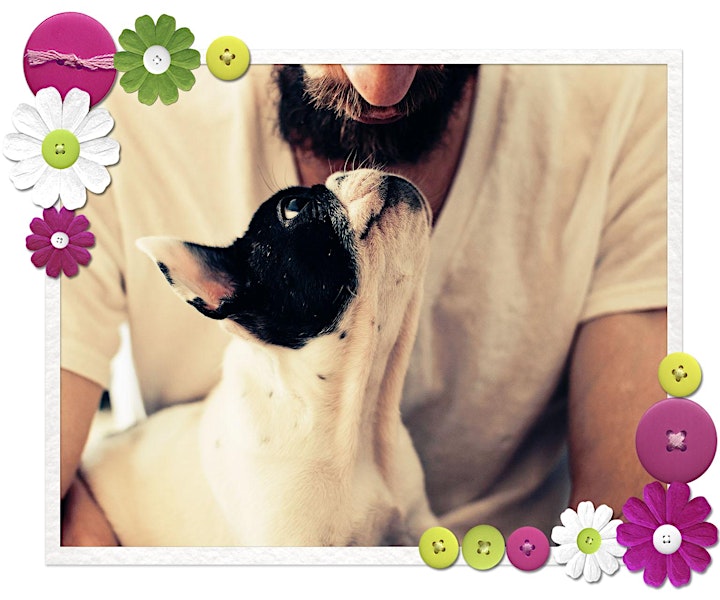 Organiser of Pet Painting P'art'y by Sonia Farrell
Sonia Farrell is an Australian mixed media artist with a passion for revealing the beauty of life in vibrant colour.
​Sonia facilitates art experience workshops for Beginners to Intermediate levels of artistic skill.
Sonia provides a safe and fun environment to give voice to your creative expression. In her art experience sessions, Sonia builds a sense of joy and discovery, working with you to create your own beautiful artworks for your home.
Sonia's art celebrates connection, each with light and emotion in contemporary realism and abstracts. She delights in using mixed media, acrylics and encaustic wax.
.