Event Information
Location
Clancy's Fish Pub
51 Cantonment Street
Fremantle, WA 6160
Australia
Perth Philosophy Circle presents: FREEDOM IN CRISIS A 7 part, monthly, public lecture series.
About this event
LECTURE FIVE: "The Idea of Freedom"
Presented by Kyle Gleadell
What is freedom? As the Russian-American philosopher Jacob Klein points out, it is impossible to think of freedom without thinking of chains, of compulsion (and in most cases it is easier to think chains than it is to think freedom). However, what is of importance here? How are we to understand this relation of freedom and compulsion? In this lecture, I will address three distinct yet fundamentally related concepts of freedom. The freedom of thought, the freedom of will, and political freedom. As Klein puts forward, each concept of freedom is bound by truth, the idea of the Good, and law. But how are we to think these? As I propose here, it may help to address the history of these notions in order to confront what we take for granted today.
As the title of this series suggests, today, we find ourselves amidst a crisis where freedom itself is at stake, and yet, as the root meaning of the Greek term Krisis suggests, we now have the opportunity to question and re-think what exactly is meant by freedom.
SERIES DESCRIPTION
Currently, we live in a very uncertain time. COVID-19 has lingered for almost two years and is very much still with us today, with no end in sight. As we grapple with the consequences of COVID, including lockdowns, we confront new formulations of freedom and human rights. At the same time, health, work, and science seem to be reconfigured daily. We have seen large scale government intervention, increased governmental powers, and talk about potential vaccine mandates. However, we are also faced with a wealth of disinformation, often seized upon by opportunistic political and social figures. How are we to understand all this? Are we actually facing a crisis that has been brought on by the COVID-19 pandemic or is it a crisis that has been with us much longer?
The root meaning of the Greek word krisis does not imply a catastrophe but a decision. In this sense, crisis means that we must decide what to do. A decision that might lead us to reconsider what freedom and justice mean today. Can our common understanding of freedom, which is in conceptual crisis, be the turning point from which we start to reconsider what it means to live in a just society?
In this series of lectures, we hope to open up a space of dialogue in order to engage with ways to think about the idea of freedom. Throughout, we will discuss the possibility of seeing our shared future differently.
No knowledge of philosophy is required; everyone is welcome.
Each lecture will last roughly 45 minutes to 1 hour and will be followed by questions and conversation.
We invite you to join us for a night of ideas, discussion and drinks as we ask what it means to be human in our contemporary world.
All refreshments and food are available for purchase from Clancy's Fish Pub, Fremantle.
https://perthphilosophycircle.com/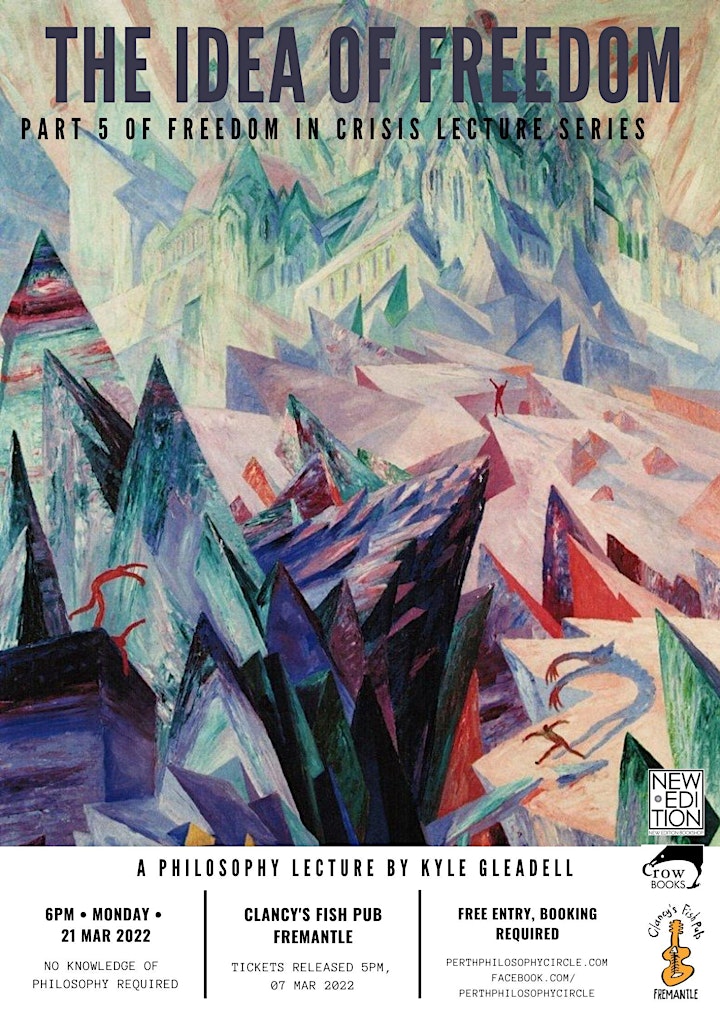 Date and time
Location
Clancy's Fish Pub
51 Cantonment Street
Fremantle, WA 6160
Australia