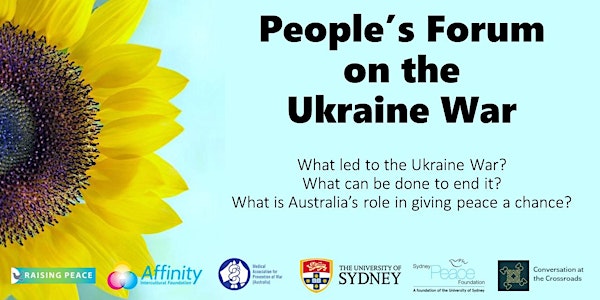 People's Forum on the Ukraine War
What led to the Ukraine War and what can be done to end it? What is Australia's role in giving peace a chance?
About this event
Our panel and the audience will work together to develop an understanding of forces leading to the Ukraine war, to propose steps towards ending the war, to identify contributions which Australian parliamentarians, media & citizens can make to achieve a lasting peace with justice.
Chaired by Professor Emeritus Stuart Rees, University of Sydney
6:30 to 7:30 the following topics and speakers:
7:30 musical interlude from Gemimah & Miriam, the Omari Sisters
7:40 to 8:20 pm the People's Forum: Questions to panel, Discussion.
8:20 to 8:30 summary and identifying the next steps.
Supported by Raising Peace, Sydney Peace Foundation, Department of Peace & Conflict Studies at University of Sydney, Conversation at the Crossroads, Medical Association for Prevention of War (MAPW) and Affinity Intercultural Foundation.